Google Analytics: What It's All About & 17 Reasons Why You Need It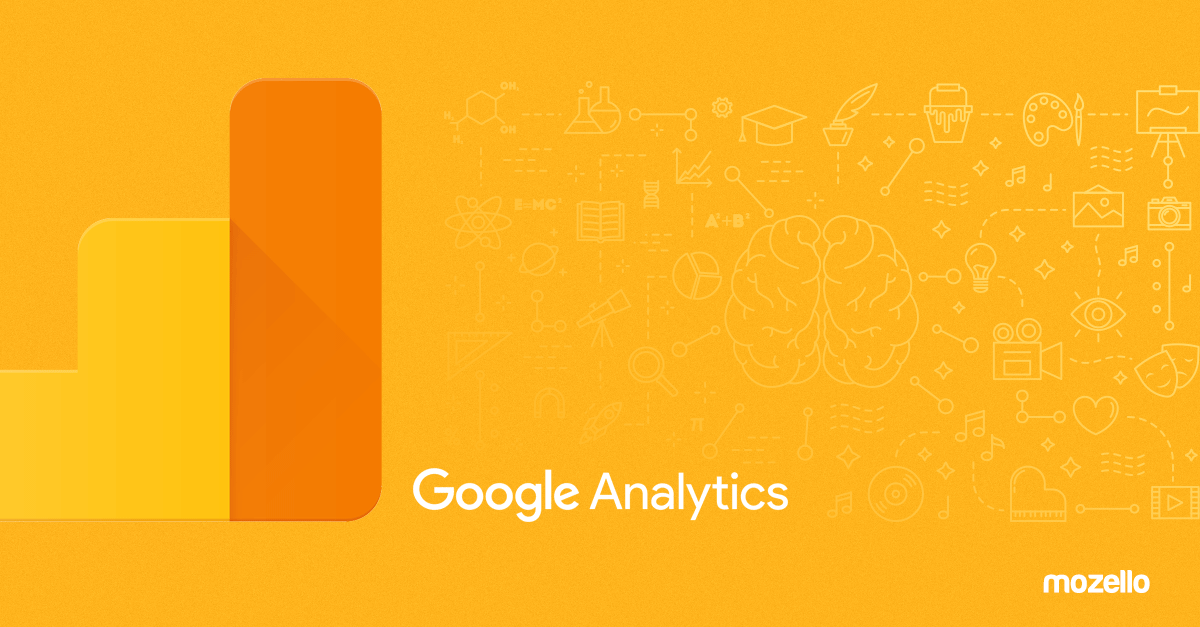 Owning a business - that's cool. Making a profit - great. Having the skills to make the maximum possible profit - excellent! To get to "Level: Excellence," you must learn how to use different tools - used in a comprehensive way, they are able take your business to "Cloud 9"! Setting up a website is no longer enough - in order to make more profit, you need a client audience, in addition - you must also understand it to be able to offer exactly what it needs. One of the most useful tools for that - Google Analytics. Read on and see what it's all about and why you need it!
"When, What, Whom?" or 3 Paragraphs on History
Google Analytics is a statistics program that was created by Google in 2005, shortly after acquiring Urchin Software Corp. Google Analytics is used to get information about behavior of website users and website content efficiency.
Good news:
Google Analytics can be linked to any website and that includes ANY website created with Mozello. Excellent news is - the basic version of the program is free of charge and fully sufficient for most websites.
5 Google Analytics Functions for Your Breakthtough
This statistics service analyses various data, and the results can be used to boost your website's and most importantly business performance:
 Demographic data featured on "Audience" report
Can help you better understand what kind of people visit your website and define visitor profiles. The data shows session (visit) length by gender, as well as defines age groups that are more interested in the content you offer. Contrasting visitor profiles set up by the system to your real-life clients, you can assess your website's efficiency and make the necessary adjustments to improve it.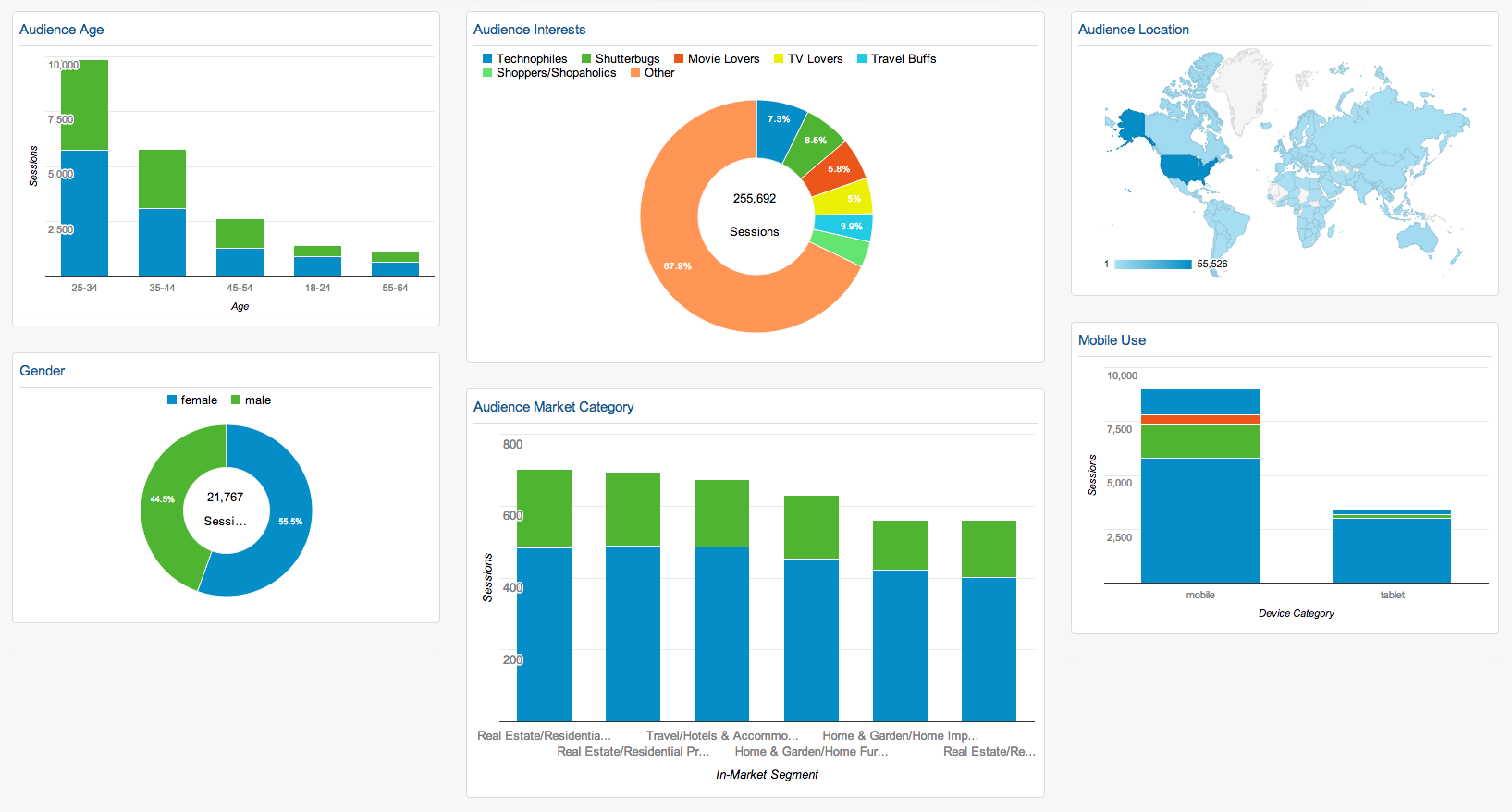 Site Content and Page Visit analyses on the "Behavior" report
Lets you see which pages of your website are the most popular and most visited; and what is the general behavior of your site visitors.
For example, we can analyse which website page generates the most conversions and which page impedes the visits having the highest bounce rate. How to use this data? You can improve your website content, restructure site pages with the highest bounce rate - people who visit theses pages are more likely to end their session (visit) and don't keep browsing your website or buy a product / get in touch.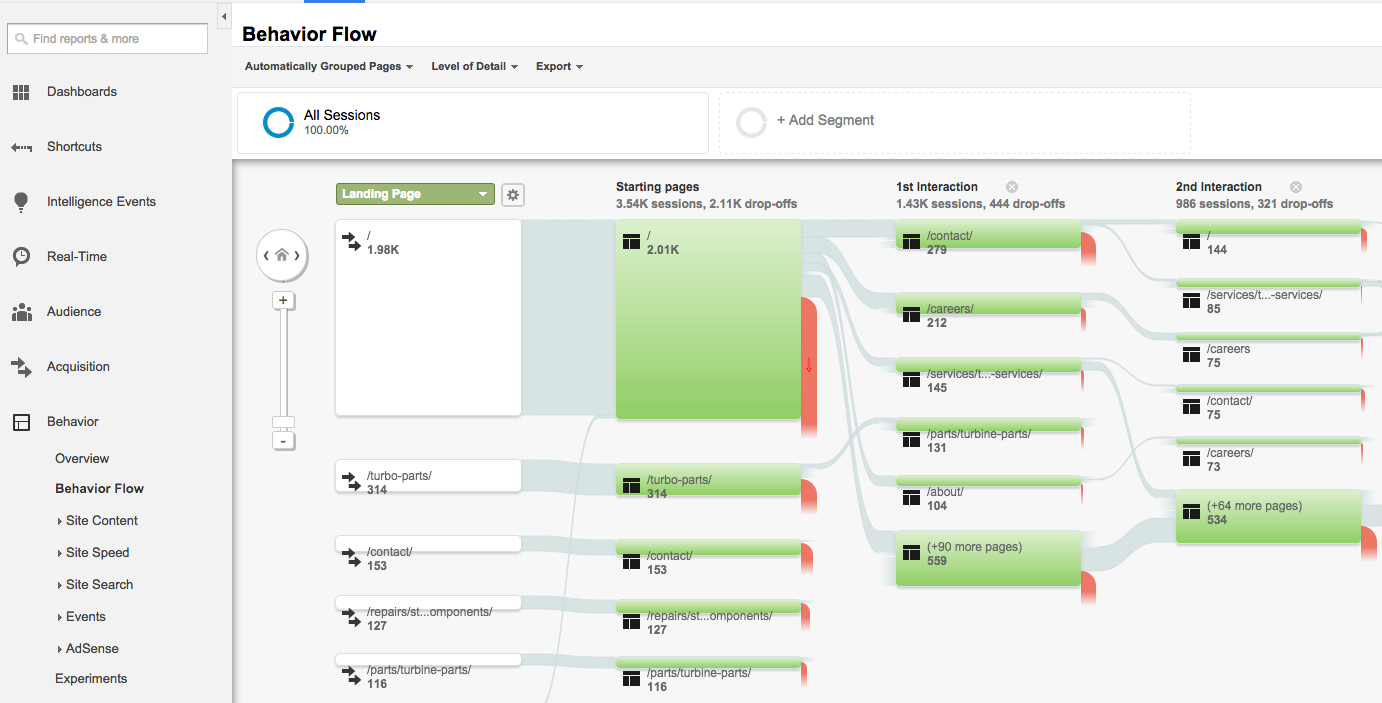 "Acquisition" report
Includes the whole visitor data traffic and benefits from social media, Google AdWords and other channels. You can carry out an analysis of the most efficient channels and see which places bring in the best customers or which channels need improvement and more attention.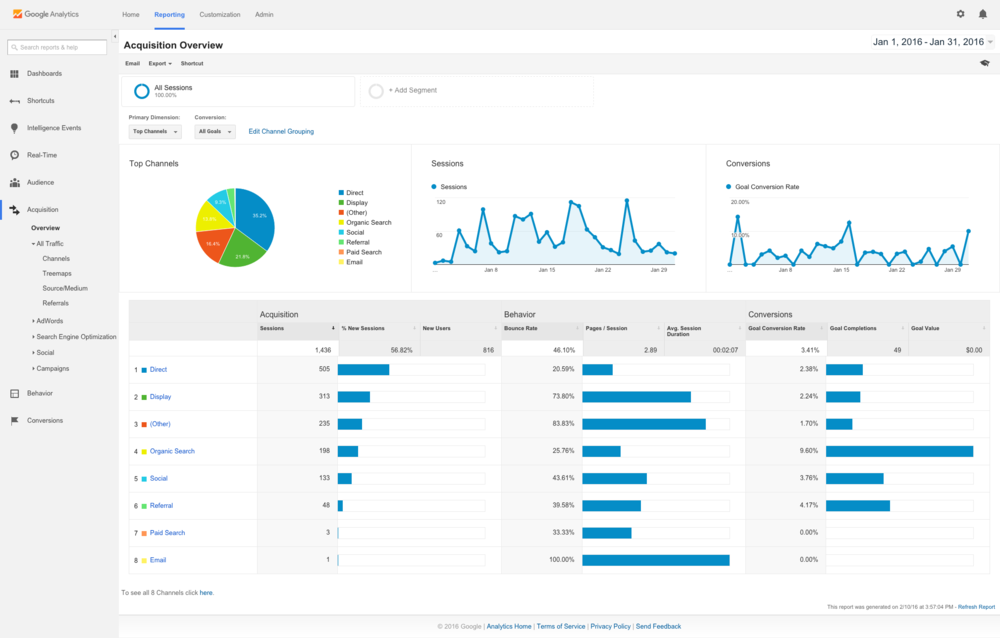 Mastering these functions, you will become a data guru who can successfully direct your website towards great success while making more and more profit from your business.

17 Reasons to Say "YES" to Google Analytics
Still haven't decided in favor of this statistics tool? Here's more - 17 Reasons Why You Need Google Analytics:
First of all, Google Analytics is truly comparatively easy to understand and use even for the beginners;
This program is free of charge;
You can find tutotials, information and even online courses on everyhing related to Google Analytics;
If something's hard to crack, you can get help from the vast Google Analytics consultants team anytime;
Data analysis is visualised, therefore easy to understand;
You can see real-time data right after opening the program (in case of unsatisfactory results, you can instantly make the necessary changes to improve the situation);
You can easily track ad campaign efficiency;
Data history is safely stored and accessible any time;
You can improve your website (or particular page) content, based on the whole website traffic data;
You can define a precise target audience (device from which the page has been reached, geographic location, age, etc.);
It's possible to measure site search data (what visitors are searching on your website);
Regular reports in your e-mail;
Elementary data export to Excel;
Regular updates and new tools introduced;
Easily to link AdWords (Google advertising instrument);
Smartphone app version - access your statistics from anywhere;
Bounce rate data (proportion of people who visit only one page your website and leave immediately without clicking any other page).
Google Analytics provides a huge amount of important data; however, it's useful only if you understand it. So make a cup of tea and get ready for a real expedition through the vast space of information - your business will thrive!