7 hair-raising (and profitable) Halloween marketing ideas
It's the spookiest time of the year – also known as October. And with October comes Halloween – a day where everyone dresses up and tries to have enough candy to avoid toilet paper being thrown at their house.
Halloween has been around for about 2000 years and still, it's one of the most popular holidays around the world. The reason behind its popularity is actually very complex and researched by many sociologists who have concluded that people search for some wonder or possibility in this celebration.
The sales around Halloween are also massive. In 2018, Americans spent about $9 billion, which means that on average a person spent $86.79 to prepare for the celebration.
People start to get ready for Halloween even before September. That means that the prime time to start using Halloween-related marketing strategies would be starting from September and until the end of October.
But here's a question – what do people usually buy in preparation for Halloween? Mostly it's sweets and candy but decorations and costumes are also very needed to keep up the festive spirit.
However, what to do if you're not a costume shop or don't provide decorations for events? No worries, you can still make Halloween work for you. All you have to do is find creative ways to spook-up the online shop that will help you earn some extra coin in return.
Therefore we've compiled a list with 7 frighteningly good Halloween marketing ideas to spice up your online store.
1. Discount code hunt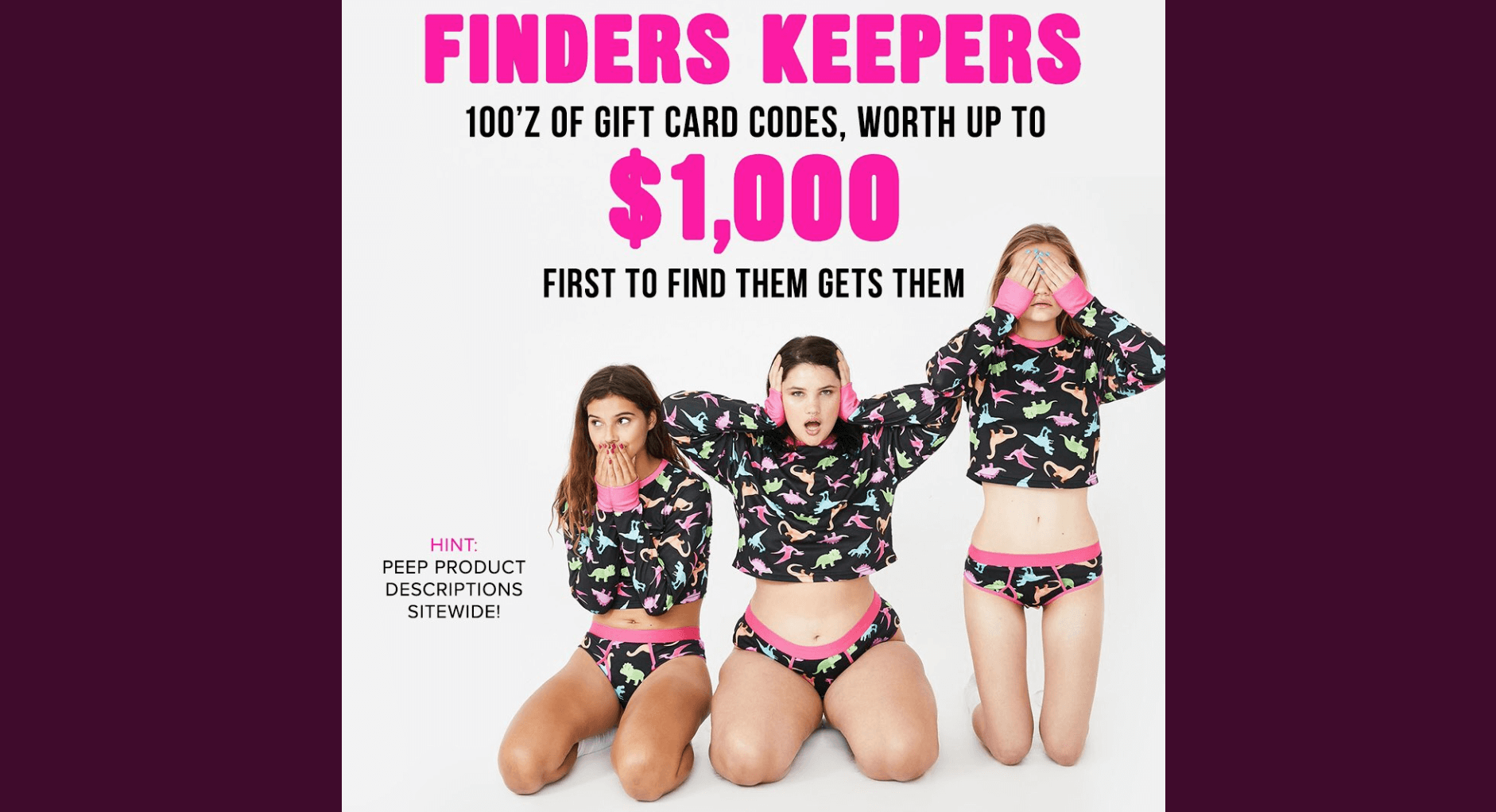 Source: Twitter
Witch hunts are so 18th century, however, a discount code hunt is just what you need to boost up your online store on the 21st century Halloween.
Turn your store into a game field and hide spooky discount codes of various amounts in random product descriptions. Announce the code hunt on your social media and let the search begin!
However, make a clear set of rules – the discount code can be used only once and by one person only and it is valid until, for example, midnight of Halloween day. And the discoverer of the code can enter it on checkout to see if he or she is the first one to use it.
Remember that the discount code can be of no big amount, it's the search that will generate the most excitement.
If you want to use more traditional solutions, a regular discount code will work just fine. Set up a popup (use Engaga tool on your Mozello e-commerce store) and announce the Halloween sale to everyone visiting your website.
2. Inject your products with the Halloween spirit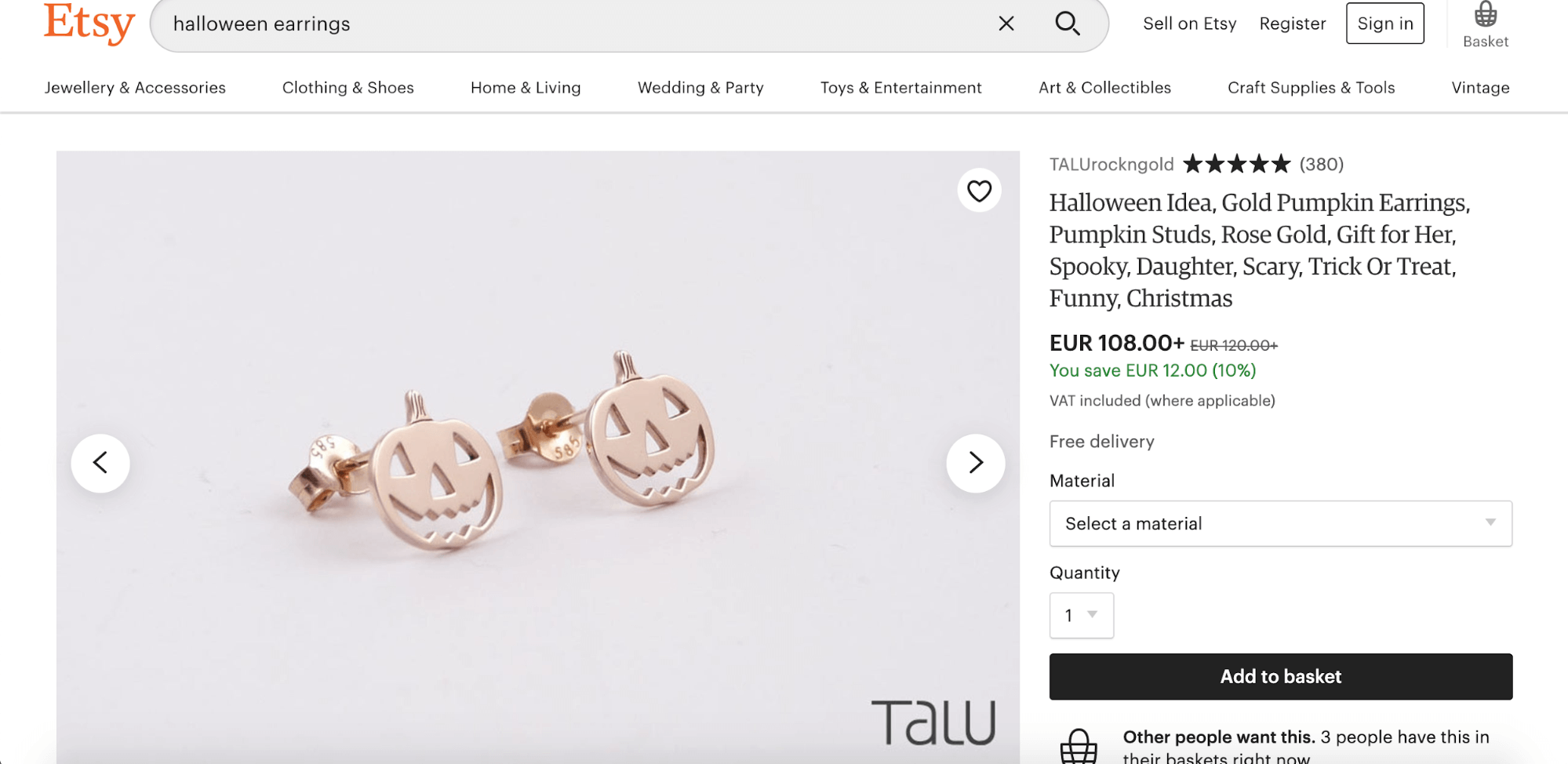 Source: Etsy
Another idea is to add a Halloween theme to the products or services you sell. For example, if you have a jewelry shop – make some funny skeleton earrings or if you're into ceramics – create a cute pumpkin-shaped cup. If you lack inspiration, check out what people are selling on Etsy or pinning on Pinterest.
But what if you're a musician that sells non-Halloween songs on your online store? No problem! Find a way to frame your music into the Halloween spirit. Make a Halloween remix of your most popular song or even better – sell autographed pumpkins.
In addition, you can add a small and not-so-expensive surprise (candy, confetti, a spider from your house, etc.) in the product packaging when you ship your products. Just be creative and you'll surely find ways how to frame your products in the Halloween context.
3. Halloween inspiration blog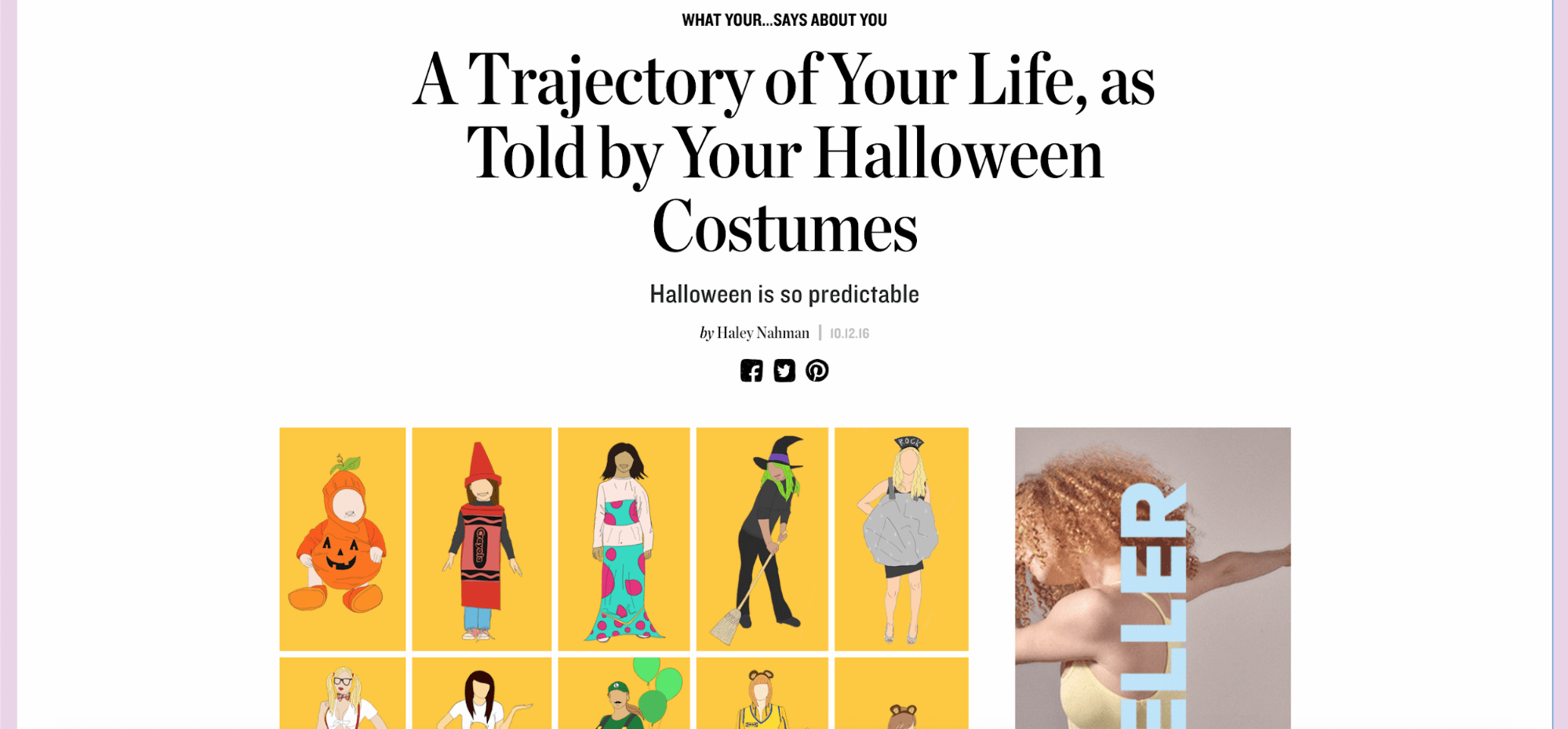 Source: Man Repeller
Next, you can make a Halloween themed mood board or blog. It can be tips and tricks on how to throw the most spectacular Halloween party or advice on how to make the most original costume that will blow everyone's socks off.
For example, make a mood board for Addams' family-themed extravaganza and add all the things that are necessary for the party to be a success (including your own products, of course) – starting from the right decorations, music, and even snacks.
Also, don't be afraid to go over the top – add a step-by-step tutorial on how to create cousin Itt's outfit (you can get the inspiration here).
4. Halloween newsletter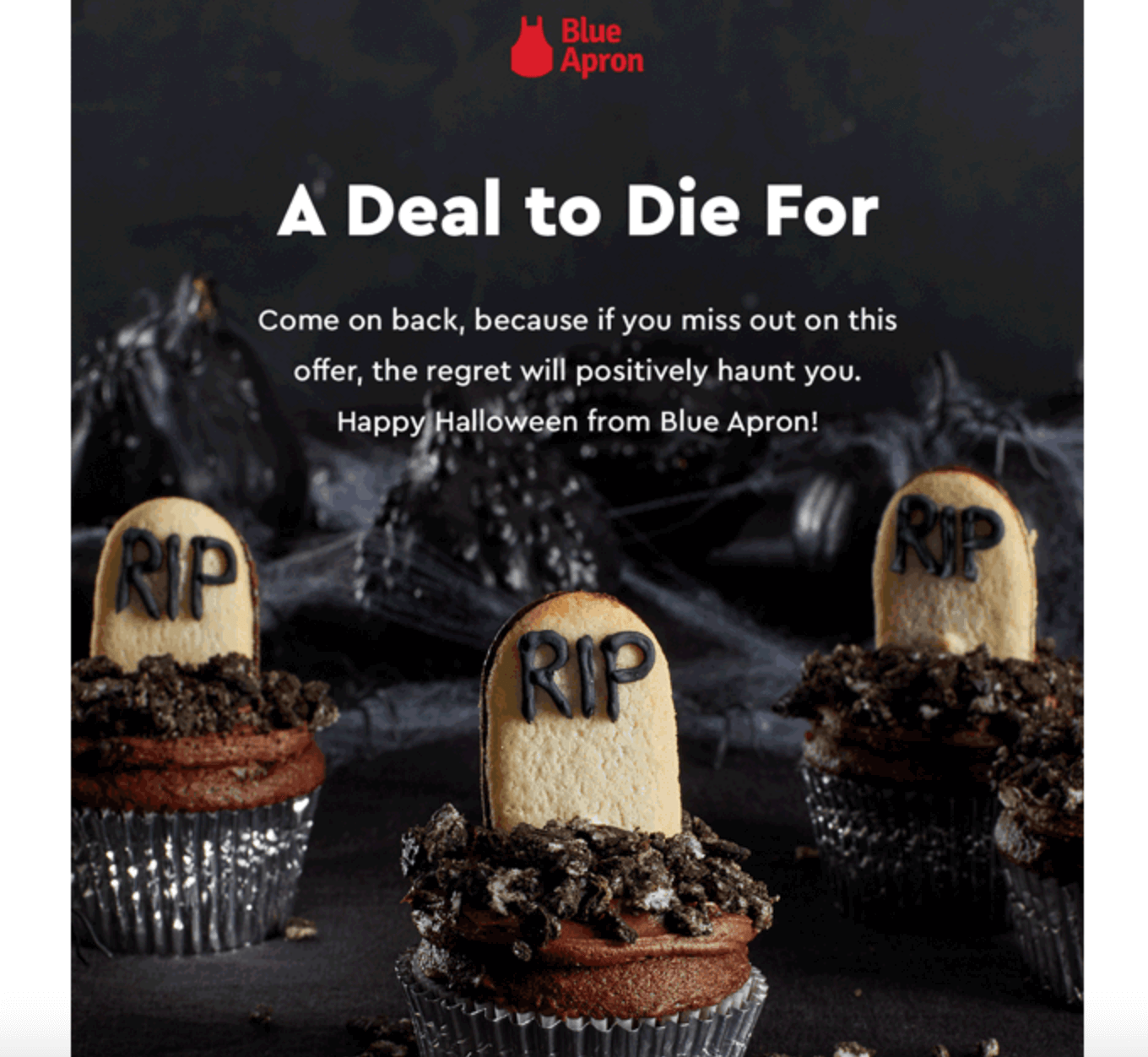 Source: Really Good Emails
This will be no ordinary newsletter. On Halloween forget about the regular emails, because things are about to get spooky.
Show off not only the special offers in your web store but also add some extra spice to it. For example, share some practical jokes that your clients can use on their friends, co-workers or family.
Need some more ideas? No problem:
Add tips on how to turn regular cookies into scary ones
Suggest the scariest Halloween movies to watch
Present your products in Halloween themed setting
Use gifs
*Make up some thematic subject lines
Get some additional inspiration here lines.
5. Change the product names into something spooky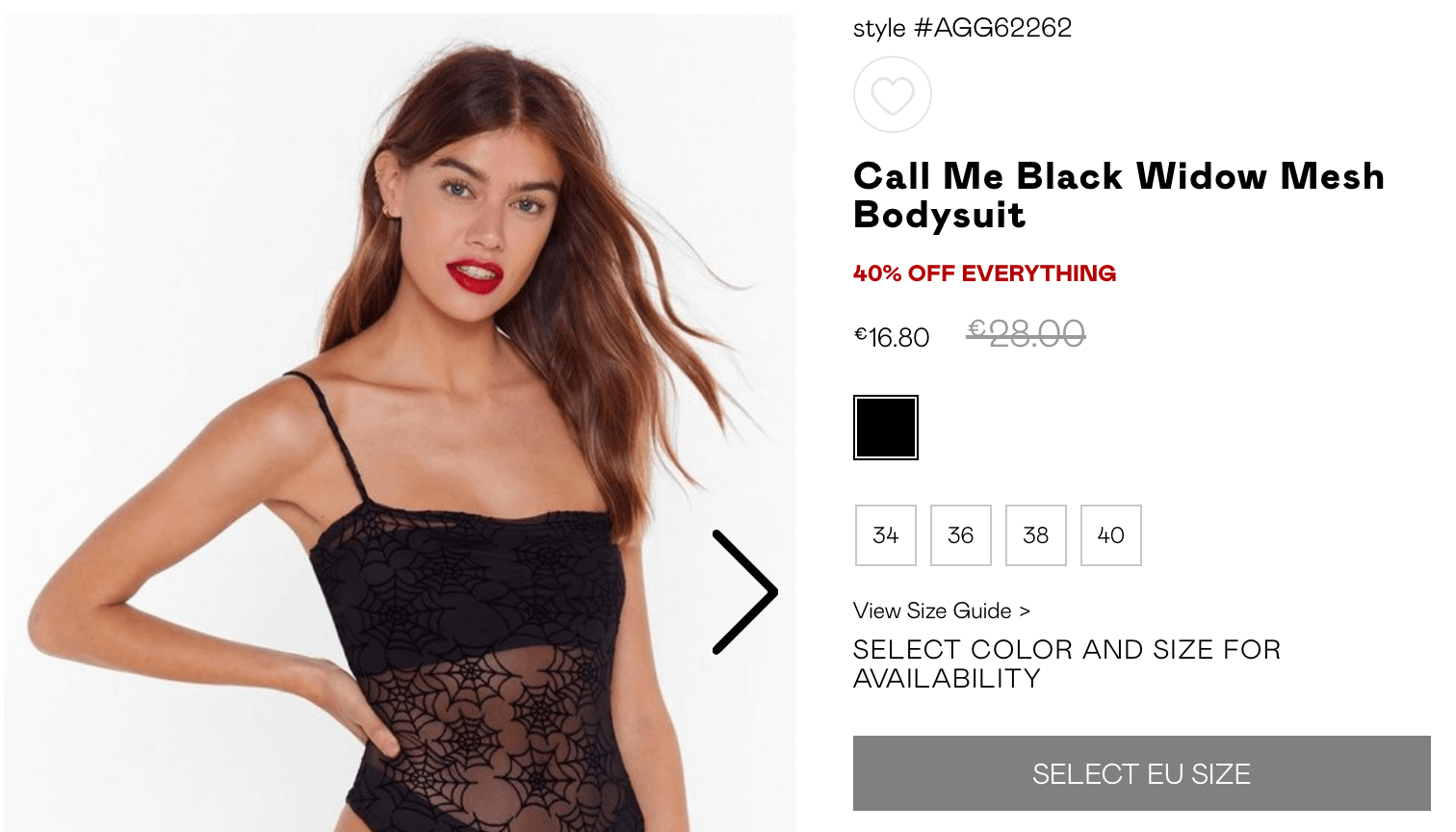 Source: Nasty Gal
During Halloween, everything changes from regular to horrifying. And in this case, by everything, we mean the names of your products.
Imagine – a regular "happy cup" on Halloween turns into a "cursed cup". And "drop earrings" magically turns into "blood drop earrings". It doesn't matter what you sell – jewelry, ceramics, etc. Every product has a potential spook to it.
If you lack inspiration, check out the fashion retailer Nasty Gal which is well known for its original product names. Some of their Halloween outfits are called "ghouls just want to have fun", "You're Creepin' Meow-t", and "It's Going Tibia Okay". Cool, huh?
6. Ads that haunt you on social media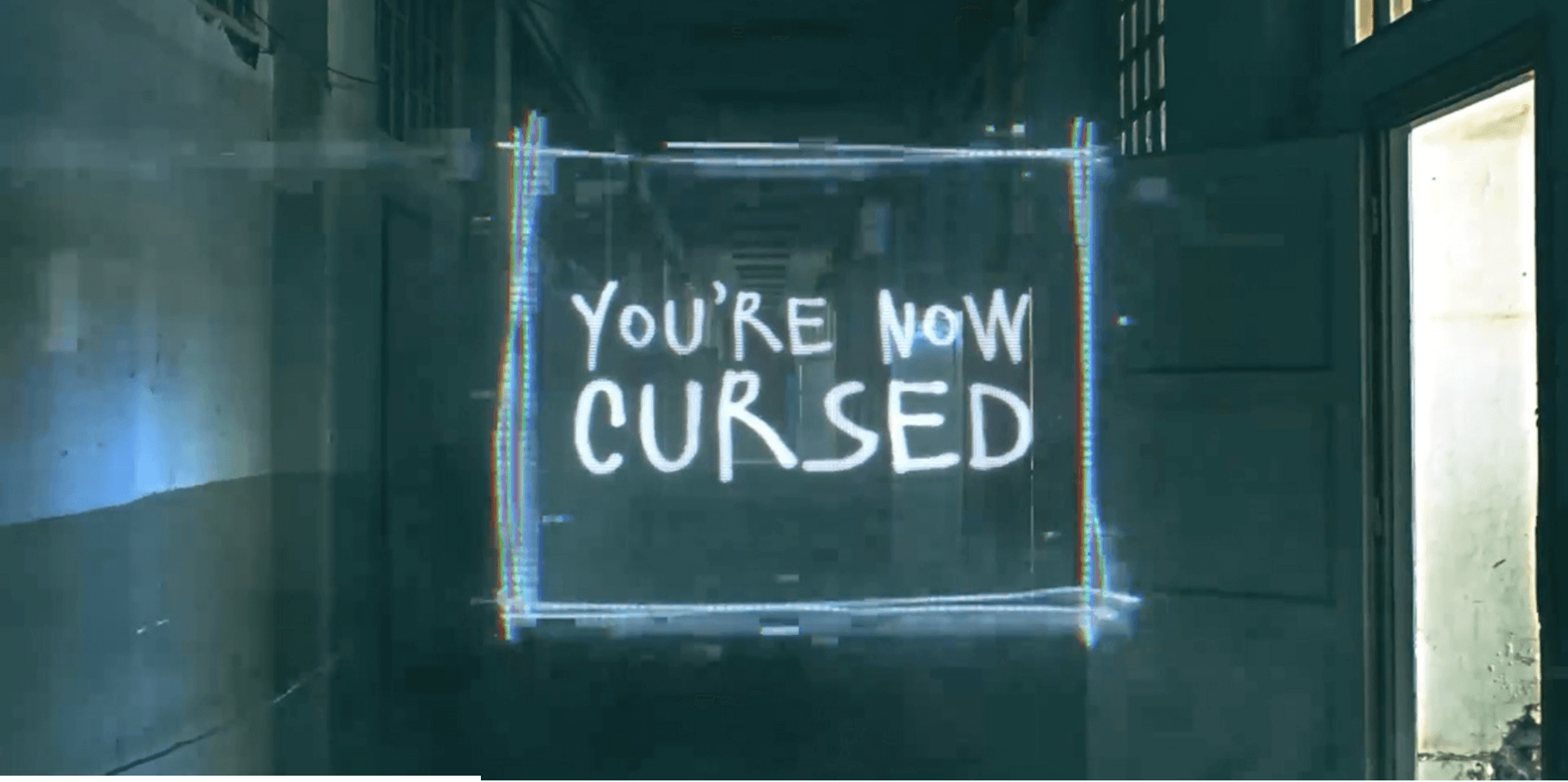 Source: Adweek
Don't forget to use advertising on social media to target potential customers. For example, on Facebook, use retargeting and aim at all the people who have recently visited your page and left without a purchase. Drive them back to your online store with Halloween-themed ads.
However, on Halloween, you have to add some blood-curdling flavor to it. You can achieve that with effective visuals and copy that is seemingly haunting you.
For example, Svedka Vodka used creepy Halloween ads to follow people who clicked on their "bait" cocktail recipe. By clicking on bait, they were taken to Svedka's homepage where a video started to play. After viewing it the "curse" started – targeted ads started to follow people on social media based on their location, drink preferences, or browsing habits.
Your campaign doesn't have to be this advanced, but feel free to borrow the idea of Halloween-themed ads that ''hunt'' your page visitors wherever they go.
See some other examples of Halloween ads here.
7. Free shipping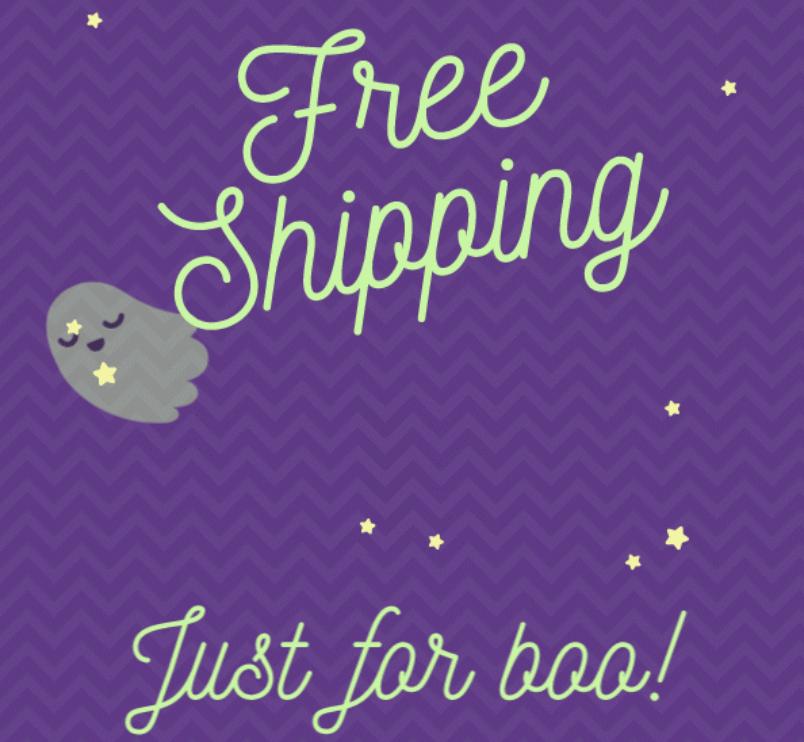 Source: Pinterest
Do you know what is sweeter than all the candy on Halloween? A gift of free shipping to your customers.
Think about it as the modern version of trick-or-treating – yet with no tricks and just treats involved. You can execute this in various ways – announce a special code on your store's social media or just apply free shipping to all the products in your store.
No matter what way you choose to go, we can safely say that free shipping is a marketing strategy that will work and make a profit. The numbers speak for themselves – about 87 percent of online shoppers will most likely choose a store that offers free shipping rather than paying extra for delivery. So, this is a tactic that actually works and most likely will show good results.
Conclusion
Halloween is great. It's fun, colorful, and of course, a bit scary. And as this celebration is so popular, it would be a shame not to play with some of the mentioned marketing ideas that can help you to boost your online store's profits.
The bottom line when it comes to implementing the ideas is – be witty, funny, and authentic. Don't be afraid to be weird because during this celebration the mood is the most important thing.
And don't worry if you're store doesn't fit into a Halloween-related niche. There are plenty of ways how you can add a Halloween twist to your permanent offers. You just have to find the one that works for you.