How Big Bad Bagels manage a love for bagels, customers, and Mozello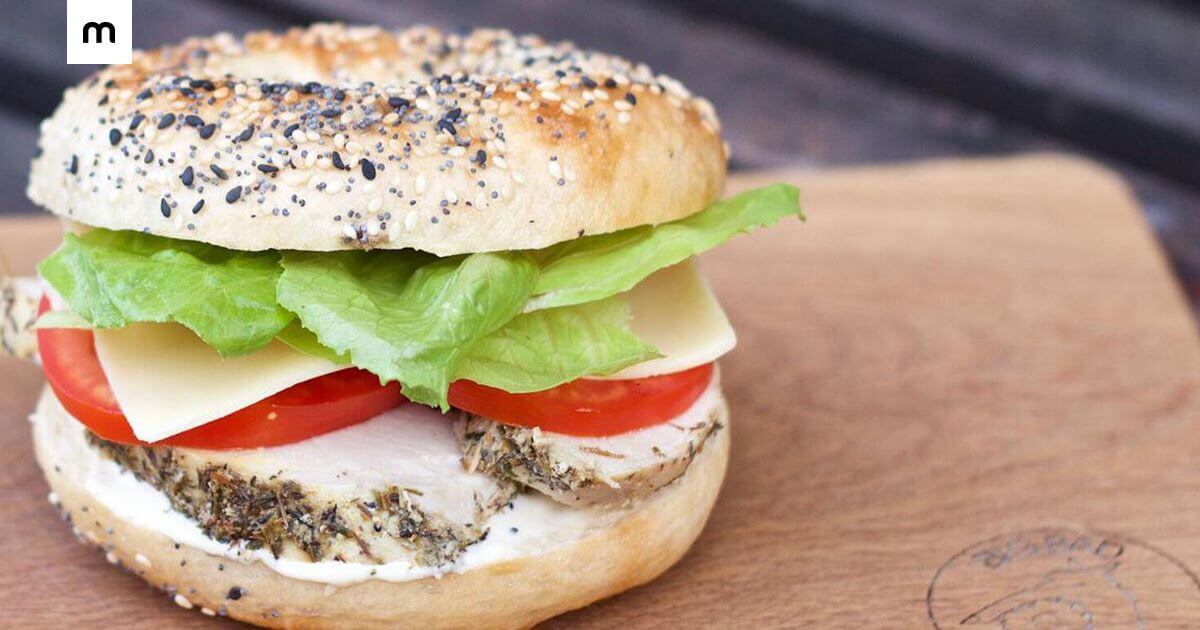 Every company needs a website – Zane Urtāne, one of two co-founders of bakery and cafe Big Bad Bagels, is sure of that.
The bagel bakery and cafe in Riga, Latvia has been open since 2015. Back then it was the only bagel place in the country, and that hasn't changed. They started out with little knowledge of anything baking-related, but after countless hours of Youtube tutorials and thousands of baked bagels, they've become self-taught masters of the bagel craft. Now they successfully run a bagel spot in Riga – Big Bad Bagels on Baznīcas street that is bustling with bagel enthusiasts every day of the week.
Your best online business card
When Big Bad Bagels was created, it was certain that a website was needed. As a person with a background in IT project management, Zane knew from the get-go – a user-friendly and appealing website is the best business card possible. Be it a clothing brand or a bagel cafe, a site that represents a company's values and personality through a thoughtful layout and design is priceless.
When considering potential solutions for website development, Zane recalled Mozello. She had worked with Mozello previously, which made her lean towards the familiar platform. "Moreover, I knew that I'd have someone to call or email if needed. They were a local company, which was crucial to me at that moment," Zane explains.
The simplicity of Mozello's platform was another essential aspect for the Big Bad Bagels co-founder:
"We tried it out and it was clear that no particular skills in web development are needed to build a website with Mozello. Their platform was a perfect match for ordinary people like us."
Since then, the company has maintained the website all by itself: "We don't need to hire an IT person because it's all manageable. Of course, our website isn't the biggest in terms of content size, yet the maintenance part has always been smooth and easy."
A time-saving "waiter on the go"
Time is money. The shorter the time for serving a customer, the more customers can be served and the more can be earned. Despite suggestions to implement automated customer service solutions, Big Bad Bagels hasn't considered that option. The company cherishes human interaction and communicating clients' needs in person is essential.
Yet Big Bad Bagels definitely sees the website as a helping hand in serving customers. Zane explains: "The website saves time in many different ways. Customers are choosing orders long before they visit our bakeries. To those who are considering our food for catering purposes, a visit to our website can easily help with decision making".
A decent mobile version of the website is an aspect that also can't be overlooked. Zane shares that customers often pick their orders from pictures posted on their website and most of the time use smartphones to do it on the go. Without a perfectly working mobile version of their site, it wouldn't be as smooth and helpful as it is.
"I've seen so many websites whose developers haven't thought about mobile or tablet versions. That's not the case with Mozello. It works flawlessly on any device" adds the co-founder of Big Bad Bagels.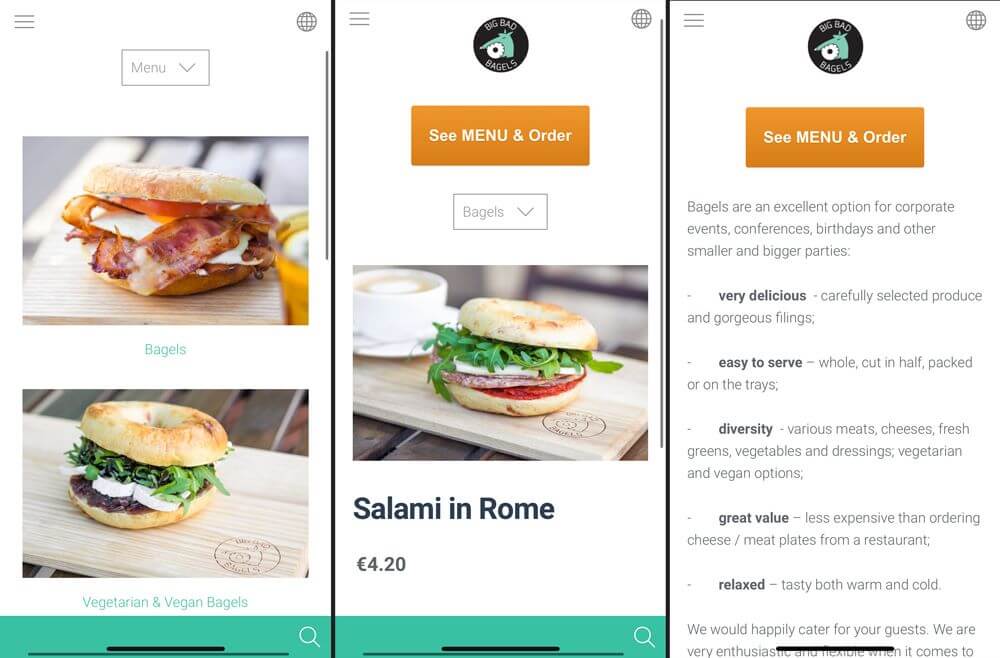 The best solution for growing businesses
There's a question for entrepreneurs as vital as Hamlet's "to be or not to be". And it's: "How to lower expenses?"
Developing a website undoubtedly costs money, and pricing can vary extremely within the industry. Transparent pricing is essential, as unplanned additional costs are unwelcome for any business.
"When you start a company there's always a chance of higher expenses along the way. That's why the costs need to be clear, suitable, and adequate for the outcome. In the case of Mozello, it's all there – clarity, reasoning, and value."
Big Bad Bagels is a growing business. It's no surprise the company prefers a website platform that can be developed both functionally and visually: "There are integrations offered by Mozello that we haven't used yet. It's a huge bonus that the business can grow and the website can grow with it".
The options available on the Mozello platform have surprised Big Bad Bagels with their variety. The company needed to launch a built-in questionnaire on the website for engaging potential franchise partners. At first, it seemed to be a complex implementation that may take a lot of time and resources. "Turned out Mozello offered this function, and we didn't know that. In the end, launching the questionnaire took us 5 minutes," recalls Zane.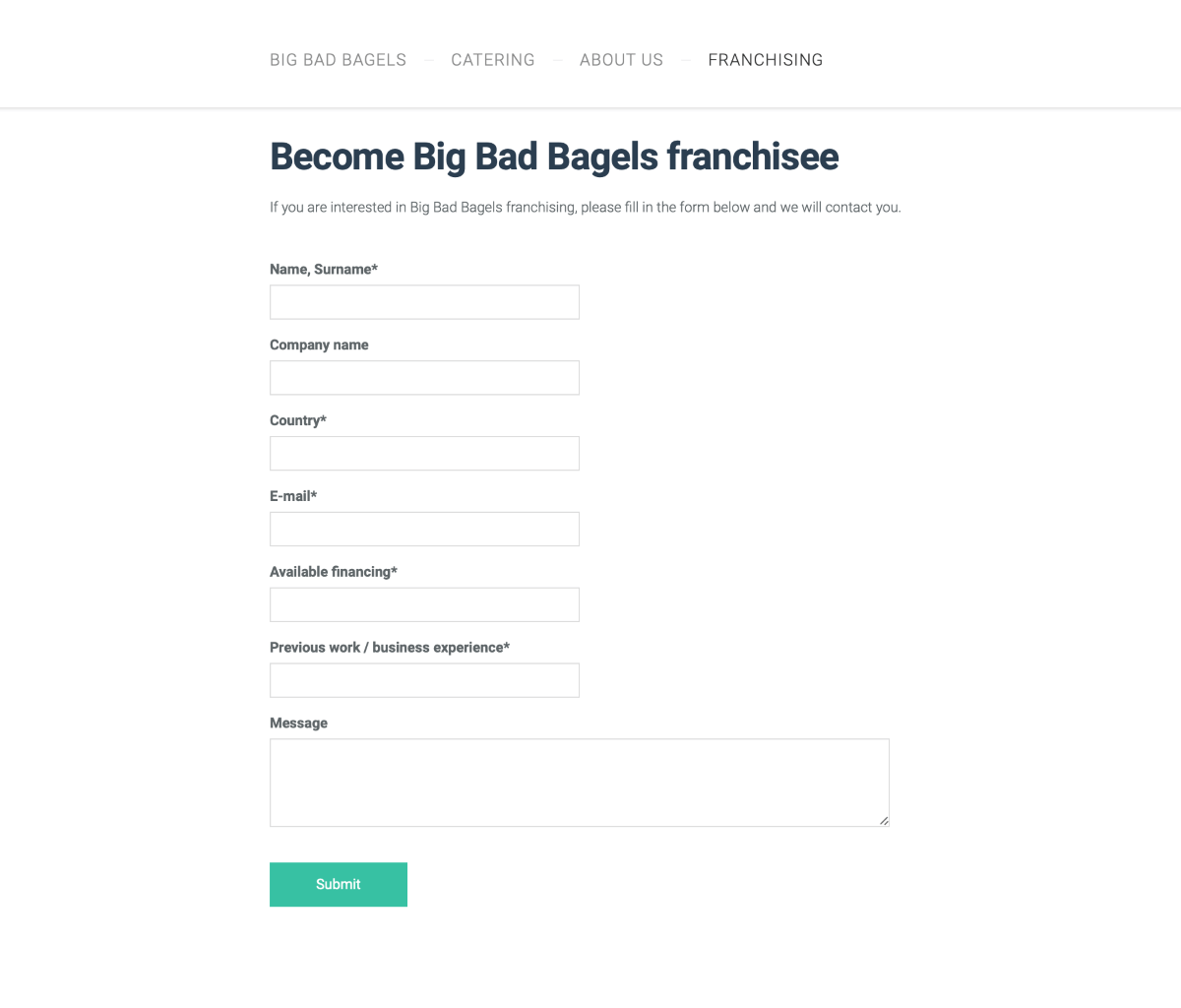 Speaking of growth, many businesses that aspire to expand beyond the local market may require website content translations: "Its crucial clients can read the website's content in various languages. In the case of Mozello, adding translated versions is quick, and the options are wide". Zane says that the multilingual content option was another important element to consider when choosing a website builder platform.
Big Bad Bagels during the lockdown
The global pandemic has been a huge challenge for many companies. It's almost impossible to find businesses that haven't been affected by the crisis. And for the hospitality industry, the impact has been particularly painful. Luckily, Big Bad Bagels is still going strong and is even exploring new solutions and ideas.
When the lockdown was announced in Latvia, the Big Bad Bagels team realized that it was just about time to consider a delivery option. The company had thought about it before, but implementing this had always seemed to be too complex. "You know how it is when you have to make choices within a few hours and there's no time to design a project or think it through – that's when the fastest solutions appear," admits co-founder Zane. Although they eventually chose to outsource the new service of delivery to speed up the launch, its integration into the existing website platform was effortless: "The integration was painless – Mozello saved us there. We added a new service option within a day".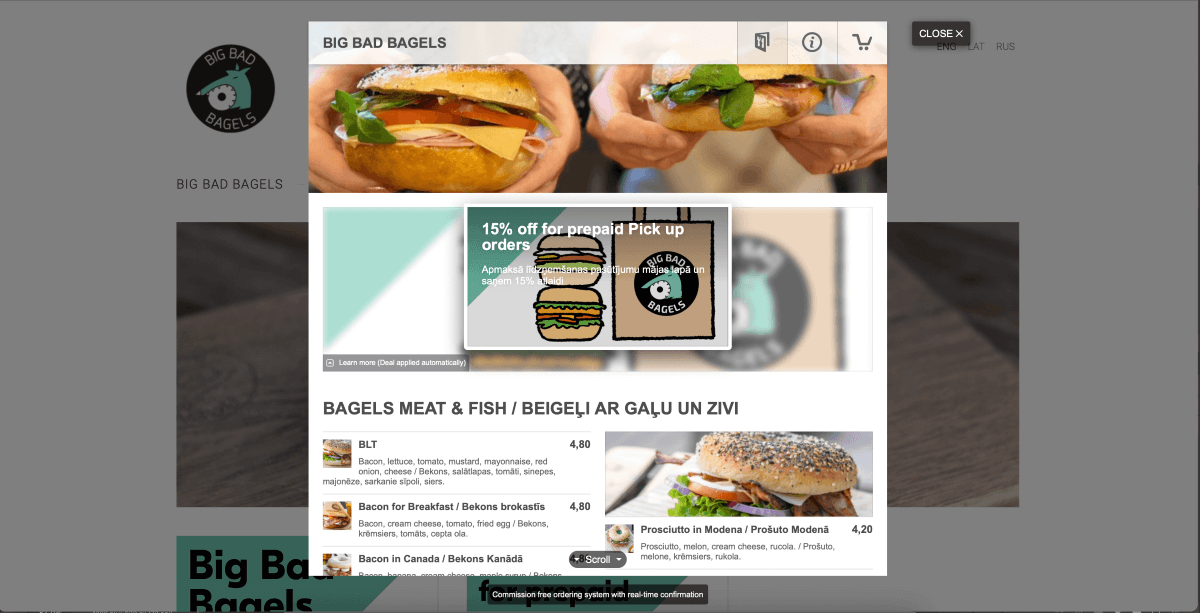 The delivery option not only earned them more income during the COVID-19 crisis but also provided a relevant topic to communicate with their website audience.
"It was crucial to keep our website visitors engaged. The delivery option news gave us a way to make sure our customers knew we're open."
Of course, the lockdown wasn't easy on anyone and Big Bad Bagels had its struggles as well. However, the company provided customers not only with love in the shape of bagels but also with some socially distant interactions: "We had set an order pick-up section in our cafe. The process was contactless, yet it gave a sense of socializing that we all were lacking tremendously".
Now, when the post-lockdown summer has already moved closer to the post-lockdown autumn, business is still doing good for the Big Bad Bagels. Although Riga isn't that full of tourists as it usually is during the warm season, the bagel place has their hands full of work. And honestly, it's no surprise, because who wouldn't want to have a freshly baked and crazy good bagel?
If you ever find yourself in Riga near Baznīcas street, pay a visit to the bagel paradise – you won't regret it for sure.
However, if you're looking to create your own website or online store, give Mozello a try.