How to write blog posts that boost SEO, brand credibility, and revenue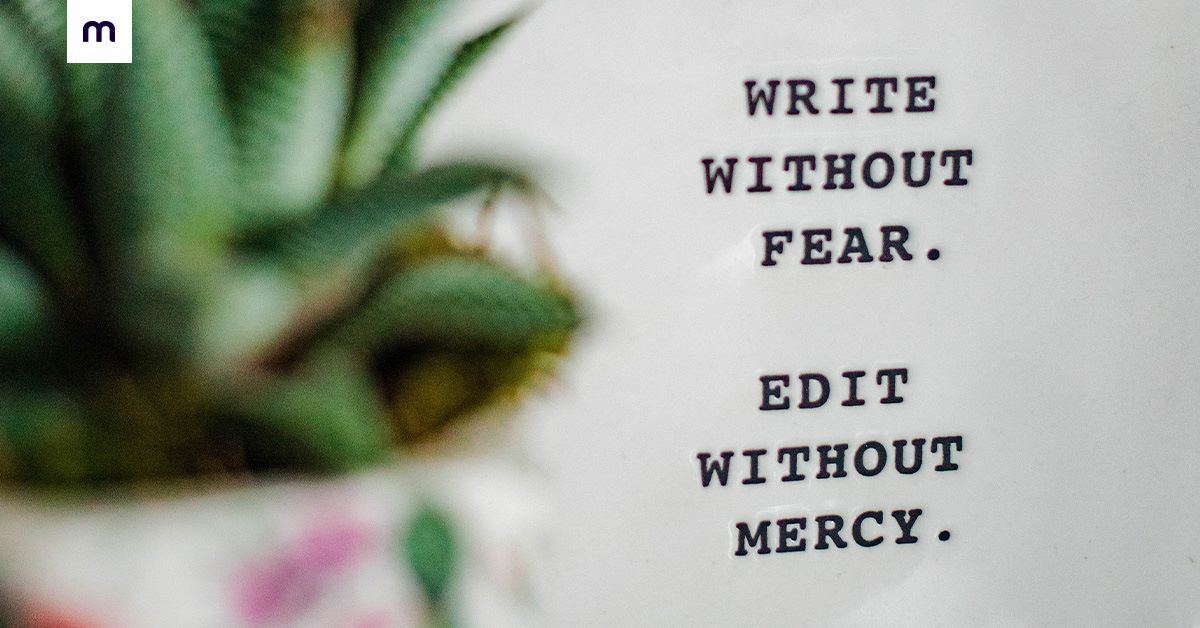 Oh, blogging.
We all know it's not easy and takes time (that we already don't have), and we all know it's something we should be doing because of all the business benefits – higher rankings on search engines, increased brand awareness, new customers, and much more.
Stats show that it takes on average 3 hours and 57 minutes to write a blog post. That may seem like a lot of time for a small business owner wearing many hats and already working overtime. But then again, the benefits are tempting.
The good news is – less can be more.
That is, you don't need to publish tens of articles a month; you can publish a few and still see great results. In this article, we'll show you how and what to pay attention to.
Continue reading, and you'll discover:
The most effective SEO tactics that boost search engine rankings
How to make your content more trustworthy
Types of articles that are best for attracting new customers
1. How to write a blog post that search engines like
We don't need to tell you how important it is to rank well on search engines.
New research that analyzed billions of search results showed that 28.5% of people click on the first organic result in Google Search. Sure, some people will check out other articles on the first page, but — the lower the position, the fewer clicks, the lower website traffic and fewer purchases.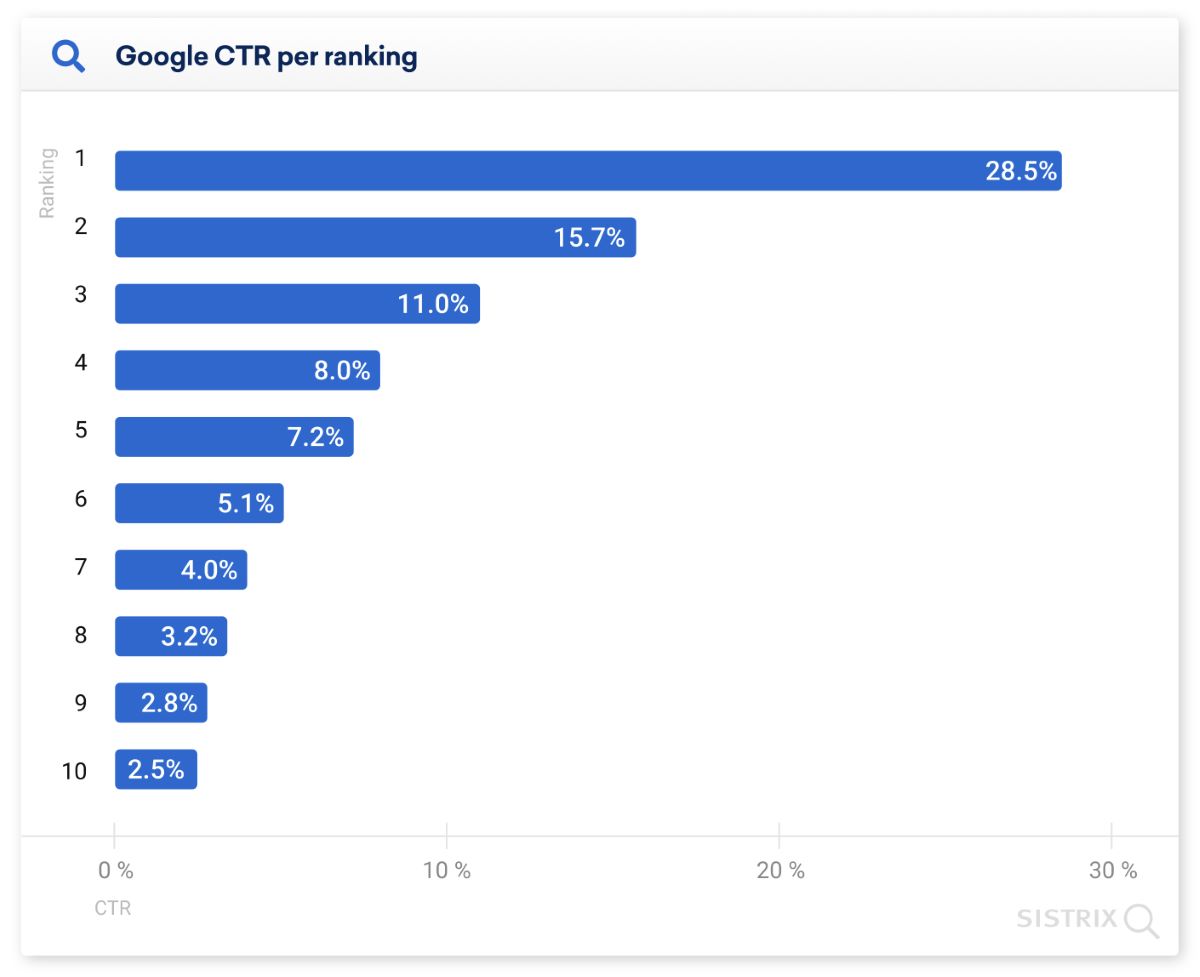 The question is – how can you compete with more established brands and their content for a place on the first page of Google?
Here are three tested-and-true tactics:
 Focus on long-tail keywords
Compare the two keywords:
red t-shirt
red crew neck t-shirt with a dinosaur for kids
The first one is short and kind of vague because you can get all kinds of results for this search – men's, women's, all sizes, with different appliques and necklines. Whereas the second one is much more detailed.
Long-tail keywords are longer and more specific keyword phrases that visitors are more likely to use when they're closer to a point-of-purchase. (Source)
There are two important benefits for optimizing your content for long-tail keywords:
First, lower competition. While hundreds of brands sell red t-shirts, not all of them sell red t-shirts with dinosaur appliques for kids.
Second, people using long-tail keywords probably already know what they want. By offering them that exact thing, you have higher chances to receive more clicks and more purchases.
However, keep in mind that because long-tail keywords are more specific, they also have lower search volumes. Because not everyone knows what they want when they head to Google, and not everyone wants a red kids t-shirt with a dinosaur. Make sure you find a balance between being specific with an optimal search volume.
How to find long-tail keywords?
You don't need to be an SEO pro to perform simple keyword research and find long-tail keywords for your content. Here are three quick ways to find them: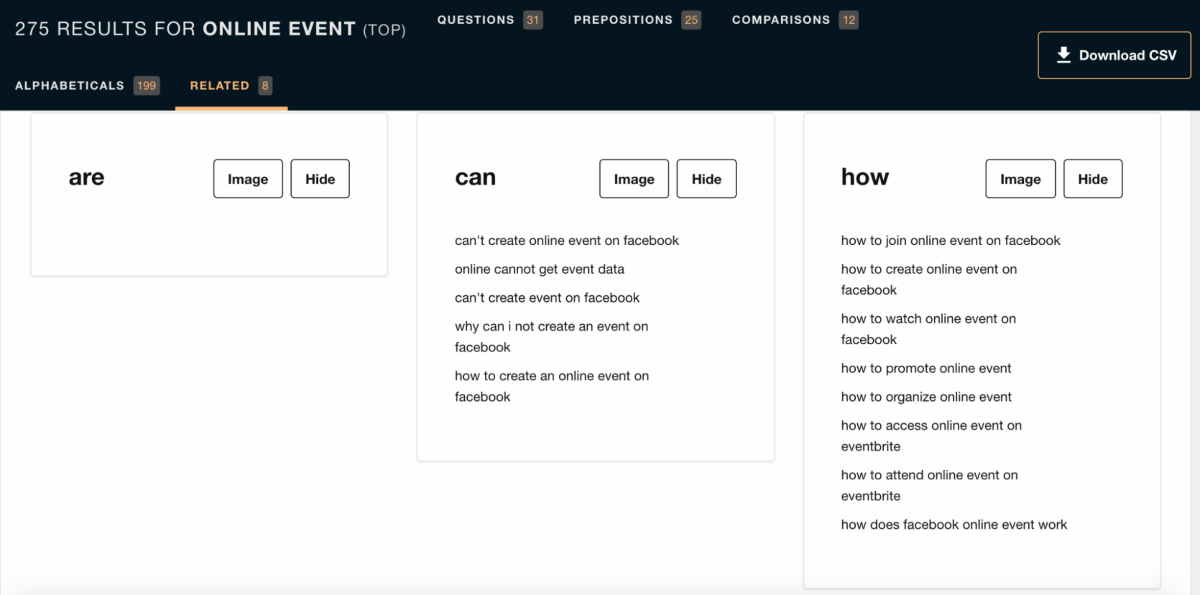 Use keywords proposed by Google auto suggest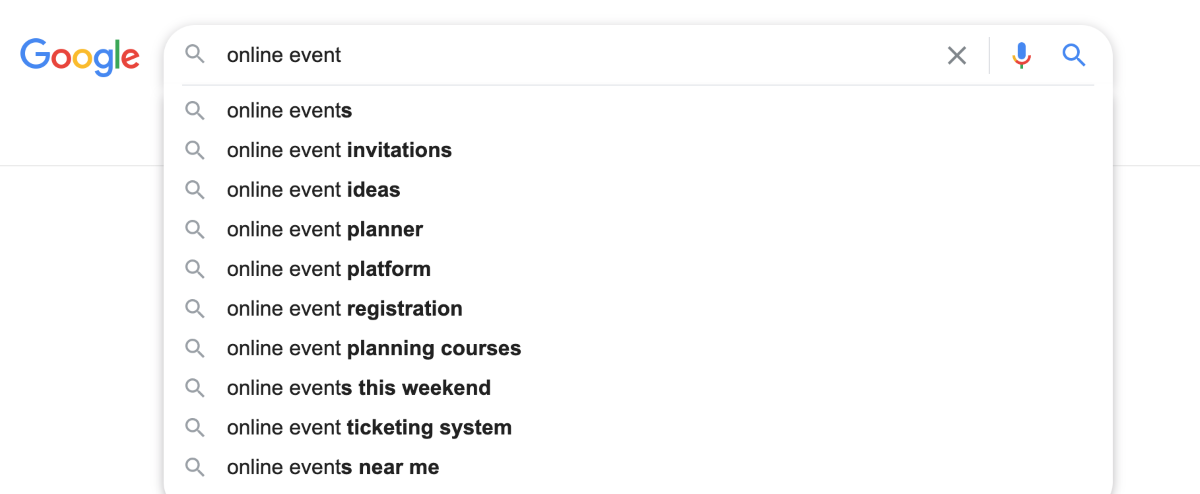 Try social media search boxes (eg., YouTube, Twitter)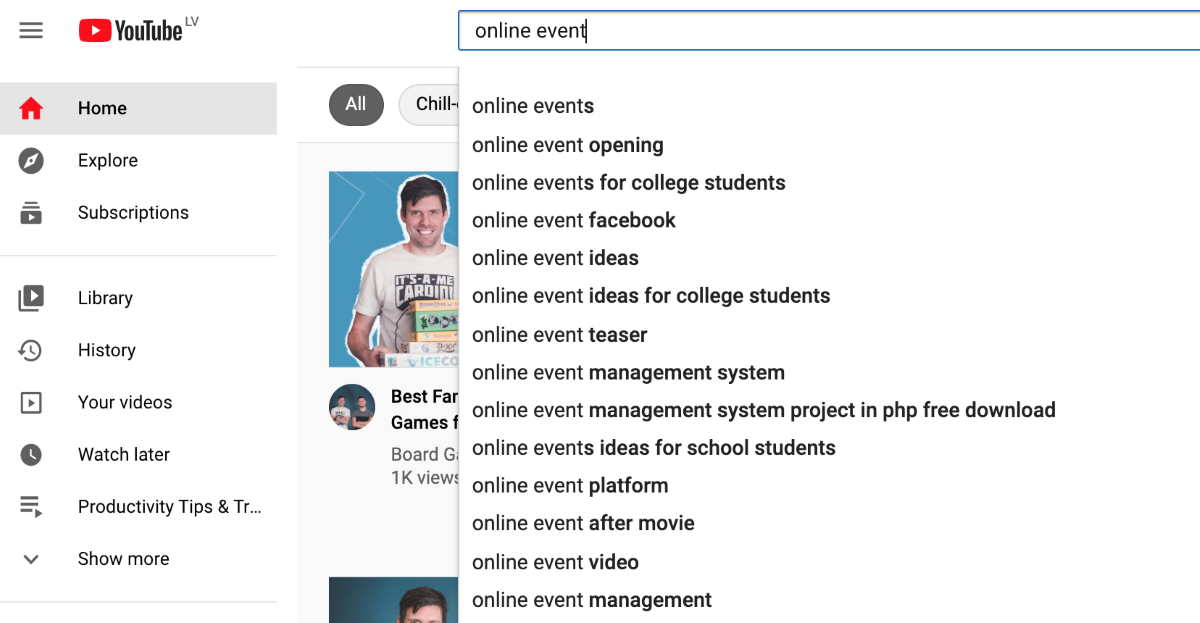 Long-tail keywords can also have a location property if your business is location-specific. For example, if you sell freshly-baked pastries in Liverpool (or even a specific district), be sure to add that location to the keyword, thus narrowing your competition and appealing to your target audience.
Collaborate with other small businesses for backlinks
While keywords are necessary to let search engines know what the content is about, backlinks are a sign of its quality.
The logic is as follows: the more other sites link back to your content, refer to it and recommend it to their readers, the better quality it must be. And better quality content must be prioritized and ranked higher.
That being said, earning backlinks is extremely difficult. No one really cares about your content and its rankings. No one will spend their time adding a link to your article from their piece that was published months ago.
Then what can you do to earn backlinks?
Offer to do something valuable for them FIRST. And by ''them'' we mean the site you want the backlink from. For example, you can reach out to other small business owners (struggling with the same challenges as you) and offer them to:
Share their products/content on your social media
Add a link to THEIR content in your article
Mention them in your newsletter, YouTube video, etc.
Write a free article for their blog
Offer them to publish a guest article on a relevant topic on your blog
By offering them to do something they need, you have a better chance of receiving a positive answer when asking them to do you a favor. That's called reciprocity – a social norm that ''compels people to return a favor when someone has helped them.''
Don't be afraid to write long articles
Yes, long articles.
Yes, you read that right.
According to stats, longer articles get better results. In fact, the majority of bloggers who write 3000+ word articles report ''strong results'':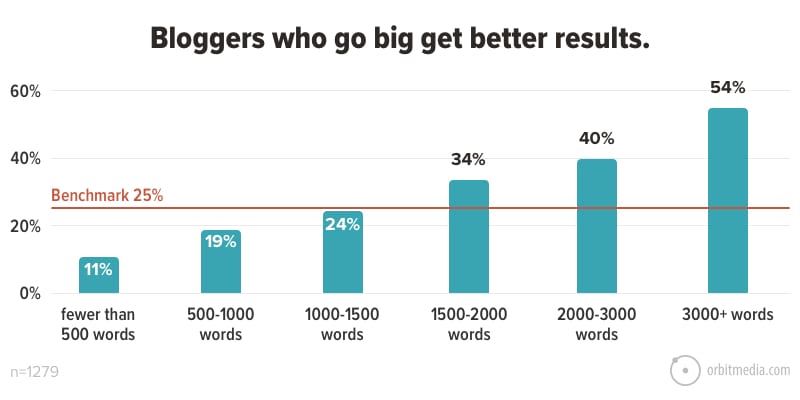 There are several reasons why longer posts perform better:
First, even if people don't read every word, they still need more time to scroll or skim through longer posts than shorter ones. The more time people spend on your content, the stronger the signal for search engines is that your content is good and needs to be ranked higher.
And second, longer and more comprehensive posts tend to receive more backlinks. Why? Because they include a lot of information, cover an entire topic on a single page, and are an easy ''link-to'' resource whenever people write about a related topic on their blog.
Now, there's a BUT:
Long posts are great only if they're scannable. Meaning, you can read it diagonally and still get the main message.
How do you make your content scannable?
Don't write long sentences and paragraphs
Use subheadings
Use bullet points
Bold the important information
Use informative images
2. How to boost brand credibility with blogging
One of the main aims of blogging is to show that your brand is trustworthy. Well-written blog posts not only improve your SEO rankings but also establish your brand's credibility and image to people who've landed on your website from online ads. To be precise, 68.5% of online buyers say a blog makes a website more credible.
These are three fail-safe ways to write blog posts that boost trust and credibility for your brand.
Source experts
If you include expert comments in your blog posts, you are creating an image that your brand is trustworthy and reliable.
The expert comment doesn't have to be about your brand or the products you offer. It's enough that experts share their knowledge about different topics related to your blog's beat (beat = journalist lingo that means "topic"). For example, if you sell cooking utensils in your store, you might invite an interior designer to speak about kitchen and dining room design trends without directly advertising your products.
Here's how to attract experts to your blog:
Collaborate with other relevant businesses
Similar to what we said about link exchanges, you can trade expert comments with other small businesses that are knowledgeable in their field of work. For them, it's a chance to gain exposure. For you, it's an opportunity to show that industry experts (that aren't direct competitors, of course) trust your business and are rooting for it.
Include academic sources
Studies carried out in universities or comments from academics are always a good way to show that your article is well-researched and grounded in proof. You can use Google Scholar to look for relevant topics and recent studies. Or, reach out to an academic directly, inviting them to contribute to your article by giving a comment. You can find their contacts either through Google Scholar or on their university contacts page.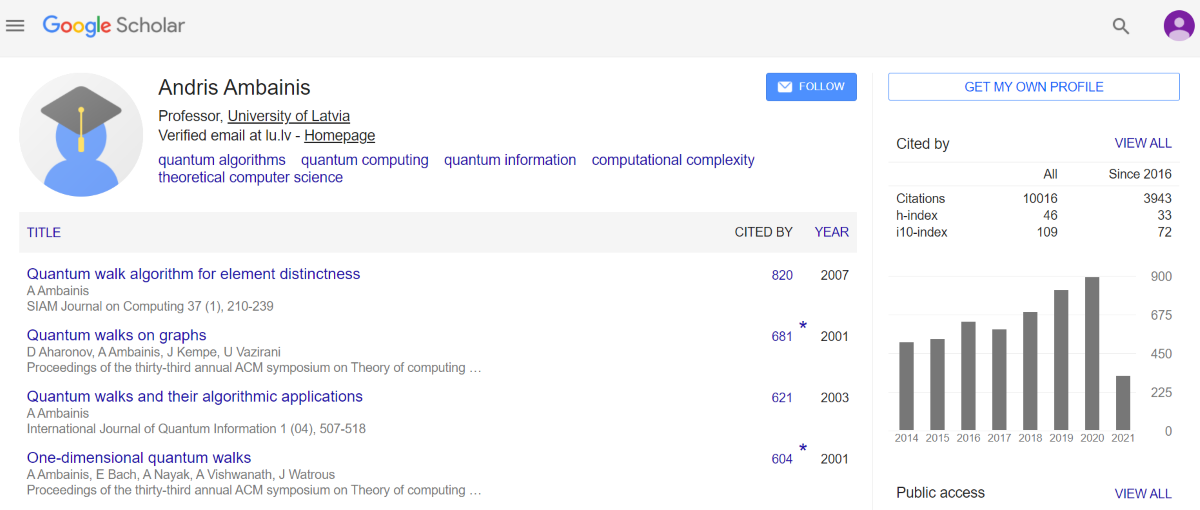 These platforms are used by journalists and blogs who are searching for experts to comment on a topic they're writing about.
You can apply either as a media outlet or as a source. If you sign up as a source, you can apply to receive queries from media outlets relevant to your industry. When you give a valuable submission to a relevant query, there's a chance that your contribution will be published on someone's website.
If you sign up as a media outlet, you can submit your own queries and create articles that include sourced expert commentaries. This way you can create articles with valuable insight without having to write everything yourself.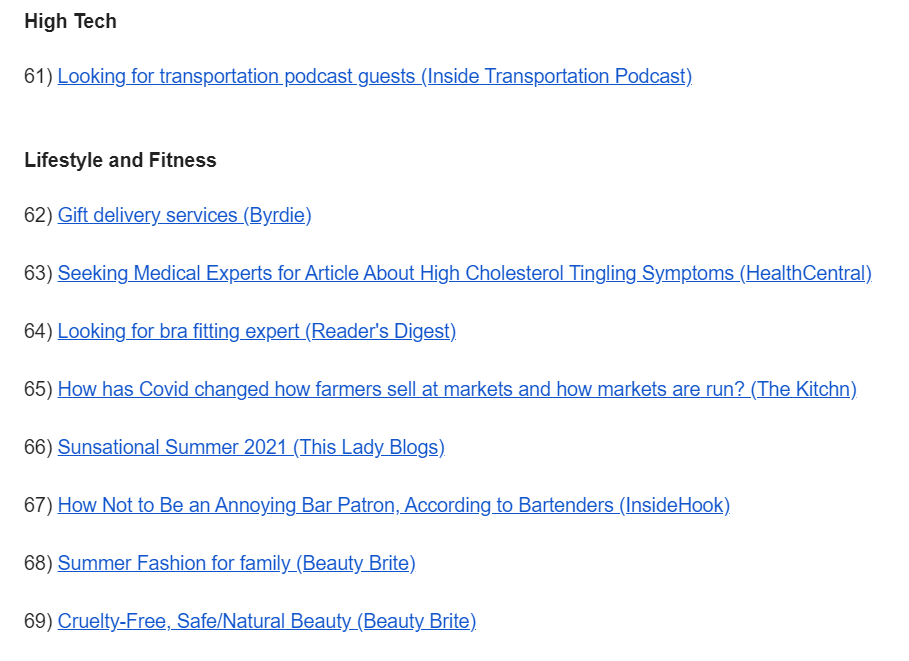 Use data and (real-life) examples
When you write your blog posts, always include links to industry stats, scientific studies, or reputable sources that have covered the topic previously. Numbers and data are always convincing and show that your content is authentic and based on trustworthy sources.
Another way to show that you know what you're talking about is to include concrete examples that illustrate your topic - just like we're doing in this article.
Examples can be very diverse. For instance, if you're selling gardening supplies and blogging about gardening tips, you can take photos to illustrate how flowers should be planted or taken care of. This will show that you know what you're doing from experience.
Alternatively, case studies — articles about your clients' experience using your product — are a great way to achieve several things:
A demonstration of how your product or service works and how it can benefit clients
A win-win for you and the client(s) you mention in the piece
Helpful content that isn't just theory and illustrates real-life examples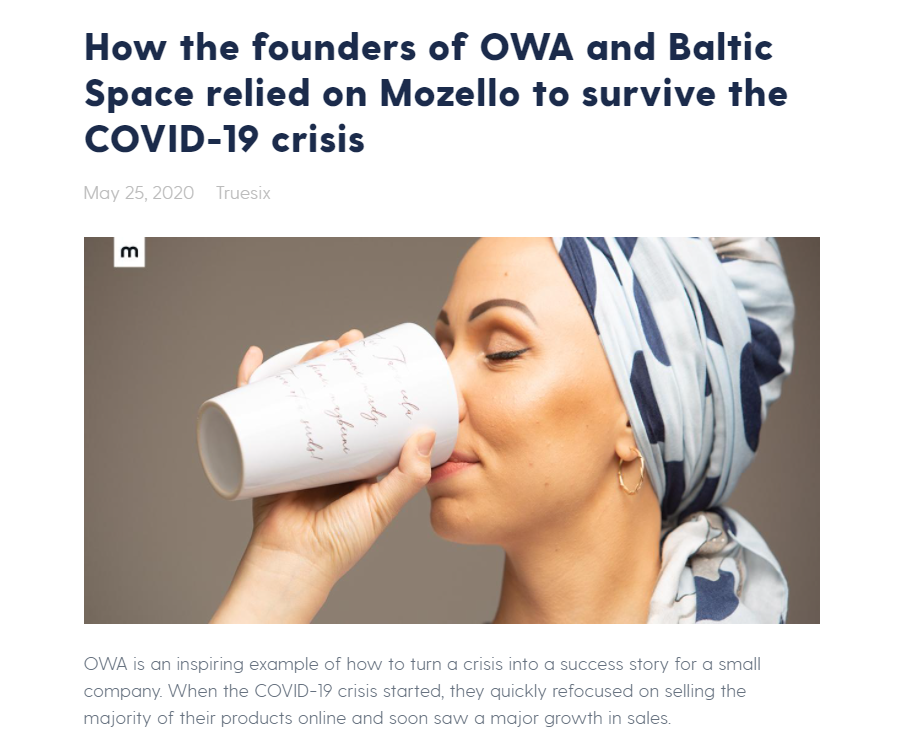 Aim to help, not to sell
All good articles should be truly helpful. If you manage to create in-depth, resource-rich and comprehensive blog posts, your readers will return to seek advice on your blog. And eventually, some of them might become your customers.
Remember - having an amazing blog post appear on your website is already a marketing moment. You don't need to oversell by repeatedly mentioning your product or brand in the article or by placing numerous ad banners all around the text. Such aggressive marketing tactics may backfire and put people off.
How to boost revenue (types of best-performing articles)
Even if we just explained that the main aim of blogging shouldn't be to sell, but to help (while creating awareness about your brand), some types of articles actually have high conversion rates.
53% of shoppers say they always research the products before buying. It's an opportunity for you to become the source that gives them the information they seek. When they've read something helpful on your site, their trust is reinforced and they are more likely to buy from you.
That said, your whole blog can't consist of only these "revenue-boosting" posts. Make sure to balance different types of helpful content and publish the articles with high potential at the right times.
Explainer articles
If people look for an article that explains how something works, it means they're already in a more advanced stage in the marketing funnel. In other words — they are more prepared to buy than someone who never thought about the problem or the product at hand.
Explainer articles are often written in a question-answer format. Depending on what your product or service is, think about the questions your followers might have about it.
For example, if you offer business consulting or any other type of services, you can write an article explaining exactly how such services work and how you collaborate with clients. If you have a car repair shop, write an article about spring maintenance and other important steps to ensure your car's longevity.
In short - think about the main questions clients may have about the industry or type of business you are in and explain all the uncertainties.
Gift guides
Ever had issues choosing a gift for your partner, parents, or friends? You're not alone – in fact, mobile searches for the keyword "unique gifts" have grown 110% in the past years.
People need help choosing an original and heartfelt gift — and it may be an opportunity for you. If you sell products that could qualify as gifts, create gift guide articles, and include your product or products in them.
Include relevant keywords, like "Valentine's day", "Unique birthday gifts for your wife", "Mothers day gift guide," etc. and try to include really unique and fresh gift ideas. Even if the reader doesn't choose your product but another gift from your list, they will have seen your website and your product at the top of the list, and may remember it in the future.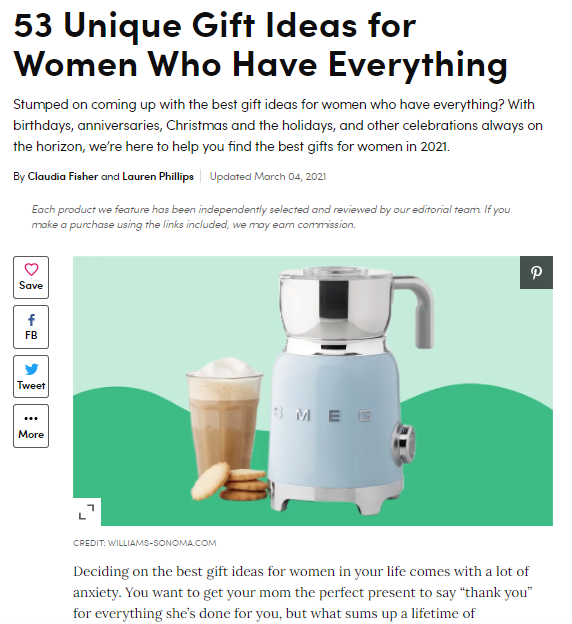 Comparison posts
Comparison posts are super helpful for readers because they solve the tedious task of researching products and solutions themselves.
Many small business owners prefer to avoid their competitors and pretend they don't exist. However, the smarter move may be to pick a competitor that offers similar quality services to you and make an honest comparison post. Unless all your features are identical, you can make an overview of:
Key features
Design and UX
Pricing
Availability locations (if relevant)
Customer reviews
You can show your strengths in the post, but try to make the article as objective as possible. If you advertise your product or service too much, people won't believe that this is an honest comparison and will simply leave.
Good luck creating powerful blog posts!
All these tips probably seem like a lot to take in. But don't worry — writing convincing blog posts is a skill you can master, and the advice outlined here is a good place to start.
 So,
Find your topic and match it with a long tail keyword.
Reference trustable sources and give real-life examples. Keep an eye on partnerships and experts who can contribute to your content.
Write posts that are helpful and valuable to the reader. Don't directly try to sell through your blog.
To sum up, blogging is a powerful channel for boosting your credibility and improving SEO rankings. It does take time but it's an opportunity to help your readers and raise their awareness about your brand. And later, they may remember you and come back to buy from you.