3 must-have holiday campaigns to maximize holiday season sales in 2023 [step-by-step]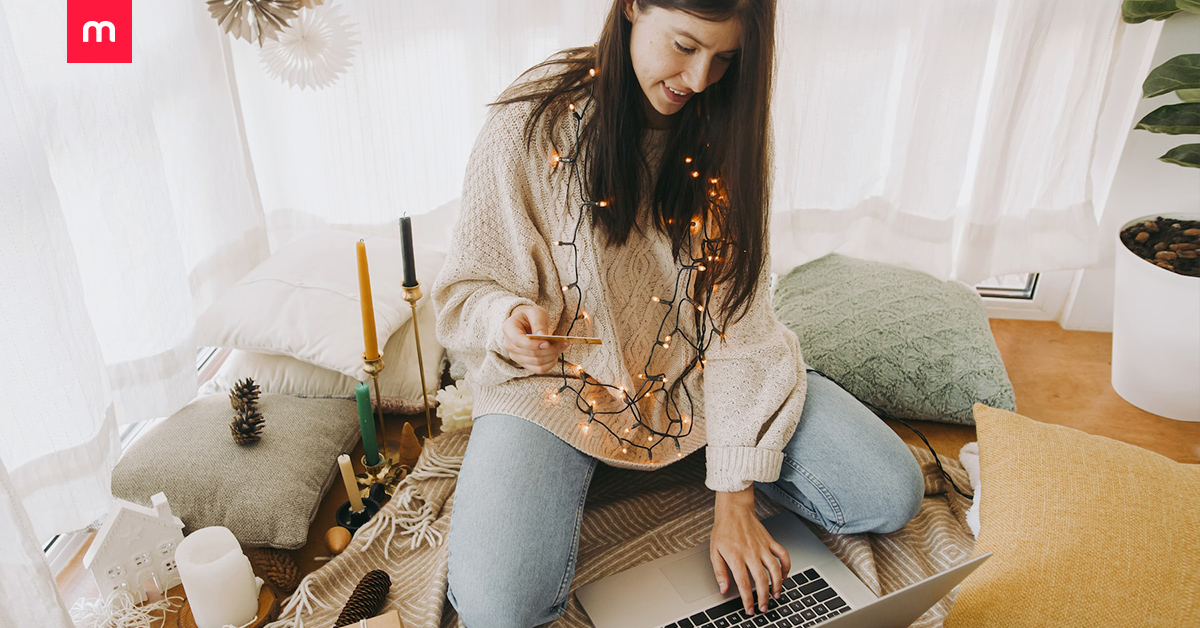 The holiday season is upon us, and for online stores, that means it's the most profitable time of the year! People are in the buying mood, and what's more – online spending is expected to increase by up to 12.8% this year.
The most important thing for an online store to do is to take advantage of this spending mood. Don't waste the holiday season.
But how do you best take advantage of the holiday buying season? You:
Identify when people are most likely to make purchases
Develop campaigns to help push them over the edge (a.k.a. help them choose your product rather than someone else's)
Give them an offer they just can't refuse
So what are the campaigns you should be running to make the most of the season? Let's dive into the data and psychology behind the campaigns that are bound to increase your sales this year.
Cyber week discounts
Cyber week is a concept that has taken root in the USA and spread all over the globe. Now, consumers everywhere expect the biggest deals of the year to be concentrated during the 5 days of Cyber Week.
When is Cyber Week?
Cyber week starts with American Thanksgiving, the last Thursday of November. This year, that's November 23rd. The following day is known as Black Friday, and the following Monday, as Cyber Monday. Many retailers have extended their sales to run all 5 days, and it makes a lot of sense financially. Online retailers can expect to earn 25% of their holiday sales during these five days alone.
Here's a look at Cyber Five sales in the USA last year: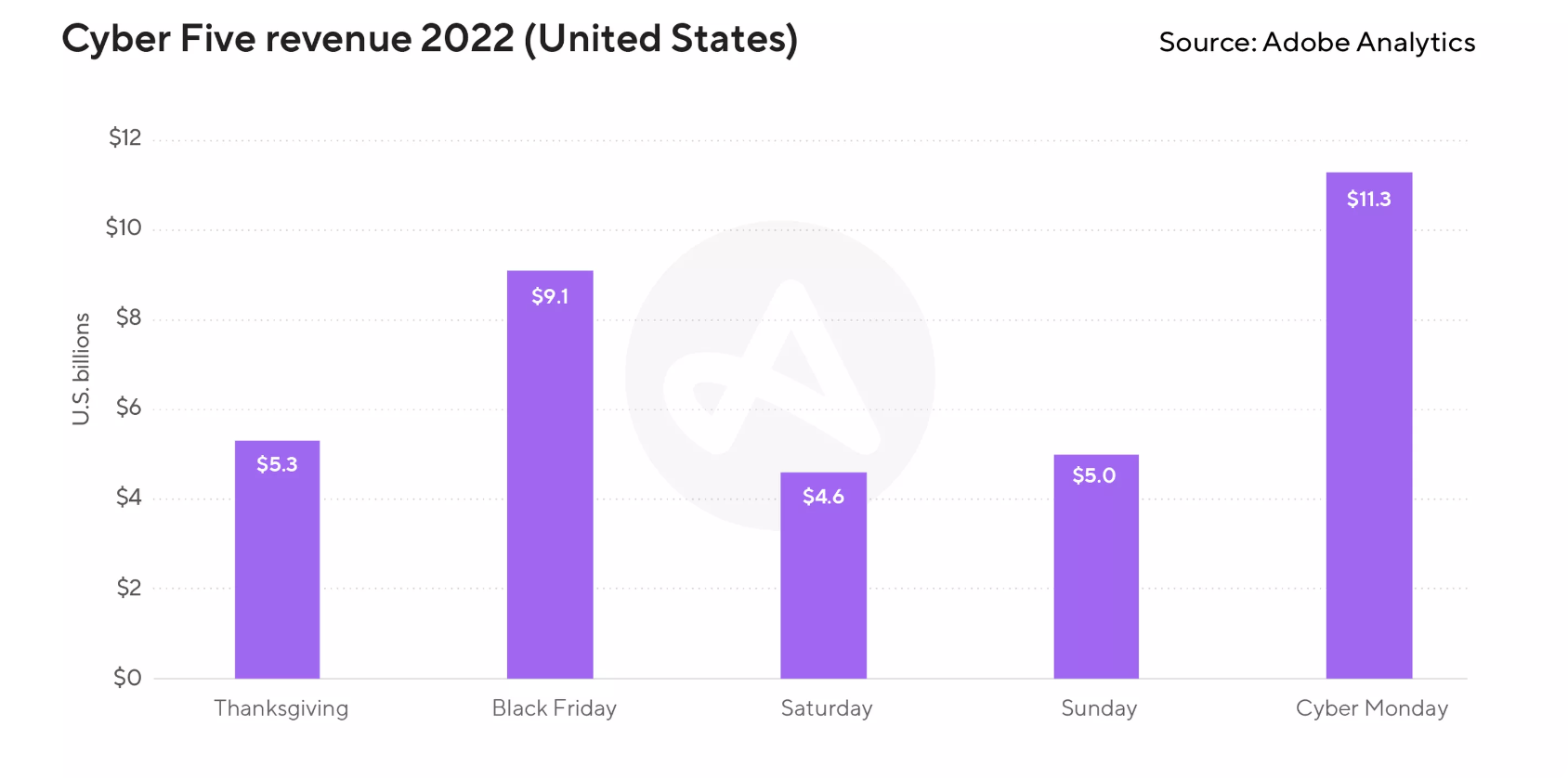 While this data reflects sales in the US, data shows that Black Friday awareness in European countries is at 100%, with awareness about Cyber Monday quickly catching up.
How do you implement a cyber week campaign?
Identify the largest possible discount you can offer – Ideally, this is a discount that's larger than any other sales you've had during the year. But make sure that you're still making a profit – you don't want to be losing money on the purchase.

Create and send out an announcement email to your list – Announce on Day 1 (November 23rd) the beginning of your Cyber Week deal. Make sure to let them know when it will end (ex. On Cyber Monday) to instill a sense of urgency.

Update your website with the sale – make sure that visitors to your website know about the sale. That can be done by creating a content block just below your main menu which sends the visitors to the sale page, adding a popup with the discount code using Engaga, or simply slashing the prices on your products.

Share on social media – make sure to use all of your social platforms to communicate your Cyber Week discounts. Post daily reminders of your products that are available and the phenomenal price they're at.

Create and send out a reminder email – on Sunday and/or Monday, send out an email to your subscribers reminding them that the discount will soon be ending. Make sure to let them know that it's the lowest the price will be all year.
If there's one campaign you're going to run this year, make it this one! Your buyers and your bank account will be grateful for it.
Free shipping
Did you know that the most common reason a potential buyer doesn't finish their purchase is because of shipping charges?
A survey found that extra charges, such as shipping, accounted for 47% of the cases when buyers left their cart before completing the purchase.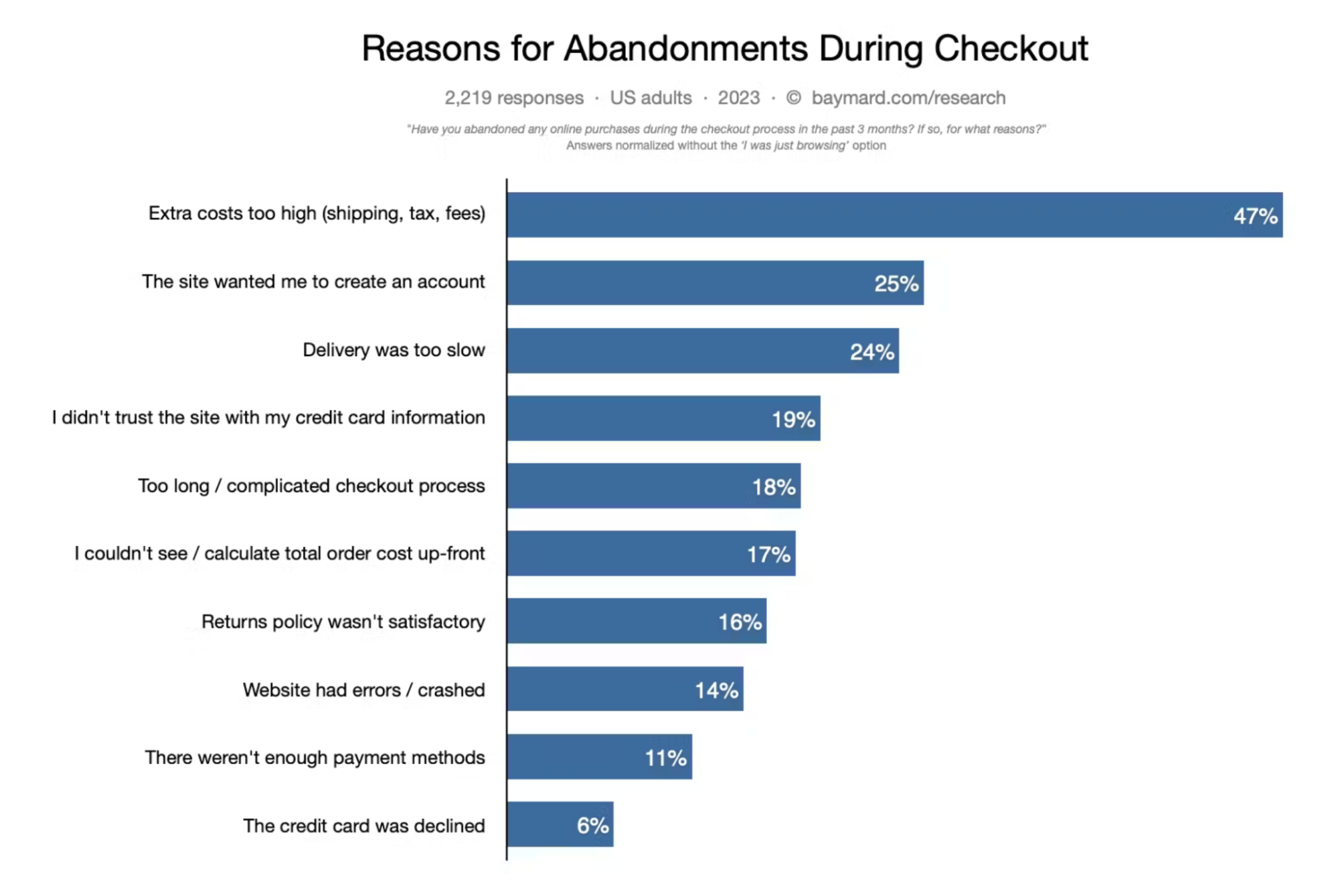 The good news is that now that we know this, we have the chance to bring back 47% of lost business simply by offering free shipping.
Since you'll hopefully have the most amount of traffic and potential buyers during the holiday season, it makes the most sense to offer free shipping during the lead-up to the holidays.
How do you implement a free shipping campaign?
Evaluate if free shipping is viable for your product – someone has to pay for shipping, and in these cases, it's you. Take some time to do the math to make sure that you can absorb the cost while still driving profit. What happens if your largest product is ordered from very far away – how much will that cost? What if several large and/or heavy products are bought in one order? Identify which country/area the most of your orders come from, and make sure that you won't be losing out by shipping there.

Identify when you want to offer free shipping, and for how long – you could, for example, offer free shipping as part of your Cyber Week deal. Or, to keep sales up after Cyber Week, you could, for example, offer free shipping for the first two weeks of December. It's totally up to you!

Announce free shipping via email – send out an email campaign to your email list letting them know about the free shipping availability. It will likely pique the interest of those people who didn't finish their orders because of shipping costs, so you're already likely to see a spike in purchases.

Update your abandoned cart email – if you have an automatic email set up for abandoned carts (if you don't this would be a good time to set one up!), you can edit it for the duration of the deal to reflect the free shipping offer.

Display the free shipping campaign on your website – be it as a popup, a header, on your product page, or on the checkout page, make sure that your visitors know that free shipping is available.

Share on social – let your followers know you have free shipping available, and don't be afraid to remind them.
Last call for last-minute gifts
One segment of buyers who should not be ignored are the busy people who have left gift shopping to the last minute. For these people, the most important aspect is receiving the gifts in time for the holidays. That means that they're not as price-sensitive, and could be willing to splurging more on your store – two out of five last-minute buyers say they end up spending more last minute.
What's more – you can add more expensive, but faster shipping options, thus extending your holiday sales season to as close to the holidays as possible.
All you have to do is make it known what they can order and when they can expect to receive the order.
How to run a last-minute ecommerce gift campaign:
Identify the last possible order dates – check with your shipping carrier about shipping deadlines – when the last possible date is to order so that the buyer can receive their product before the holidays. You might want to divide the shipping deadlines into several categories of your most common buyers – local, national, North American, European, Australian, etc.

Let your buyers know last-minute shipping is possible – when you know your order deadlines, communicate them to your buyers. Use headlines like "Left gift buying to the last minute? We've got you covered" or "Order today and get your product by Dec. 23". Ideally, you can segment your email list to suit the geographies with different order deadlines. So you can send US shipping deadlines to US-based customers, and EU shipping dates to EU customers. Make sure to tell them which shipping option to choose!

Update your product page with shipping deadline information – reiterate the shipping deadlines on your product page so that customers are clearly informed about when they have to order, when they can expect to receive their order, and which shipping carrier they have to choose. Ex. "Choose FedEx for 3-day shipping within the US".
People are in the mood to spend, so give them a reason to spend with you
This year is shaping up to be the most spent-on holiday yet, with an expected increase of 10.3% to 12.8% in sales, resulting in $278-284 billion in expected online spending. With people ready to open their wallets and delight the people in their lives, all you have to do is give them a good reason to make that purchase from you.
You can set yourself in a multitude of ways, but the easiest way to drive those sales is by implementing the three campaigns listed here that are founded in psychology and bound to increase sales volumes.