5 things to do before creating your website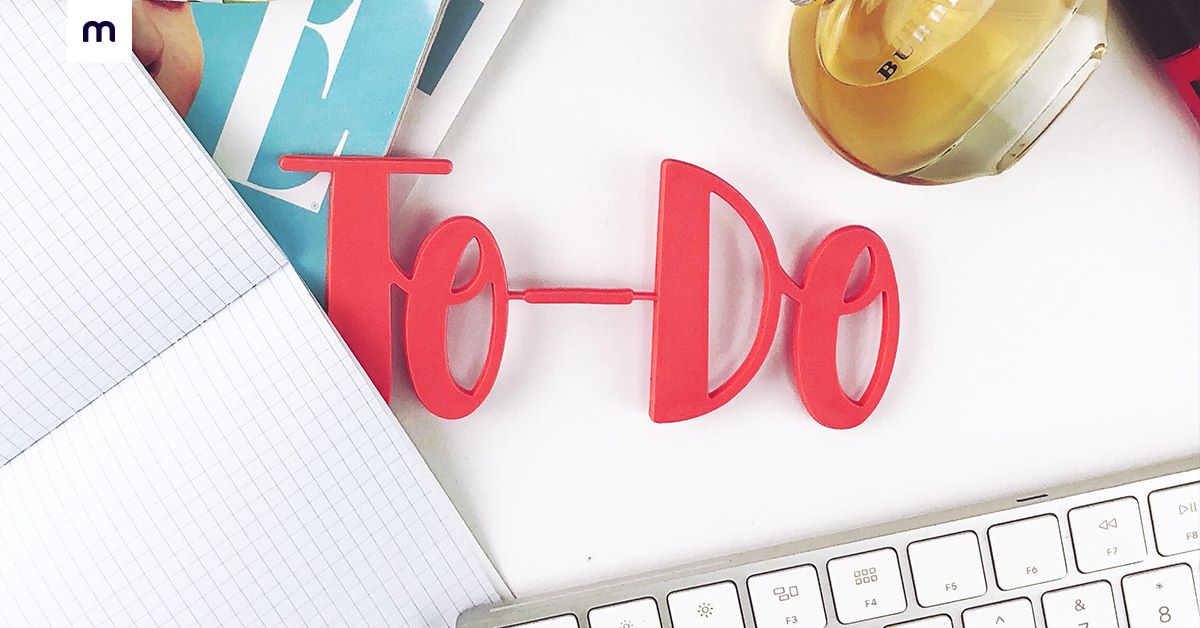 Your business needs a website. And with tools like Mozello, it's so easy to build one that people get swept up in the excitement and want to start building immediately. But, if you rush in without a plan, then the result will be low-quality. The only thing worse than having no website is having a terrible one.
Sure, you can change and edit the website after you've already built it, but it's a huge hassle and why do double the work? Right from the start, you should take your time and approach building a website just like you do everything else in your business - with a plan and a purpose.
In this article, we'll cover the 5 things you need to do before starting to create your website. Those are:
Define the purpose of your website
Plan the website's structure
Set out a fitting visual style
Map out your content plan and tone
Don't forget about mobile
1. Define the purpose of your website
Why do you need a website? This might seem like a strange question in this day and age. You'll probably answer that you need it to inform customers, to sell products, to become more discoverable, to make more money, to stay relevant, etc.
But the reality is that most people don't know or aren't sure what exactly they want and hope to achieve when they decide to start building their website. The most typical reason is - everyone else has one.
Instead of just starting to throw something together just to have an online presence, take the time to define the purpose of your website. This will not only help you in terms of planning the structure and content, but it will also help in the future when evaluating whether your website is beneficial for your business.
For example, if you're creating a website for your brick and mortar store and define "to increase business profit" as the main purpose, but after a certain time realize that you're spending more money on the website and marketing than you're getting in sales, then you'll know that the website isn't working out. If you don't define this goal, then you'll be more likely to keep investing in the website, even as it's losing you money, and potentially hurt your business.
The goal you set out will define all your further decisions. For example:
If you want to make sales, then you need to have every bit of the website guide your visitor to that goal.
Or maybe your website is intended to serve as a personal portfolio. That will change what layout to choose.
Perhaps you want your website to simply be a digital business card where people can find your contact info and social media accounts - then maybe all you need is a single page.
Knowing why you're creating your website is the first step to understanding how to go about it and defining what are the success criteria.
2. Plan the website's structure
Once you have a defined goal, it's time to plan a general structure for your website. Whether you want to build a small website or will have dozens of different pages, having a solid structure from the get-go will ensure your website doesn't turn into a complex labyrinth for your users.
Grab a pen and paper and roughly sketch out what sections will your website consist of, e.g. Homepage, About us, Products, Contacts, Shipping policy, Store categories and sub-categories, etc. Once you've done that, draw a sitemap, which is an outline of what will go where on your website: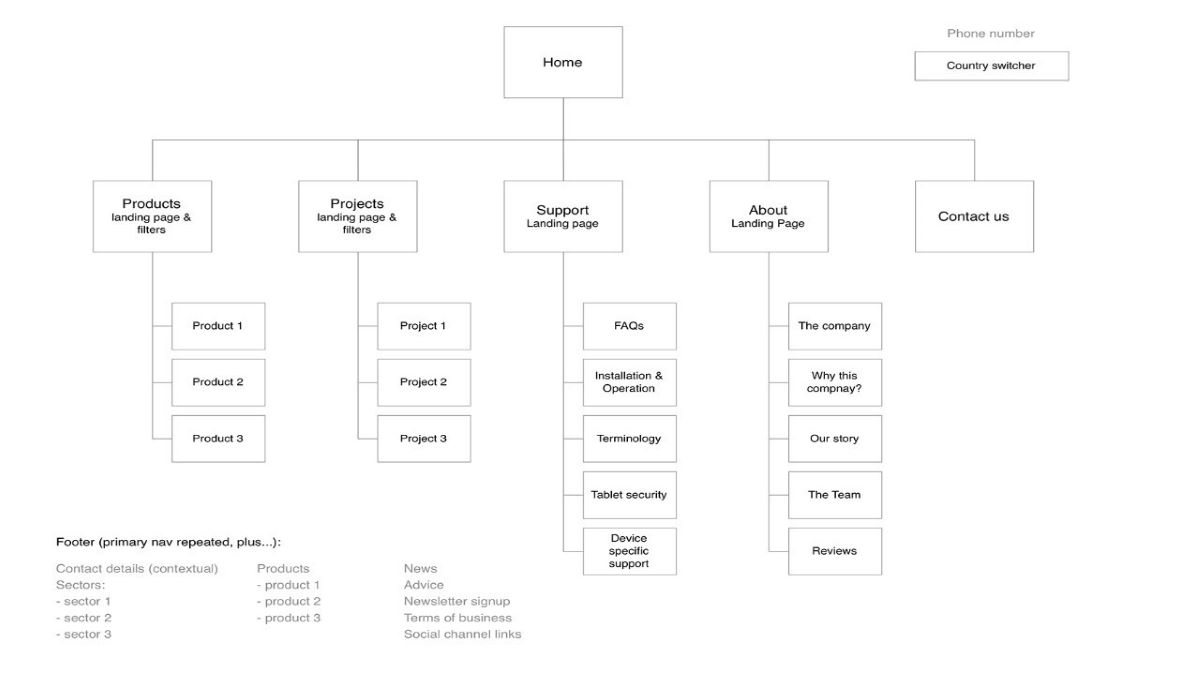 This is particularly important for e-commerce stores and complex websites with lots of pages. If you build without planning there's a high risk of important things getting lost or forgotten.
Plus, by preparing a structure in advance, you will better understand what the user journey looks like. This can help you optimize the user experience by cutting out unnecessary steps/pages before you even start building your website.
3. Set out a fitting visual style
When you start building your website with Mozello, you'll have access to all sorts of templates and colors. It's easy to get excited and just pick something that you think looks really cool.
But if you want to find success, then understand that it's not about what you think looks cool. Your website's design should represent your business and help make the information on your website easily accessible. For this reason, simple designs are favored by most website owners.
Therefore, it's recommended to have a visual style in mind before you start putting together your website. Think about what colors suit your business, find suitable fonts, consider what visuals will complement your website content. Don't hesitate to look at how your competitors do it.
Try to aim for a specific style, e.g. "minimal", "bold", or "corporate" and stick with it. Mozello's templates can help guide you in a specific direction, but make sure to customize them so they fit your brand identity.

If you need help making the right design decisions - check out this article on web design.
4. Map out your content plan and tone
The content on your website is what will make people want to interact with your website, convince people to buy from you, and be a crucial part of your brand identity. It's important to be consistent and informative in order to send the right message about your business.
A good rule of thumb is to be specific with your text. For example, if you're creating a service-based website, the first text should tell the visitor exactly what is offered. Then you can follow with blocks that answer these questions: what is the service, how does it work, what are the benefits of using the service. The clearer you are, the more impactful the website will be.
Your website's goal is to ensure that visitors gain all the necessary information to make a decision. And the easier you make it for them to do that, the better their experience will be, and, in turn, they'll be more likely to make a purchase or get in touch with you.
Planning your content ahead of time will help you form a cohesive brand voice and ensure that you don't forget to include essential information.
5. Don't forget about mobile
Oftentimes when people build their website, they completely forget about mobile. But mobile accounts for around half of all web traffic, so if you ignore mobile, then you ignore up to half of all your visitors.
For those building their website with Mozello, you'll be happy to know that the websites you create with Mozello are fully compatible with mobile devices from the get-go thanks to responsive design.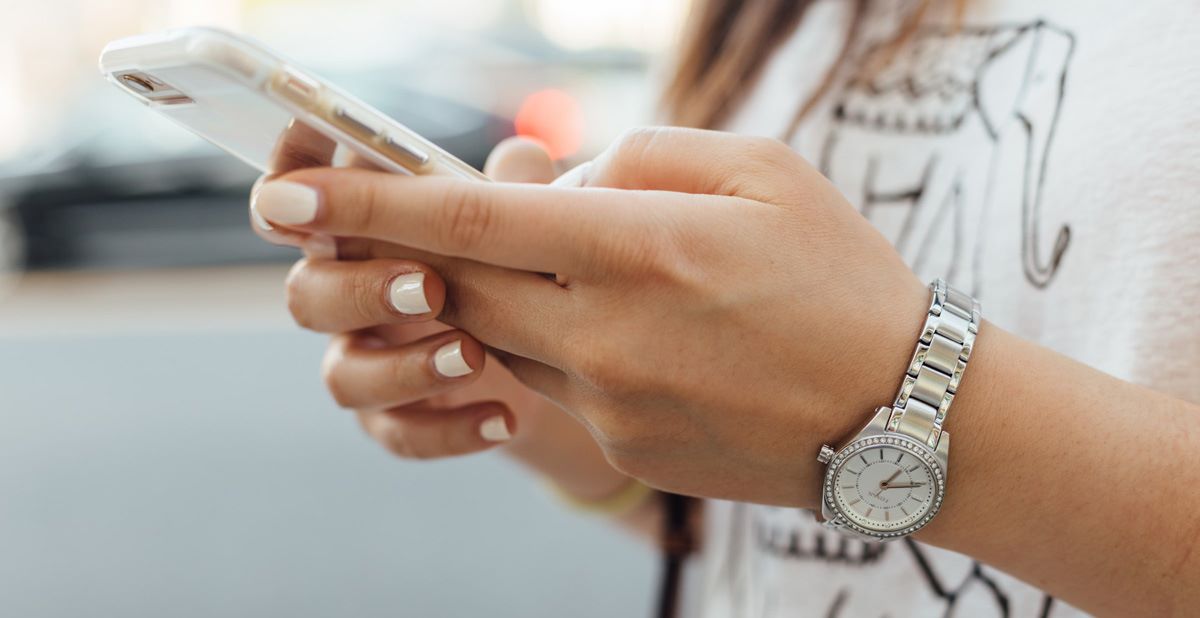 But there are some things you should consider. For example, while a highly-detailed image might look great on a web browser, it will be hard to discern on the smaller mobile screen. Similarly, while longer texts might be legible and look great on the desktop version, they might appear as big and difficult-to-read blocks of text on mobile.
So when planning your website - remember to consider what it will look like on a smaller screen.
Extra tip: Optimize your images
Your website is probably going to have lots of images. The more and the bigger the images, the longer it will take to load. And the longer your website loads, the more people will abandon it before it does. So you should always strive to improve your website's load speeds.
One of the best ways to do that is to use lighter images. How? As you build your website, optimize your images with tools like TinyPNG, which will help compress your heavy images into smaller sizes with little-to-no loss in quality, which, in turn, will help your website load faster.
The image will look the same, but instead of weighing, for example, 1 MB, it will only be 150 KB in size, which means that your visitors will load it faster and will have a better user experience.
It's also important to name your images in such a way that the name accurately reflects what's in them, and make sure to include your brand name as well. Image searches are on the rise and good image names and descriptions can help you generate relevant traffic.
Got your plan? Time to start building!
Once you've got a plan for your website, then it's time to start putting it together and with Mozello's website builder, you can quickly create your website or e-commerce store and easily mold it to suit your needs and requirements. Create a website or online store now.