5 things you should NEVER promise your customers (and what to do instead)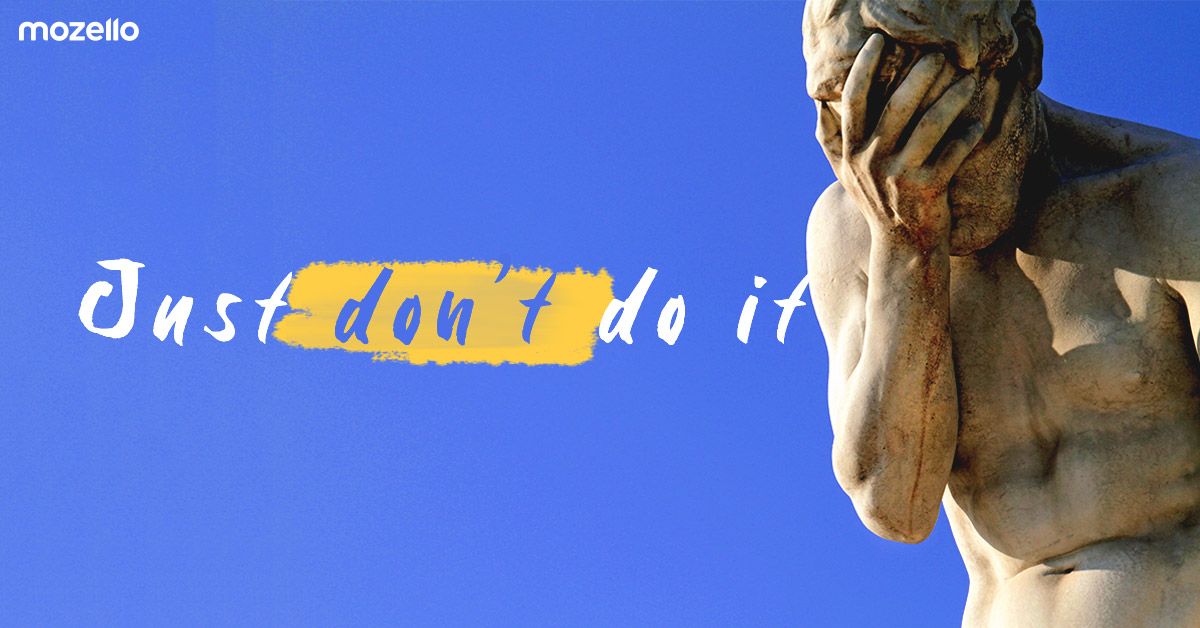 Remember when you were just a kid and your parents would promise something only to go and do the exact opposite?
Like instead of taking you to the local theme park, they'd bring you along to see your least favorite aunt.
Or instead of finally getting you the puppy they'd been promising for Christmas, you'd end up with a nice pair of home-knitted socks - yet again.
"How could they not keep their promise?" you felt the anger and disappointment building up, feeling as if they'd made a fool of you on purpose.
Fast forward to today - that distinctive sense of utter dissatisfaction and mistrust is exactly what your clients feel when your business doesn't keep its promises.
Why keeping promises matters in business
Whether you're building an online business or a brick-and-mortar store, keeping promises - like delivering products on time or having them appear or do exactly what the description says - is the foundation to earning client loyalty and building excellent customer service.
It's also the essence that will kindle overall satisfaction with your company and product.
Just take a look at the numbers - a whopping 83% of customers would recommend a business they trusted to others and 82% would continue to use that brand frequently.
However, the challenge in today's competitive landscape is - many entrepreneurs feel like they need to oversell their business and promise the impossible in order to stand out among their competitors.
Problems arise when businesses are not able to meet said promises, and customers have no other option than to leave poor ratings and angry reviews on your website.
Don't think for one second that they won't! A study found that when people go through bad customer experience, they tell an average of 15 people about it.
To avoid cases like these, here are 5 promises you should banish completely form your business lingo - and what you should do instead to make your customers fall head over heels for your company.
1. Same-day delivery around major holidays
As consumer expectations rise, online entrepreneurs strive to outshine their competition by ensuring the quickest deliveries possible. That often includes same-day or overnight delivery.
The problem is - the delivery timeframe of the purchase is also one of the most common lies told to customers. It's also one of the trickiest promises to keep during major holiday seasons, like Christmas or Black Friday, when the business gets super-busy as it is.
Promising same-day or 24-hour delivery during the holiday time is a very bad idea because it will put you and your logistics team under lots of pressure and unnecessary stress. After all, there are many factors that can make a package arrive late even if you're working 24/7, for example:
Weather conditions
Post office delays
Supplier policies during the holidays
Delays at customs
Road maintenance and other technical issues, etc.
And even if you're delivering every package personally, you can never know what force majeure can arise.
What you should do instead:
Always set realistic expectations that you can actually meet - or avoid locking down any expectations at all. For example, if a customer asks whether that box of phone cases can be printed and delivered on the 23rd and you're 98% certain it can, don't promise delivery on the 23rd. Tell them the package will arrive between the 23rd and 25th.
Clearly display delivery and shipping information on your website. Make the information stand out even more visibly than usual - the more informed your customers are, the more comfortable they will feel about realistic delivery dates.
Create delivery date banners. That way, you'll avoid misleading the customers who really need speedy delivery. For example, you can create banners that show delivery time using the Engaga platform.
For example, clothing brand be-with displays their shipping policy and delivery times including prices very clearly, so there's no chance to get confused: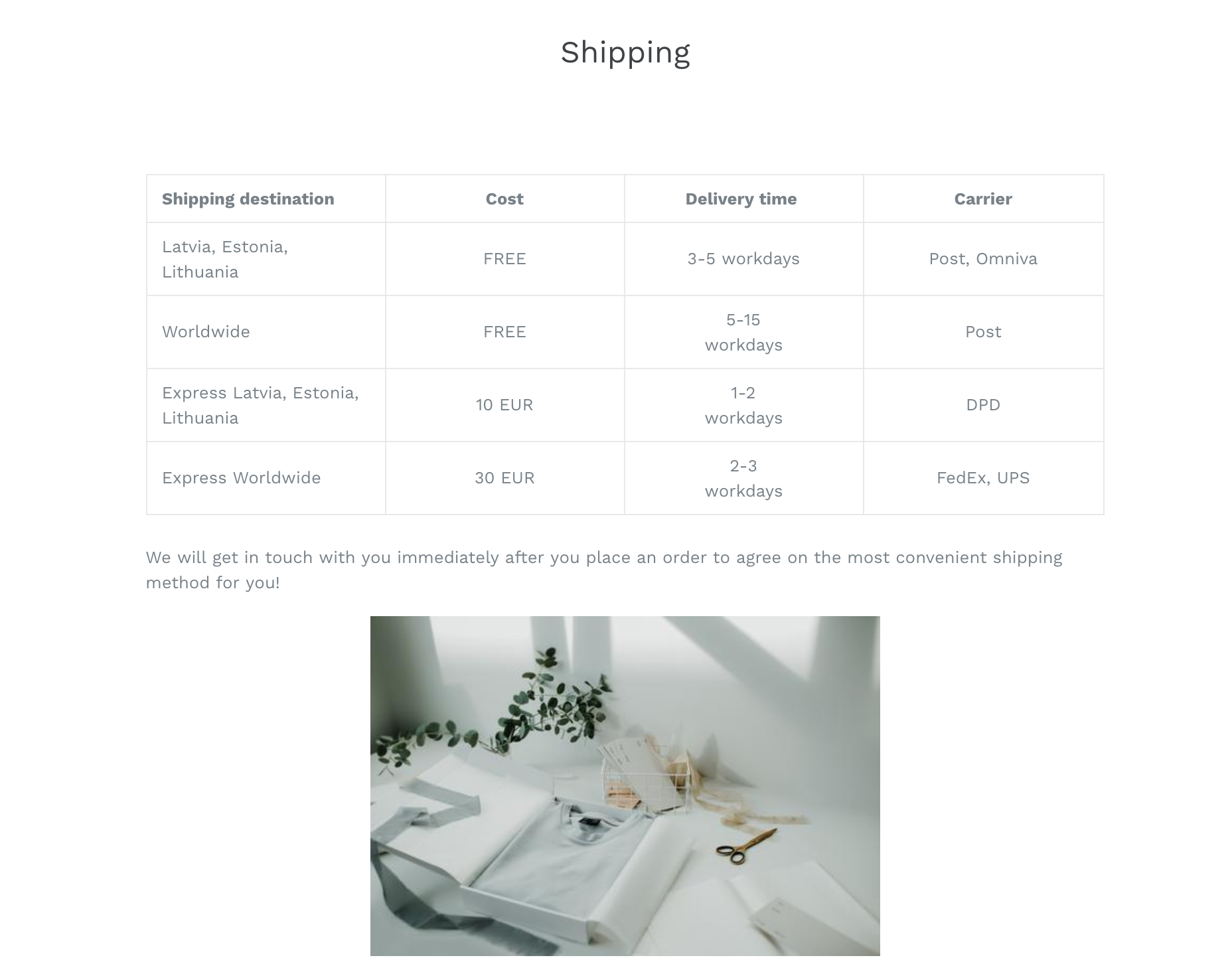 2. "Thanks for your suggestion, we'll definitely implement that in the future…"
It can be difficult to refuse a well-meant product request from a customer because saying "yes, great idea, we'll definitely create those t-shirts in the future" can feel immediately rewarding (and a lot easier than telling the truth - that their idea will likely not be a priority).
However, promising to implement the customers' suggestions is not how you should deal with incoming requests.
First off, even if the suggestions are useful, your business priorities might change and you'd end up focusing on other changes in your production line.
Second, the more customers you have, the more suggestions for new products you'll receive - and let's be realistic. You won't have the time or financial resources to work on all the requests that your company receives.
Finally, the suggestions might simply not fit with your business vision. For example, you might want to stick with cotton dresses only instead of introducing a clothing line for men, too. And it's okay to say "no".
Here's what you should do:
Find out why they need this product. In some cases, you might be able to get to the root of the customer's problem and offer a solution with other existing products. For example, suggesting an item with similar design patterns.
Suggest a third-party solution that fits that specific case. Instead of making empty promises, think of possible solutions outside of your own product. Perhaps, you know a friend who sells similar products on his or her online shop and produces exactly what your customers are looking for.
Be transparent. Give an honest explanation of why you're not going to work on the product. When understanding the circumstances, customers might empathize with your situation.
Collect product requests. Jot down the product ideas your customers suggest via social media or the contact form on your website. Collect these ideas on a project management platform such as Trello or Asana. Your team members can then vote as to which idea could be the most beneficial to introduce in your product line.
Here's what a typical Trello idea brainstorming board would look like:

3. Specific product launch date when the product is not ready yet
There are too many conditions outside of our control to be able to confidently provide the customers with a specific product launch date.
Missing deadlines happens all the time with product management. No matter how much you try to avoid it, issues will arise, priorities will change, and unforeseen circumstances will alter your plans.
And that's okay, too.
Problems start if you've promised publicly too much, too early. Not only do you risk disappointing your customers by not delivering their highly anticipated product on time.
Looking from a marketing perspective, you risk losing PR momentum and your audience's interest by announcing a launch date too far ahead of the actual launch.
So, why create the needless risk of disappointing your clients by announcing a specific release date?
What you should do instead:
Give your customers a general sense of when to expect your product. Ideally, pin your prediction to a quarter or even half of a year.
The only time you should put a specific date on your launch is - one or a couple of days before the actual launch. And only if you're certain both the product and its support infrastructure are in place and ready to go.
Even musicians do it. For example, singer Billie Eilish announced her single "When I was Older" just one day prior to its release: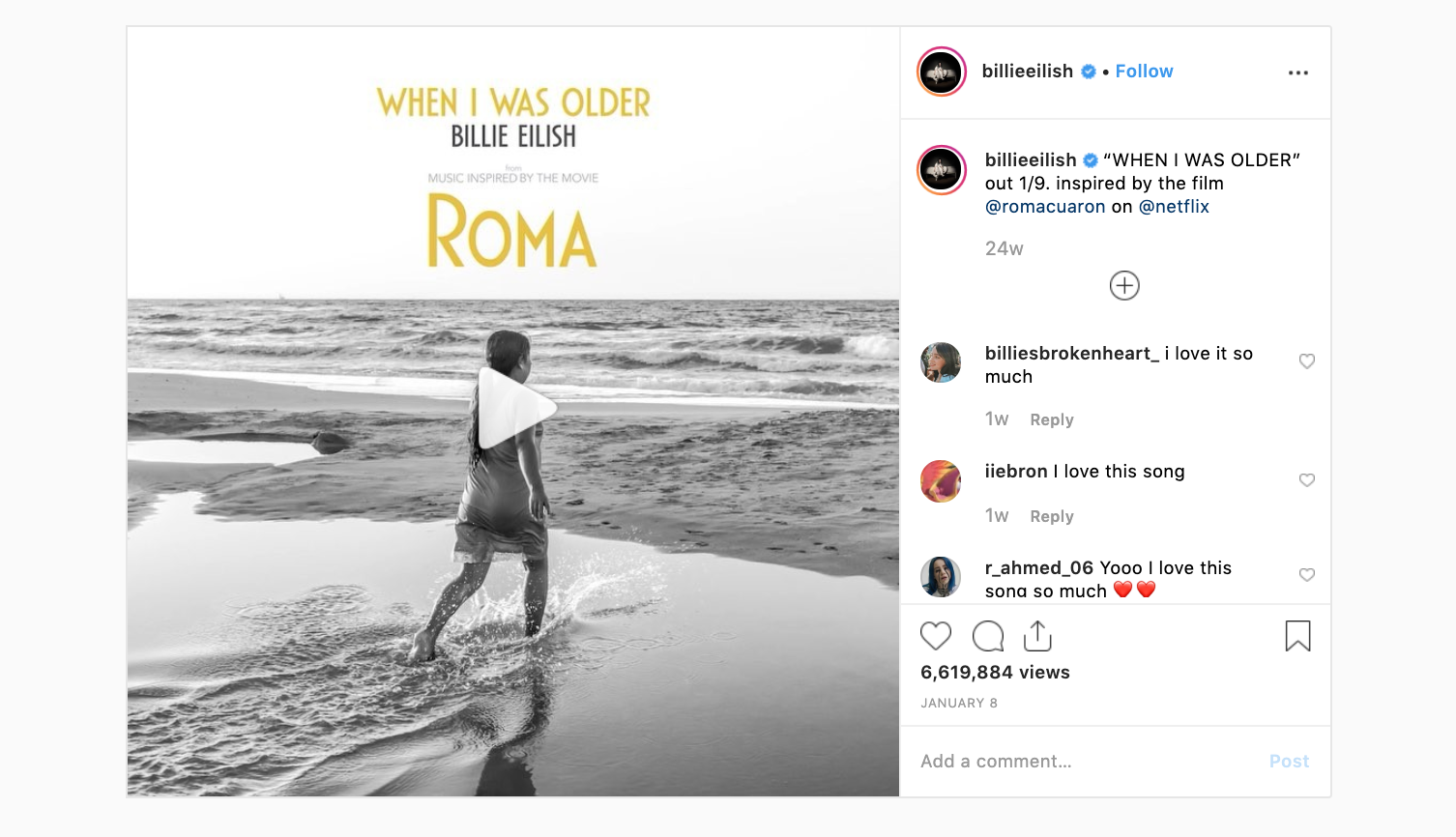 4. "You'll find all the answers in the FAQ"
The Frequently Asked Questions page, or FAQ, is a space on your online store where important information about products or services is shared to clarify questions and uncertainties on the part of shoppers.
For example, here's what the FAQ page of apparel online store District of Clothing looks like: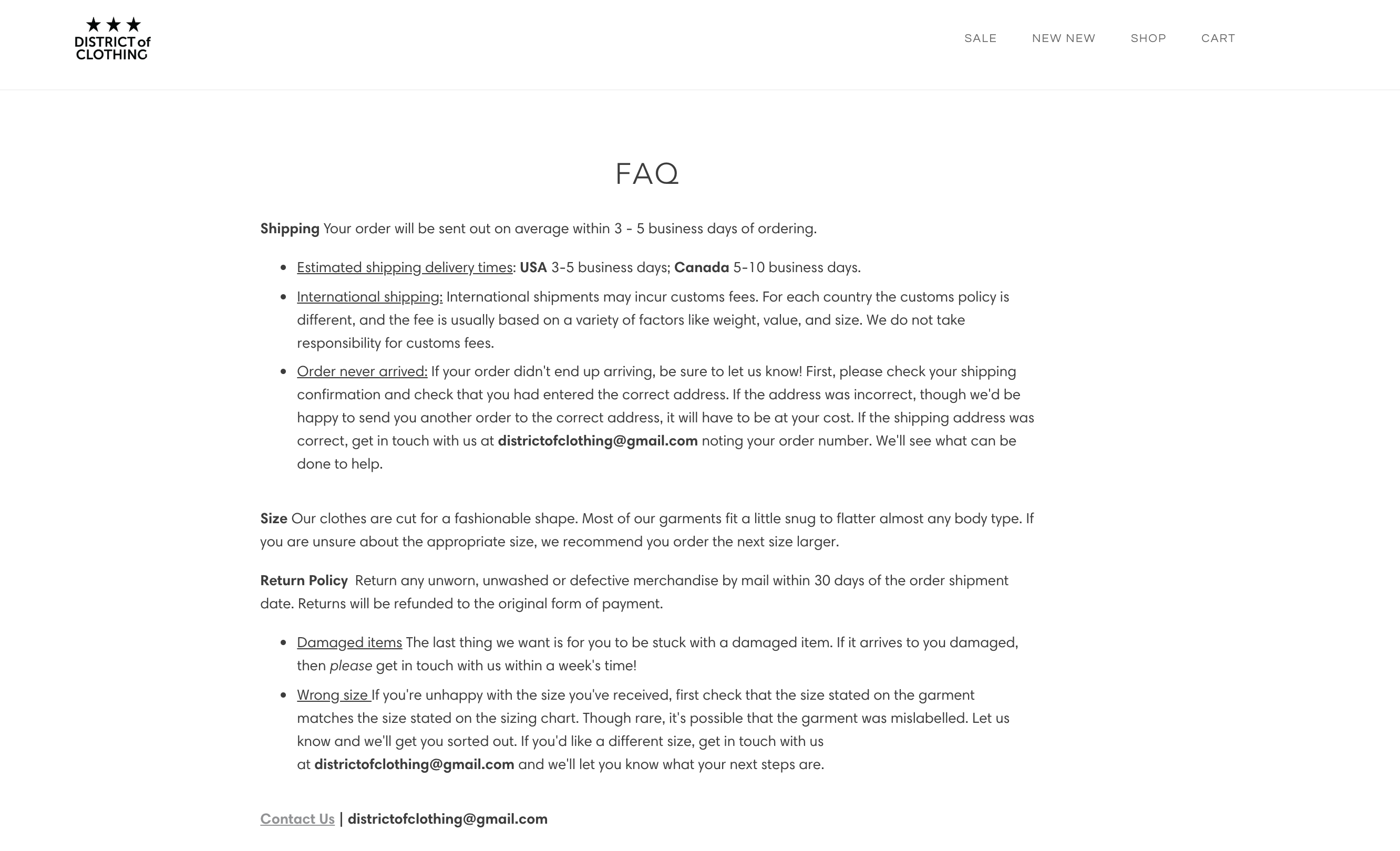 However, even though the FAQ page is the place for finding answers, you shouldn't redirect the customers to that section if they've already come for help to customer service.
If customers have a specific question, they're probably looking for a specific answer - and it's very likely they already went through FAQ. So, by redirecting the customers to look for answers on their own, you'd make them feel helpless and as if:
The customer doesn't matter - and you couldn't be bothered with their questions
You don't know the answers - thus, you create a sense of incompetence around your brand
You don't care - which is the worst impression to leave on your clients.
Second, no situation is the same. Even if the shoppers were able to find an answer that somewhat offers a solution to their problem, it doesn't come close to having someone deal with their problem personally. Eventually, you'd end up with a dissatisfied customer leaving your website for good.
What you should do instead:
Less work is best. Don't make your customers chase the solutions for themselves. Instead of asking the customer to call another number or fill out a form, put in the time and take some of the work off their plate.
Show understanding. Most importantly, customers simply want to be heard. Listen to their problem and try to find the best possible solution.
Don't say you don't know. Instead, say "I'll look into it and get back to you" or "I'll speak to our team about this and get a solution to you via email".
5. Satisfaction guaranteed!
No matter how impressive your product is, promising shoppers they'll be 100% satisfied with the purchase is very risky. Especially so if you're promising to return the customers' money in case they're not satisfied - but don't feel like you'd actually be able to do so.
First of all, satisfaction is an abstract measure. While you can promise measurable results like "natural taste with a hint of raspberries" or "boyfriend fit and 100% cotton", promising complete satisfaction is rather unrealistic. Not only can you never know what the customers' expectations are, but they also differ from shopper to shopper.
In addition to that, you'll have a lot of product returns with opened packaging that may not be sold as new. You'll have to plan how to deal with these returns, create sample sales, or give away the products to friends, family, and local charities.
So, instead of guaranteeing complete satisfaction, try conveying a similar message through additional context.
What you should do instead:
Mesmerize with facts. Include information that builds trust and loyalty. For example, 10 000 + purchases, more than 20K satisfied users, etc.
Include social proof. Including social proof, or evidence that other people have purchased and found value in a product or service, is paramount to marketing your store. Include case studies, testimonials, positive social media comments, and reviews from previous satisfied customers on your website.
For example, it's one thing to describe your leggings as "comfortable and a great fit". It's something way more persuasive to have your existing shoppers say that for you - just like yoga apparel store Noly Yoga did by including customer reviews on their store website: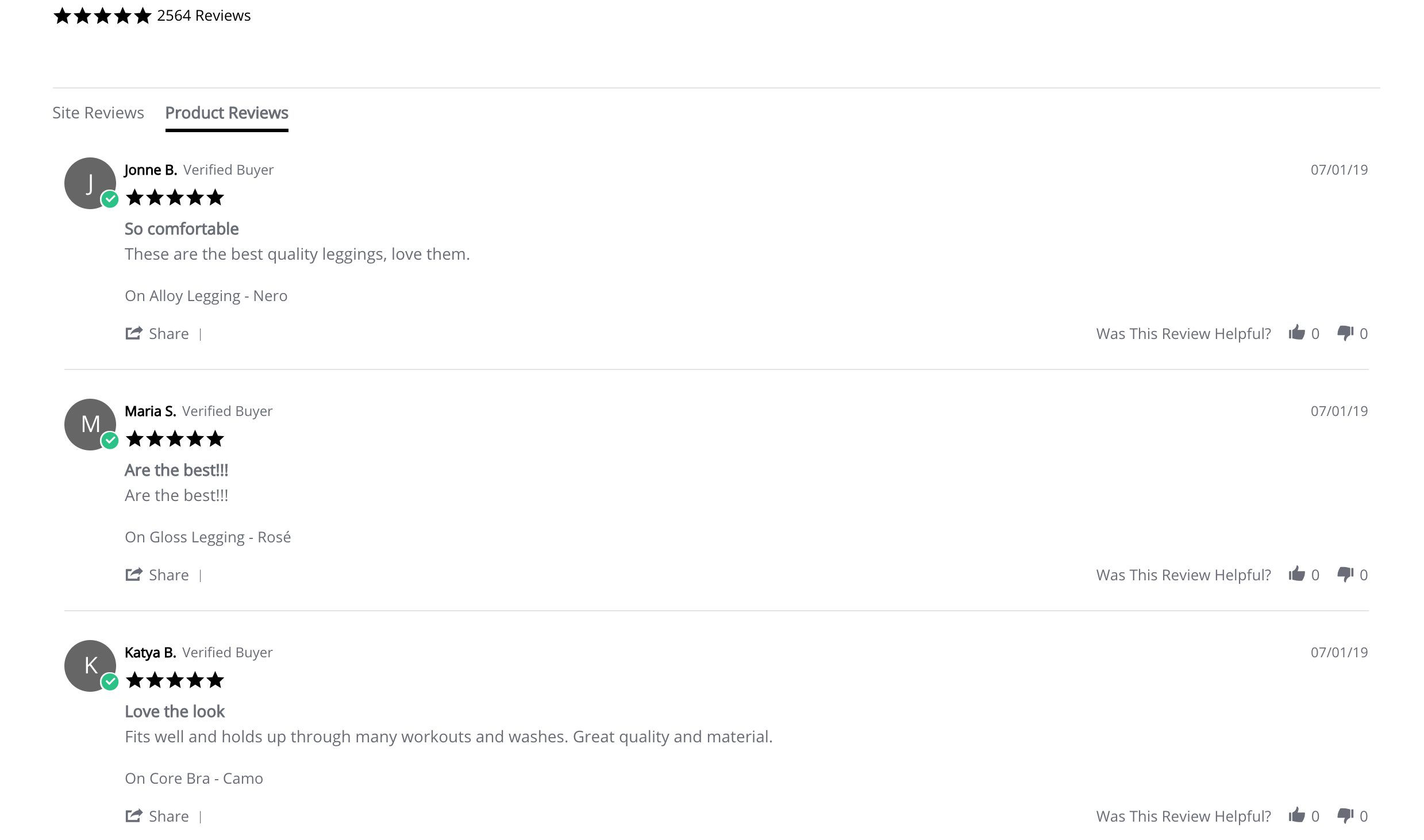 What's even more important - when you do write down what the client can expect from you (3-day delivery, high-quality materials), it's important to deliver those results.
If your online store claims you have the "softest hoodies appreciated by 2000 happy customers", but the shoppers receive a less than mediocre version of a sweater - you can expect bad reviews and damaged brand reputation in the long term.
Fewer promises, more results
Some say that when it comes to business, it's better to underpromise and then overdeliver.
While this mantra might work for some entrepreneurs, we believe that you shouldn't think about promises at all and instead focus on the best possible results you can deliver to your customers.
Have there been any promises that you were unable to keep - and how did you deal with the situation? Let us know in the comment section below!