What is social proof and 5 ways to use it on your online store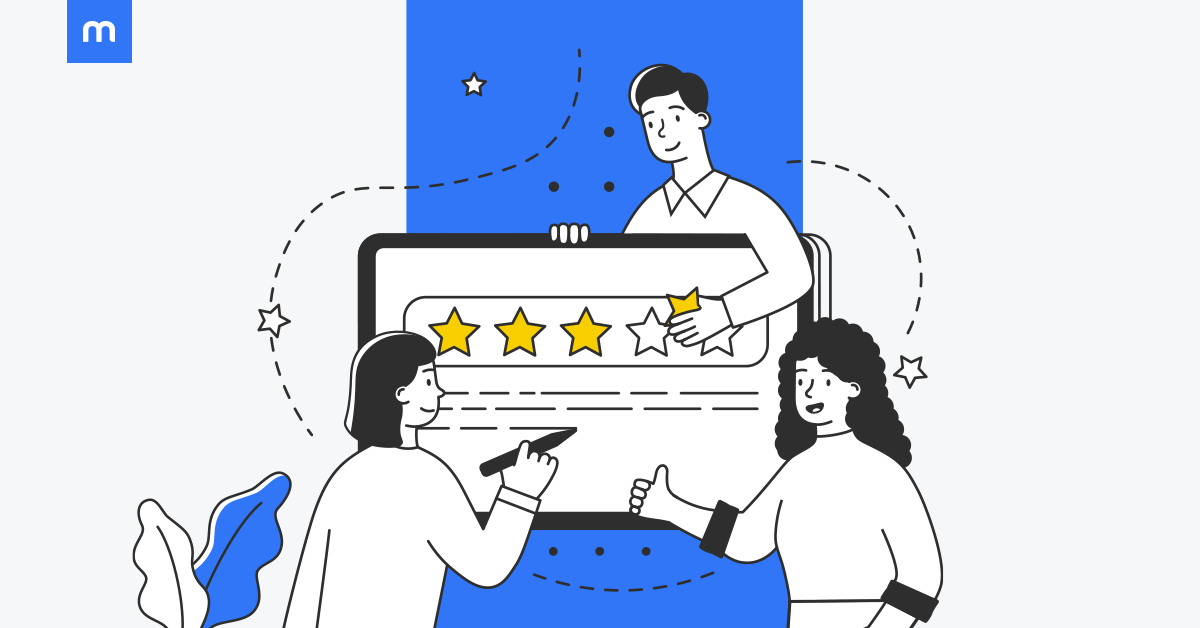 What's the best way to get someone you've never met to trust you? Well, by having someone else put in a good word for you.
Indeed, one thing successful websites and ecommerce stores do really well is leverage social proof to gain the trust of their visitors. If your website visitors trust you, then they're more likely to buy from you or recommend you to someone else, which will help your business grow quicker.
But what exactly is social proof and how can a small business owner take advantage of it? Let's get right down to it.
What is social proof?
As far as website creation is concerned, social proof is positive things that others say about your company that you can publish on your website – it's when someone vouches for you or your product either explicitly through reviews, or implicitly by simply being a customer.
Examples of social proof include:
Reviews
Ratings
Media logos
Case studies
Social media mentions
Client logos
User/client count
Sold product count
Awards & badges
And more
The goal of social proof is to convince new potential customers not only that your website is trustworthy, but also that people love your product or service.
It's important for a business to collect data and reviews over time and, when possible, turn them into social proof elements to be published on their online store. This can primarily help with improving your conversion rates, but can also have positive effects on your traffic, time spent on page, and other important metrics that contribute to your revenue.
Let's take a practical look at 5 examples of social proof and how you can take advantage of them in your Mozello store.
5 types of social proof and how to use them on your Mozello website or online store
1. User reviews
User reviews are the most basic, straightforward, and effective type of social proof. Plus, it's one of the easiest ones to get started with.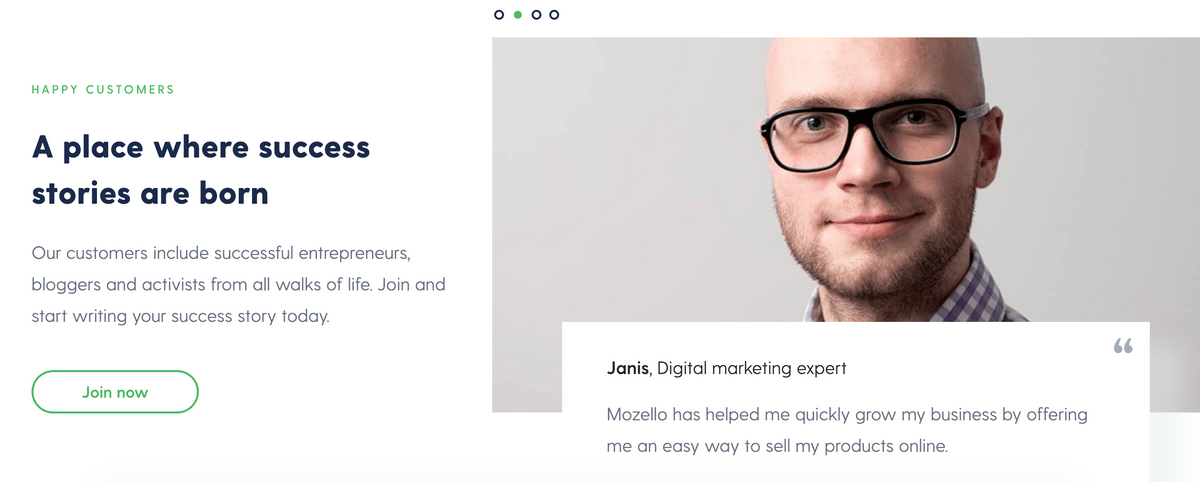 User reviews indicate to a website visitor that other people have had positive experiences with your product or service. And 88% of consumers trust user reviews as much as personal recommendations.
To gather user interviews to publish on your eCommerce store, you can either ask clients that you have a good relationship with to write a review, or you can simply send out a cold email to your customers, asking them for feedback. Choose the best feedback, get permission (and a photo, if necessary) from the person who provided it, and publish it!
Pro tip: Has your business received awesome feedback on Google Reviews? You can integrate them on your Mozello store with tools such as Elfisght. Simply create a widget on Elfsight and then copy + paste the code to your own Mozello website. You can add their Google Reviews widget or any other that you find useful.
2. Pictures of people using your product
For eCommerce business owners, one of the best ways to showcase your products and establish trust is via pictures. A photo of a happy person enjoying your product will say more than any text-based description.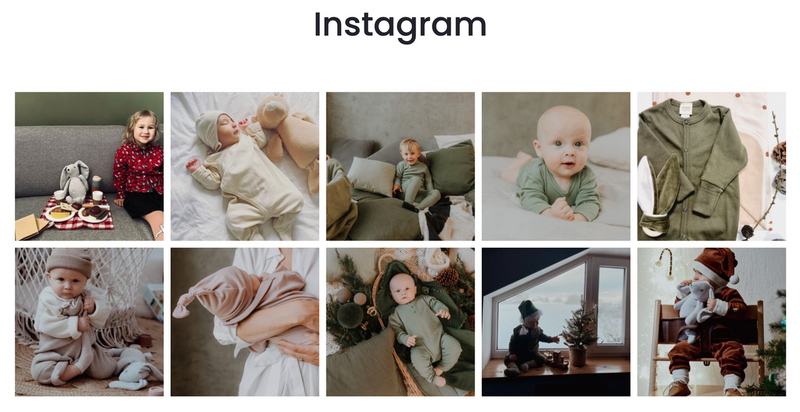 Source: Wooly Organic
These pictures should appear throughout your entire online store. However, be careful that it's not all just paid models and actors. Having a dedicated section for user-generated content can help show that people are not only using your products, but they're so excited about them that they want to talk about them publicly.
To gather the necessary material you can always launch a social media competition, where you ask people to send in or post some pictures in return for some prize, e.g. a discount or a freebie. Again – don't forget to ask for permission before posting those pictures on your eCommerce store or website.
3. Client logos
If you're a service provider or a retailer with major corporate clients, chances are it won't make sense to add photos of people "using" your services. An alternative option is to add client logos. If you have some companies or businesses that are happy with your services, you can create a "Featured clients" block on your Mozello website, where you can add client logos.

Source: Lokalise
Of course, the more recognizable your clients, the better. But even featuring companies that aren't well known still serves as social proof showing that there are people using your services and they're happy with them.
Whenever you see that you have a good relationship with a client who you want to boast to others about, simply ask whether they're OK with you using their logo on your website. This is a standard strategy for B2B businesses and you'll find everyone from small agencies to world-class corporations using this social proof tactic.
4. Media logos
As your business grows, you will probably actively or passively get some mentions in important media outlets. Whether it's an interview for a local news site, a mention in an industry blog, or a guest blog in a big international publication, these help legitimize your brand in the eyes of the general public and, of course, new clients.
Whenever you get a mention that you're proud of, you can add the media badge to an "as seen on" or "In media" section on your website or online store.

Source: Mindletic
The type of business that will benefit most from this is one that is seeking new partnerships or funding, e.g. a startup. Investors often want to see some traction, and some public interest in your product or service, and getting publications in media is a good way to show that the world is interested in and talking about what you have to offer.
Gathering enough mentions in media can pose a challenge as it oftentimes demands significant PR efforts – rigorous pitching, article writing, and active engagement with media outlets. If you passively collect interesting brand mentions, then it's a great-to-have, but, unless you're a startup, it might not be worth actively pursuing this.
Pro tip
It's important to add a link to the badge that leads to the original publication. This way people can check that the logos are legitimate and that you're not lying.
5. Case studies
Case studies are a fantastic way to give an in-depth showcase of how exactly you help your customers. Once again, this type of social proof will be more suited for B2B companies, however, even certain general consumer products can be turned into a case study. For instance, if you're an eCommerce store that sells nutritional supplements or cosmetics, you can ask a customer to keep a diary of how your products benefit them and turn it into a case study afterward.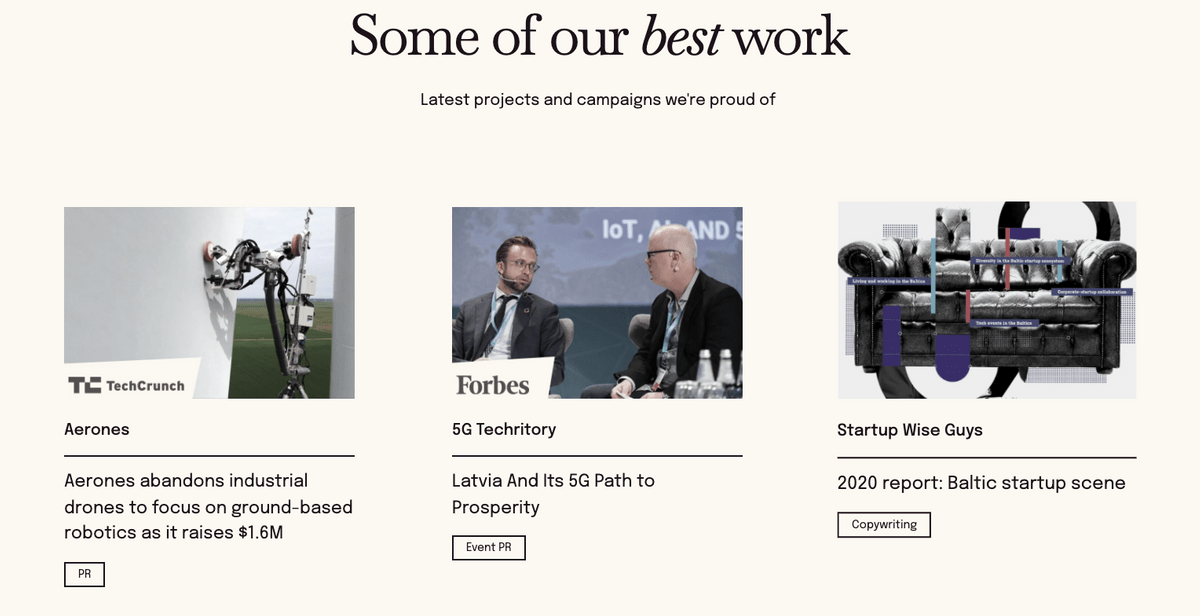 Source: Truesix
Typically, case studies will be written and published in your blog. But you can turn them into a social proof element on your homepage, by creating a section for it and then adding a button that links to the full study in the blog.
A case study generally answers 3 main questions – what is the project, what was the client's challenge, and how you helped solve it. Again, it's important to work with your client when drafting a case study, to get their take on it, concrete data, and permission to publish.
Final remarks
If you're just starting your business, or if you hadn't thought about social proof before, then you will have to put in some effort to gather all the content you need. Thankfully, once that's done, it's super easy to add it to your Mozello website – just add a new block and format it according to your needs.
You don't need to implement everything we discussed in this article. The main thing any business will benefit from are reviews. That should be your top priority. However, if you feel like going the extra mile with social proof and supercharging your website, then hopefully the different ways described above will help you do just that.
Also, keep in mind that you should update your social proof sections as you get better reviews, bigger publications, and more clients. This will help your business grow faster and show any new customer that you're a rockstar who won't let them down.