Why your website and online store are the core of digital marketing (and how to use them effectively)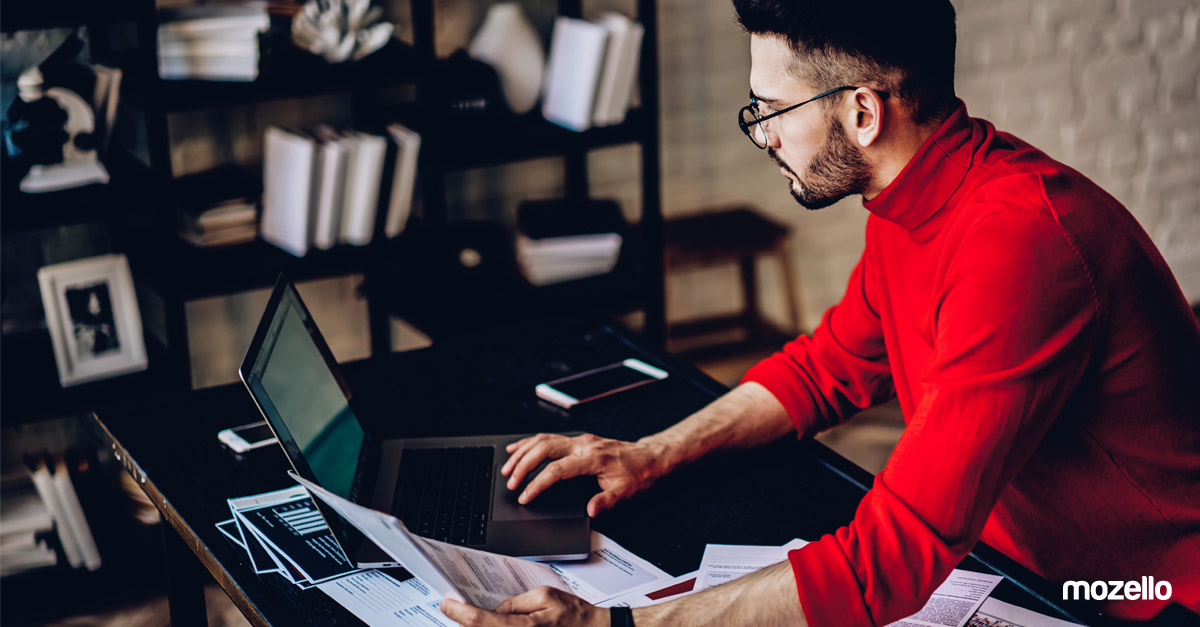 In this day and age, who needs a website, right? Anyone can build their brand presence via a Facebook Business account or showcase their products by posting colorful photos on Instagram.
Well, let's back it up a little bit and take a look at the data, shall we?
64 percent. That's how many small businesses realize the power of a website and already have their own page despite the rise of social networking platforms. Even 58% of the businesses that don't have a website yet planned to build one in 2018.
Ever wonder why that is?
A professional and functional website is not only an online business card that represents your brand in the digital realm and gives consumers a clear idea of what products or services you offer.
Together with your online shop, the website easily becomes the backbone of your digital marketing strategy and the key aspect of driving your company's online sales.
When you think about it, every type of communication, most of your social media posts, emails sent, or advertisements published lead your customers back to your website and your online shop.
In this article, we'll show you how to make the most of this connection and how to generate traffic by using your website and online store as the core of your digital marketing.
1. Improve SEO
According to Accenture, 94% of B2B buyers say they conduct an online search before making a purchase. This means that to increase sales, your website needs to rank as high as possible in search engines for the potential buyers to notice your company.
This is where Search Engine Optimization, or SEO, comes into play.
Simply put, SEO is a digital marketing strategy that demonstrates your value to search engines by including certain terms and keywords in the content of your website, as well as by other optimization techniques.
When the search engines understand the contents and value of your website, it will rank higher for queries relevant to your content.
As a result, you'll receive noticeably more traffic - in fact, the website that ranks as no. 1 in Google on average has a 27.5% click-through rate. This means that if you rank as the first option for a search term, your website will receive 27-28 visitors out of a hundred. However, the lower you rank, the fewer customers reach you.
And at the bottom of it all - your website. While there are some strategies that claim you can practice SEO without a website, you risk losing many of the benefits, like increasing brand credibility, generating higher ROI than other advertising channels, and moving ahead of your competition.
Here's what you can do:
Research keywords using tools like Google AdWords Keyword Planner to discover which keywords are more relevant for your industry.
Include those keywords in your website copy (including title tags, meta descriptions).
Build links. Help search engines learn more about your company by linking to other pages of your website within your content.
For example, in this article, marketing expert Neil Patel links to his own blog posts on SEO lessons and failures: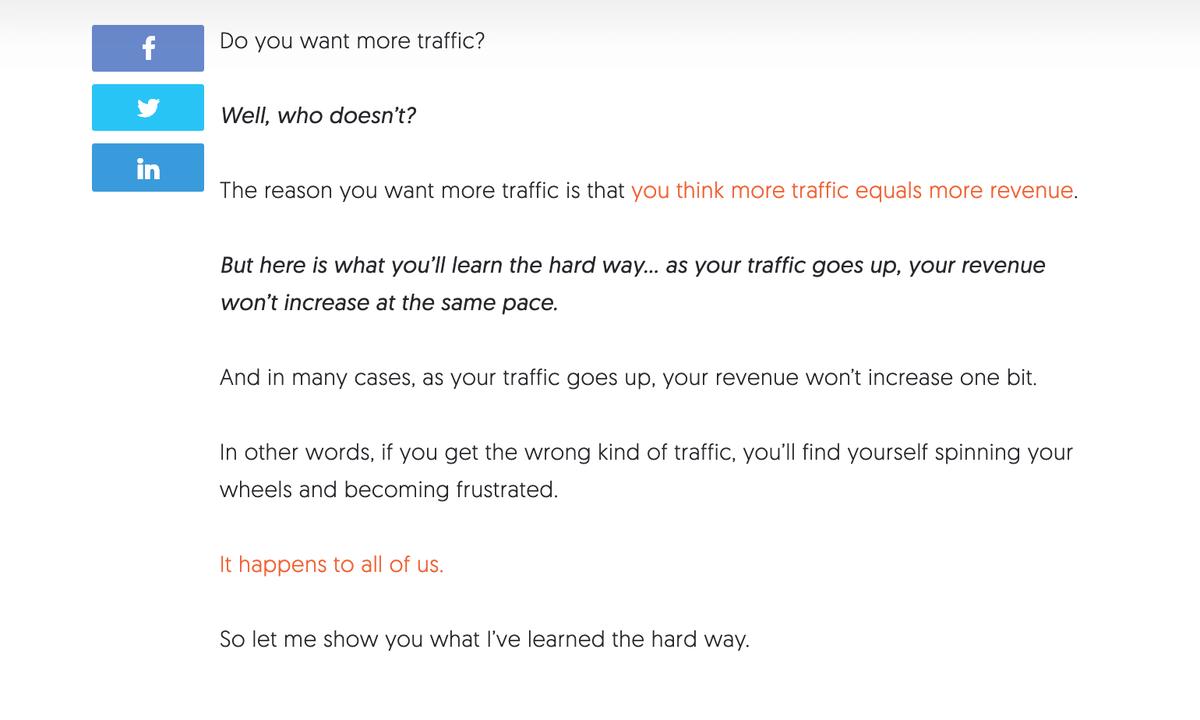 2. Write a blog
They say content is king, and they couldn't be more right. But here's the thing - your content (like blog posts and videos), needs a place to live so that future customers can find you and your product.
Your website will be the perfect place, or home ground, where all your great content can reside and build your brand's reputation - it's easily one of the best ways to attract and convert site visitors to paying customers.
You see, 78% of consumers have admitted they prefer getting to know the company via articles rather than ads.
What's more, content marketing is proved to generate 3 times as many leads as outbound marketing (like attending trade shows or cold-calling) but costs 62% less. It also drives six times higher conversion rates and would boost your web traffic 7.8 times.
See the potential in writing your company's blog?
Don't think of separating the two. Your blog should be hosted on your business website to reap all the benefits, and here's why:
The more content and blog posts you add to your site, the more pages from your domain become indexed in search engines. This in return increases organic search visibility and directly increases website traffic. It also keeps people on your website longer, so they're more likely to visit your online store and purchase your products.
Here's what you can do:
Write the blog post(s). Find a suitable format for your blog and put your industry knowledge to good use. If you're not the writing type, delegate this task to someone in the company or outsource.
Include keywords. Remember SEO? Add industry-related keywords to your blog post to make your website more visible when people search for those keywords via Google.
Add internal links. Link to your products and other blog posts. This will lead to visitors spending more time on your site and decreasing the bounce rate.
Guest blog. Contact editors of other respectable industry blogs and arrange your article to be published on their platform. Arranging a guest publication will not be easy, but it will be worth it. Having your own and your company's name appear on an authority sites builds trust and will turn people who are already interested in your niche into your site visitors.
This writer publishes articles on Thrive Global, a leading lifestyle and wellness blog: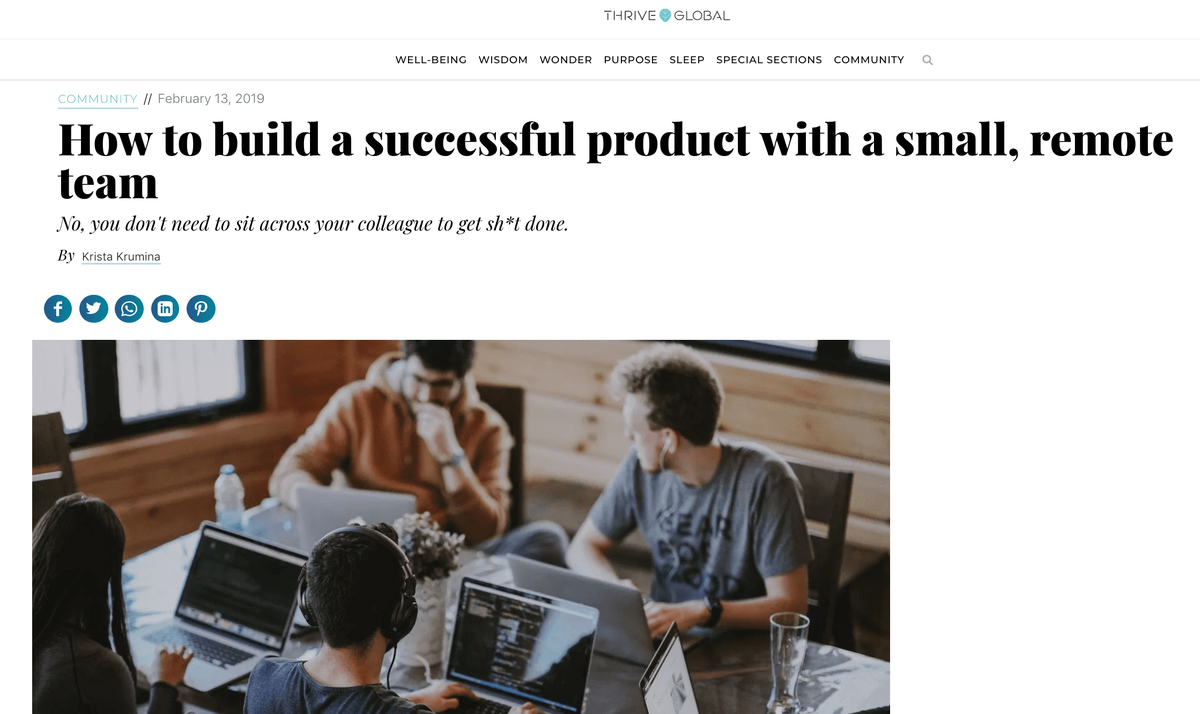 Then, she links to her content marketing agency in her bio to lead people to the website:

3. Activate email marketing
Email marketing is another tactic that is highly effective. Statistics show that for every dollar spent on email marketing, you can expect an average return of $32.
And again - email marketing is yet another channel that revolves around your website.
First of all, if you're using email marketing to engage with your customers, you need someplace to direct these customers to.
Your company's website is the perfect destination - as then your email subscribers can learn more about your products and place a purchase.
For example, when launching a new product line, or publishing a blog post, you'd send out a newsletter to drive your customers to the website where they would possibly end up buying something from your page.
Your website would also help you grow your audience. This would happen by allowing you to capture the visitor's contact information (name and email), through a website opt-in box. That way, you'd later be able to contact your customers and make offers to them via email.
Here's what you can do:
Use pop-ups and slide-ins. Popups and slide-ins make it very convenient for the user to subscribe to your email newsletter because they appear right in the center of the website (instead of at the bottom of the page where email opt-in boxes are usually located). Motivate your website visitors to subscribe to your newsletter by offering an incentive, for example, an exclusive discount.
For example, when reading an article about email marketing on Oberlo, you get a pop up that offers an ebook in exchange for your email: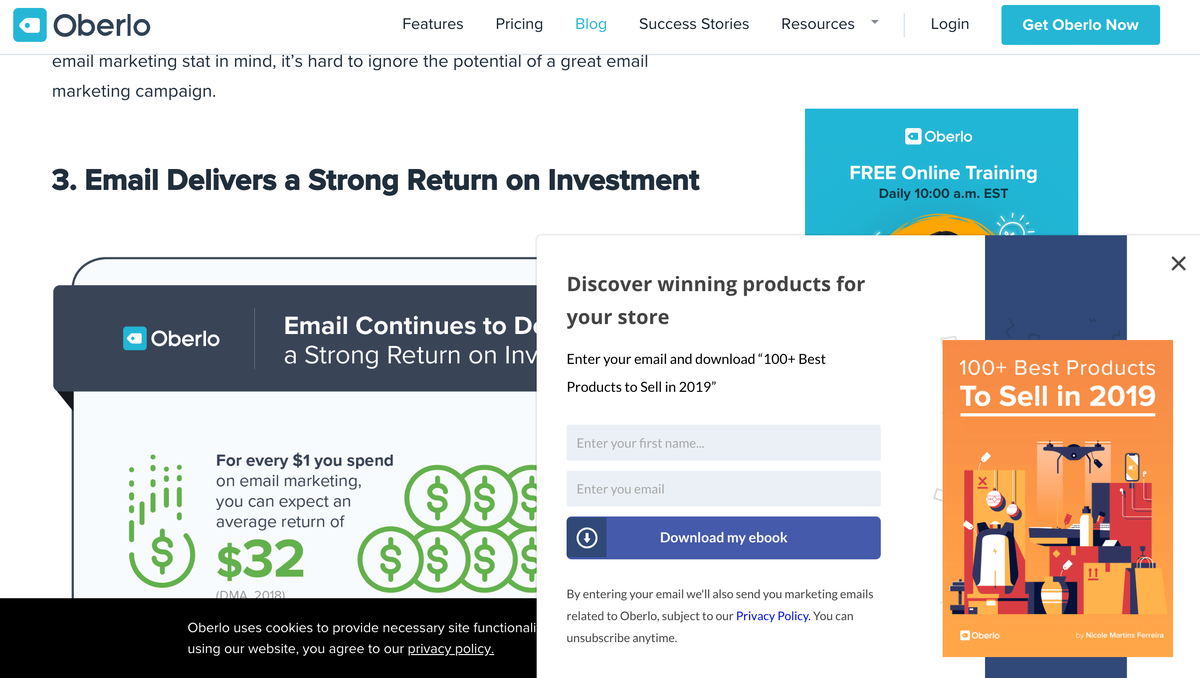 4. Build social media presence
Now, we all know that social media is a big deal. Out of the world's total population of 7.7 billion people, 3.3 billion are active social media users giving businesses a great opportunity to reach and engage with a global community.
For best results, however, you shouldn't just stick with third-party social media sites. Instead, connect them to your website to create a powerful hub that promotes your brand presence online and drives traffic to your online store.
Think of the two this way. While your website is your global storefront, your social media accounts act as the display window, luring customers into your online shop.
So, similarly to emails, your social media pages should promote your products or services and direct your customers to your website where they can learn more about your business.
Here's what you can do:
Post about your products and blog content. Share your newest products or blog posts via social media to reach your customers. Statistics show that brands who create 15 blog posts per month and share this content on social media platforms gain 1200 new leads per month.
Create social media ads. Based on Facebook's algorithm, nowadays it's more difficult for business pages to get noticed in the timeline without any ads. Besides, with the help of social media ads, you can target your potential customers by their interests and other demographic information. To get more traffic to your website, try Facebook Ads that lead directly to your website or running an ad campaign on other social media platforms like Instagram or Twitter.
Launch a giveaway. Everyone likes free gifts and winning, which is an effective motivator to attract people to your contest and thus - your website. As an example, one Dutch cosmetics company ran a giveaway that generated over 900 new leads. And there's a bonus - you can also collect email addresses. Use tools like Rafflecopter or Woobox for an easy giveaway and social media contest management.
Here's an example of a typical Facebook ad for a music database company called Epidemic Sounds that leads to their website: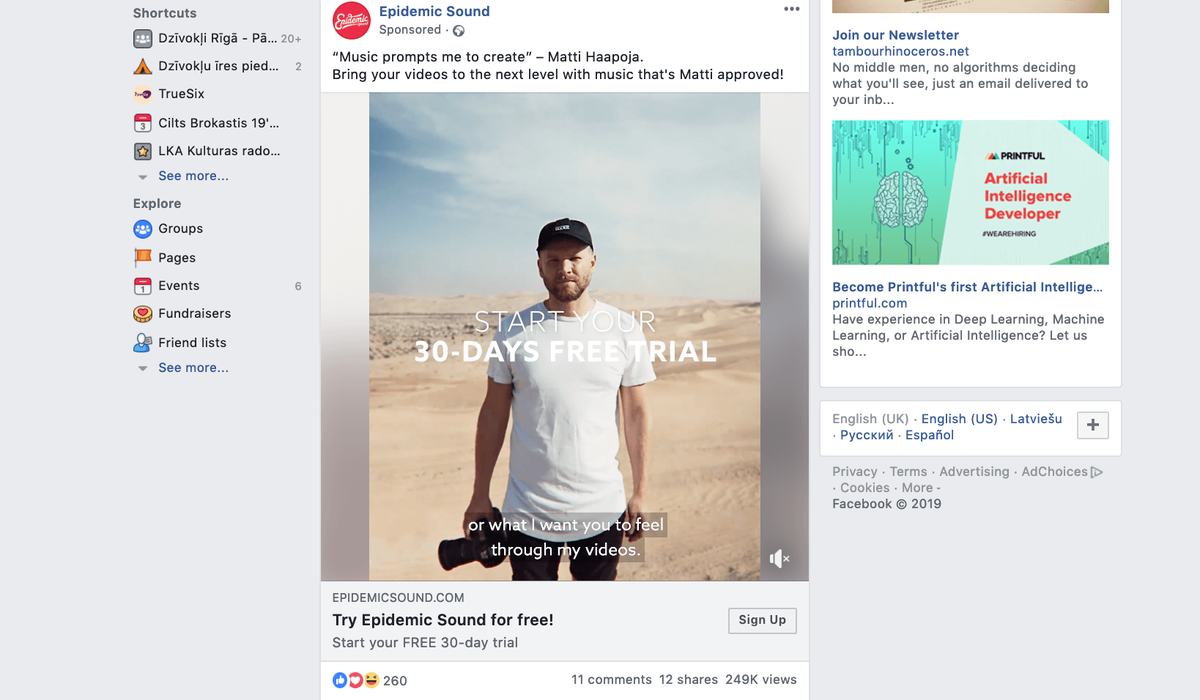 And here's a typical giveaway. This Danish clothing brand links to their products in the contest, which means that with each of the 180 shares, their brand name and website spreads further across social media: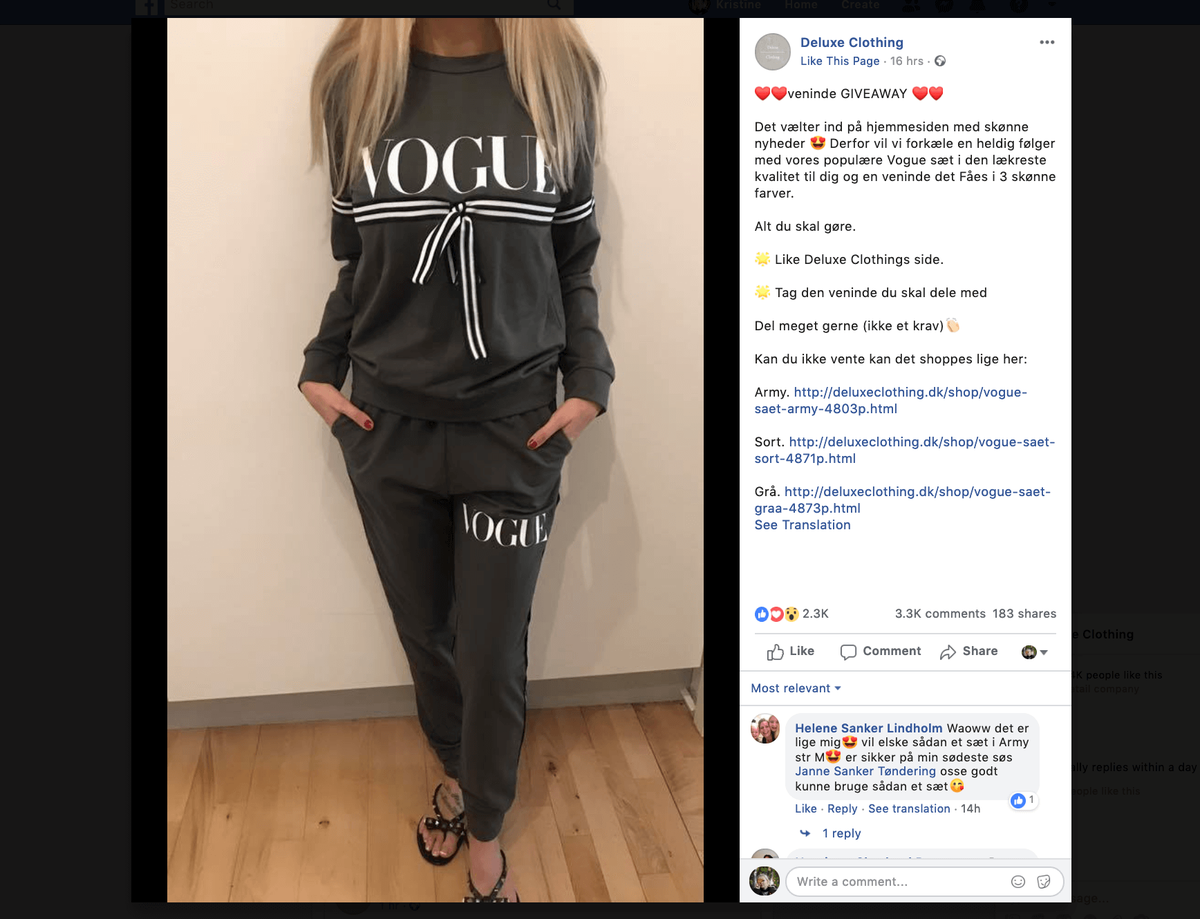 5. Create retargeting ads
Imagine you're the owner of a brick-and-mortar store. A couple of customers come in, and for some reason, they're not 100% satisfied with the experience and leave your shop.
Will you run after them and drag them back to your store? Probably not (hello, legal issues!).
But what you can do is try to persuade them to come back to your online shop. This is called retargeting, or remarketing, and it's a form of online advertising that shows ads to people who have already visited your website.
And you guessed it - retargeting is directly connected to your website. Here's how it works: you'd place a small piece of code (also called a tag or a pixel) on your website. Every time new visitors reach your site, the code would collect this info and it would be later used when creating retargeting ad campaigns. The result would be your ads only being shown to people who've previously visited your website.
In a way, you'd be helping your website with the statistics collected from - that's right - your website.
And here's why you should consider it. Only 2% of traffic converts after an initial visit to your online store. Retargeting can be a cost-effective method to nurture and re-engage with the unconverted 98%.
Here's what you can do:
Use Google AdWords. Set up retargeting campaigns in Google AdWords for the most exposure. Their reach is considerably high, accessing over 92% of visitors across millions of website, videos, and devices in the US.
Try Facebook Pixel retargeting. This method is the best of both worlds and lets you access Facebook's demographic data and the data of your website. You'd have to install a pixel from Facebook on your website (get started here) to track your traffic.
Here's an example of a retargeting add placed on a lifestyle blogging platform Fupping: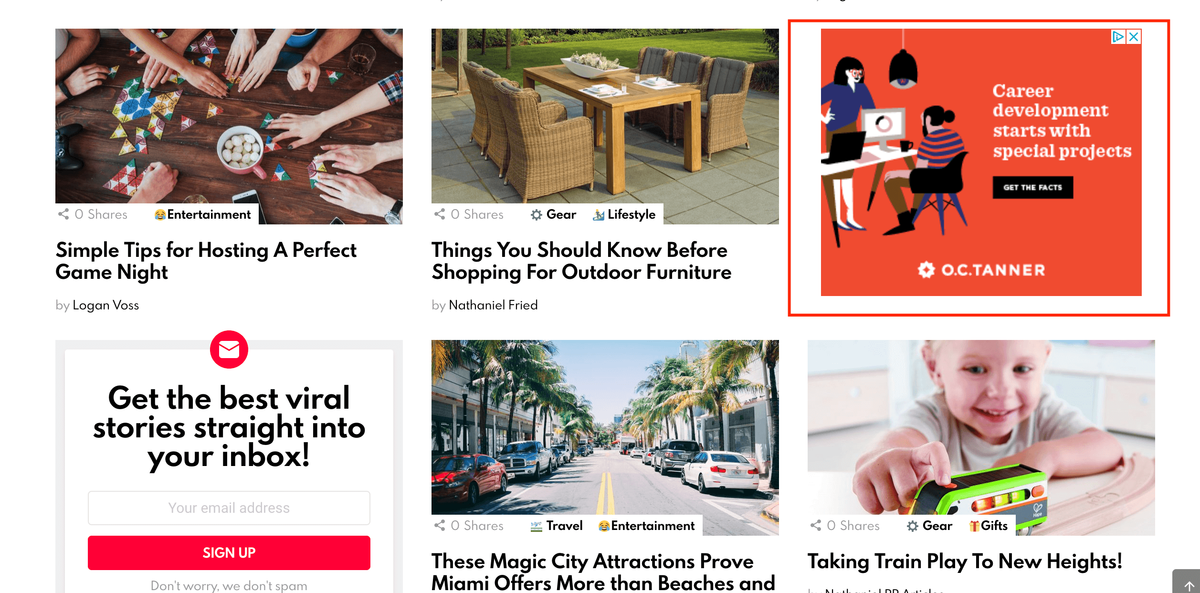 Your website - the heart of digital marketing
They say all roads lead to Rome. In the online world, they lead to your website and online store as the heart of all digital marketing efforts.
Don't have your own business page yet? Create a high-performing website or online store now with our free and easy-to-use website builder!