Work from home lessons that may prove useful to you. Coming from a company that has been working from home for 7 years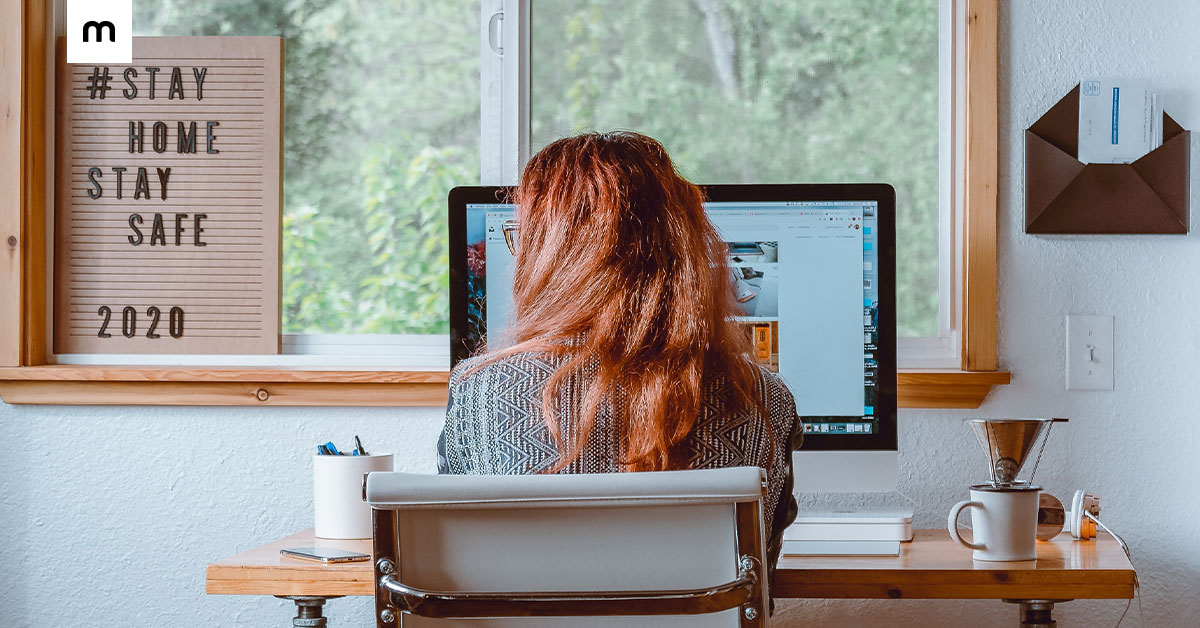 No, these are not another five run-of-the-mill tips for working from home. This time it'll be us, the website and online store builder Mozello, sharing our own experience. We'll share our methods for ensuring high productivity and effective work without having an actual office.
Since the inception of our company, the team of Mozello has worked from home. It is the only way we could work together while being located in 6 cities in various parts of Latvia. By avoiding traveling, we save both money and precious time, which means we can spend more time with our loved ones. Our uniforms consist of bathrobes and warm slippers. We've never had an office, and to be perfectly honest, we never really wanted one. Well, not unless it looks like the offices of Google, Apple, or at least Draugiem Group.
Today we'll talk about our success with this strategy and highlight several points that may help you organize your home office.
Infrastructure
Workplace at home
The environment is of utmost importance in your home office. Naturally, you'll need a good computer and internet connection, but we also recommend securing a separate room or at least a desk in a quiet corner for yourself. This point is most important for account managers who talk to customers over the phone. Also, make sure you've thought about comfort and ergonomics – just because you're working from home does not mean your back will magically stop hurting.
Once an account manager asked us during an interview whether it's OK to work from a café. Well, guess what – it's not, because a café will never ensure the ergonomic or data protection standards that we have.
Of course, jobs differ from one another and we all have different possibilities, but a proper work environment at home is the basis of a home office, and you can't really do without.
Use tools
Choosing the right digital tools means you've already made it halfway to organizing an effective space for remote work, a.k.a. your home office. To ensure seamless operation while working from home, you'll need to pay special attention to communication between staff, document management, and your customer service system, among other things.
Lucky for us, there's a multitude of systems and tools that help us do this. At Mozello, we use the following tools:
Communication: For basic communication, we use the business communication platform Slack. The system shows all employees online, it lets you chat with them individually or in separate chat rooms devoted to a specific topic such as customer support, board meeting, marketing issues, free time, etc. (paid or free)

Meetings: We organize meetings via Skype (free). If you can't stand Skype, consider Zoom (paid), Messenger (free), or another option.

Customer e-mail service: We use the Groove Helpdesk system, which allows multiple employees to access and work with one e-mail address and stay up to date without any regard to their location, and Groove Helpdesk also connects to Facebook. (Starting from $6 / month per user). There are a number of both cheaper and more expensive alternatives to this system. A simple option that requires no investment would be to share one e-mail box for your company: info@company.com.

Planning and project management: we use Trello (IT department) and Notion (marketing department). (paid and free versions)

E-mail addresses, document management: we use Google Apps / G Suite (€5 / month per user)

Customer management: we use an IT system we developed ourselves.

Accounting: We outsource accounting services, and the accounting system is available online. Although we don't necessarily use it ourselves, we recommend PayTraq which was developed by our colleagues. It is a system for accounting, management of goods and storage, etc.
Work organization
Working from home means less time for communication, so, to avoid chaos and confusion, everyone must be fully informed about who is responsible for which specific tasks, when and in what scope the tasks need to be delivered. This is crucial to avoid two people accidentally working on the same thing or a task being forgotten at all. In our case, we've established strict roles, and planning with goals and objectives helps too.
Staff selection
For a company to function (both in general and when working remotely), it is imperative to select candidates who will be able to arrange their own workspace and who are endowed with the capacity to focus. Working from home is the exact opposite of working at an office which is teeming with life and where communication takes up a large portion of your day. Not everyone will be equally productive while working from home, and not everyone can provide themselves with a suitable work environment.
Determining a specific workload
One of the main concerns of both employers and employees regarding working from home is maintaining productivity. To do this, you must set a specific, measurable, and reportable amount of work that each employee must deliver.
Mozello's experience shows that the following strategies work best:
Strategy A: Do everything that needs to be done
It's relatively easy to register a workload for some jobs. For example, account managers must service all customers, which includes answering calls and e-mails. These things can be measured and verified. This also applies to record-keeping, keeping accounting documents, etc. The people who do these jobs will be able to do them unless their workload is not inhumane.
The task of the management is to ensure adequate amounts of work for each employee and to make sure that the staff is competent. The task of the employees is to do everything that is assigned to him or her. It's that simple.
Strategy B: Goal and deadline-based project management
It gets a bit more challenging with project and product development departments. There was a time when Mozello free-flowed; but this period was quite chaotic and it suffices to say that we did not achieve much. We knew that we have to change our workflow, so we decided to introduce a simple and structured project management system, loosely based on the principles used by Agile.
It works roughly like this:
Requirements, recommendations, needs, and ideas (things that need to be done) are constantly collected. Everything is grouped in huge thematic lists: suggestions, mistakes, ideas for new features, marketing ideas, etc.

Everything is grouped by importance (how often customers ask for this, what is the impact on the product, the company's future, profits, etc.). A manager or responsible employees sort these things and approve priorities together at a meeting.

All development work is divided into 2-week work cycles (called sprints). At the start of each sprint, tasks are selected from the tops of the to-do-lists in the exact amount that we are committed to doing over the following two weeks. Each employee must perform the tasks assigned to him or her during the sprint. The 2-week period is optimal for our company so that we can accurately forecast and control the duration of tasks and also feel the satisfaction for achieving the goals we've set. If the task cannot be done in the span of 2 weeks, it is divided into smaller tasks, but if they're quite small, we pick several tasks for one sprint.

Every Monday we hold a 1 to 2 hour long Skype meeting during which we set new goals (tasks) by taking new things from the top of the to-do list or control progress with the current sprint session and make necessary adjustments in case things aren't going according to plan.

If the set goals are not achieved during the 2-week sprint, we perform an analysis of why it happened and what can we do to make sure that goals are achieved on time in the future.
This system allows us to achieve the following:
We are always working on the most important task at the present moment
We do as much as we can with the resources at hand
We establish a goal-achievement discipline
Everyone knows what they have to do
Regular achievement of goals provides satisfaction
Meetings are focused and take up only 1 to 2 hours a week, which means we save time
We are flexible, and from time to time we make larger meetings or make adjustments to the strategy.
By the way, this system works great not only when working from home, but at an office too. However, a systematic approach is twice as important when working remotely as it promotes discipline and establishes a specific and reportable amount of work.
Keep in mind! There are many different project management systems, and what works for one company may not work for another. The type of system you choose doesn't really matter; what's important is that you do use a system to assign tasks and deadlines to your employees.
Strategy C: Specific regular work plan (schedule)
These involve both project-type tasks and repetitive (routine) tasks. For example, marketing activities in our company consist of two parts: a) a unique campaign for which we use a goal setting and project management approach, and b) daily tasks that are repeated indefinitely, such as changing outdated banners or weekly Facebook posts and blog posts. These are the smaller tasks that have to be done one a regular basis to bear fruit.
A specific, documented regular work plan/schedule/calendar ensures that routine jobs are done and no task is missed or forgotten.
Security and data protection
When it comes to working from home, IT security and data protection are often overlooked. But just because you're in the safety of your house doesn't mean the same applies to your data. Larger organizations take care of this by providing employees with computers, but smaller entities may not have such privilege and are left to deal with potential threats as they can.
As far as possible, the following protection strategies should be used:
A separate password-protected computer is used for work purposes, and it is only used by the specific employee;

Only the software necessary for the work is installed on the work computer;

The work computer has good antivirus software installed and the software is regularly updated;

The employee must familiarise themself with security and data protection regulations and knows that he or she shouldn't click on shady attachments to e-mails, open suspicious links, share passwords, etc.

Use encrypted connection (all serious systems and tools provide this function)

Do not store sensitive data on your computer's hard disk to prevent unauthorized access in the event of theft (it's better to store data on secure, authentication-protected remote systems)
Use a VPN connection when connecting to the corporate network, if applicable and possible
To sum it up, a company must minimize the IT risks and ensure that even if the employee's computer is compromised, the consequences are as limited as possible. This can be achieved by ensuring that employees do not keep the customer database or sensitive documents on their computers, but rather accesses it over the internet via a secure, authentication-protected remote connection.
 Socializing and staying sane
One of the biggest challenges when working from home is the lack of social contact. This hits extroverts particularly hard. There is no universal solution for this problem, as the desire to socialize is different in each specific case. A software developer might go weeks without uttering a word, while a marketing manager will be drawn towards the office or other public spaces. It's a blessing that these things are included in the job description.
Classic and proven ways to raise the spirits of the team are common meetings, events, and trips. For example, every now and again we organize lunch for our team in a restaurant. During the pandemic, we organized a Skype meeting. We've also had grill parties and the occasional trip abroad.
Despite all our efforts, we can't say we've reached perfection in this field, so we will definitely keep working towards improvements.
Summary
What works for one person may not work for someone else, but our experience proves that work from home can be an ordinary, self-explanatory, and common thing in the long term as well. We hope that some of our experiences and lessons learned over these years may prove useful to your company.
If you've got experience working from home, we'd love to hear about it in the comments.