The complete beginner's guide to email marketing (and why you should have started yesterday)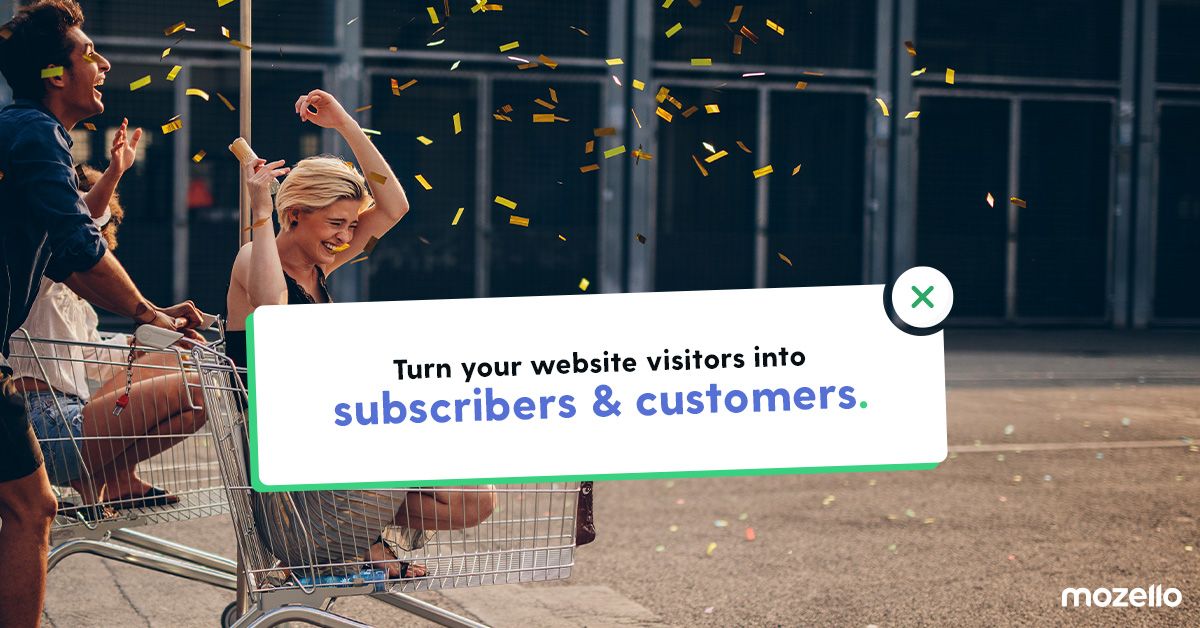 So, you've heard people say that email marketing is dead. That it's outdated and "nobody ever reads emails anymore".
Far from it.
Email marketing is still one of the pillars of a successful digital marketing strategy. In this article, we tell all – why email marketing is important for your business, how to get it up and running (dummy-level), and what email etiquette rules you should follow at all times.
What is email marketing & why it matters
Email marketing is basically the use of email to promote your products or services. It is a direct form of marketing (similar to snail mail – but way more efficient) used to cultivate relationships with potential and existing customers, as well as encouraging customer loyalty.
If you're not investing in email marketing, you're basically:
Losing an easy way to reach and inform your customers
Avoiding an important tool to drive your sales.
And here's the most important part: email marketing is super cost-effective. It's noticeably less expensive than traditional marketing tactics (TV or print ads), and it provides a high return on investment, or ROI.
In fact, email generates $38 for every $1 spent, which is an astounding 3800% ROI. This means – email marketing is one of the most effective marketing channels for small and up-and-coming companies, as well as large businesses.
Still not convinced email marketing is for you?
A survey found that 75% of adult online users consider email marketing as their preferred method of marketing. What's more, 59% people say marketing emails actually do influence their purchase decisions.
Okay, that all sounds good and dandy. But where would a complete email marketing beginner start?
We've got you covered. In this article, we'll go step by step and learn:
How to collect emails on your website
How to actually get people to leave their emails
What to do with the emails once you get them
Must-know email marketing etiquette
Let's get right to it!
1. How to collect emails on your website
For your email marketing strategy to function properly, you need to build a list of subscribers. This means creating a collection of emails from people who've deliberately given you their email address.
To start building your email base, you can use the emails of your existing customers as they usually convert very well. Bear in mind, however, that you can only use those emails where the owners have given you permission to send them promotional content. This should have been enclosed during the purchase or your previous communication with the customer when he or she gave you their email.
Now, as to collecting new emails, one of the most convenient methods is by placing sign-up forms directly on your website. What's even more important – when a page visitor enters their information in the form, they're giving you permission to send them branded content.
This is the sign – they want to hear from you.
In general, a sign-up form would look somewhat like this: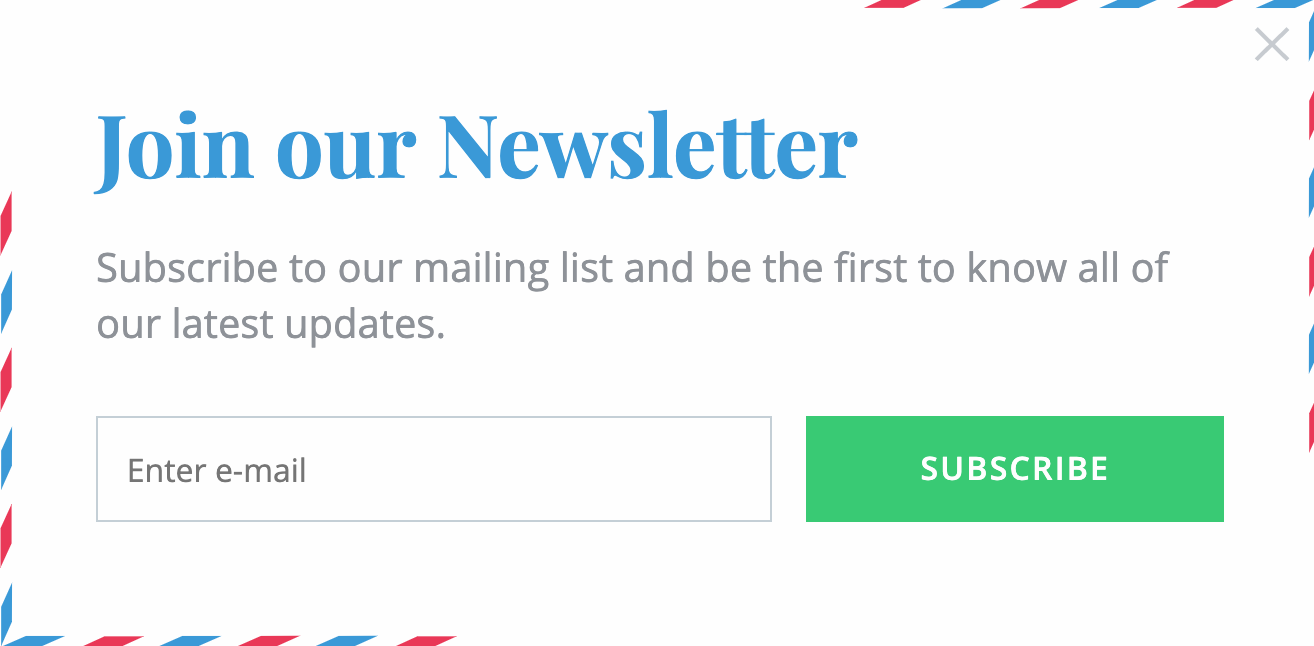 The easiest way to place a sign-up form on your Mozello page and start growing your email list today is by using Engaga. Engaga is a convenient tool that:
Makes your website more effective with call-to-action campaigns
Creates stunning multi-purpose pop-ups
Grows your email list using beautiful sign-up forms
Runs visual marketing promos to promote new products and events on your website
Captures leaving visitors and decreasing your website bounce rate
The great news?
Only this August you'll be able to kickstart your e-mail marketing professionally with extreme savings as all Mozello users have a discount up to 40% on all Engaga professional plans if you choose to upgrade from the free Engaga plan.
Engaga is integrated with the Mozello website builder, which means that setting it up is super easy. All you need to do is – go to Extras on your Mozello website editor, then click Add under Engaga: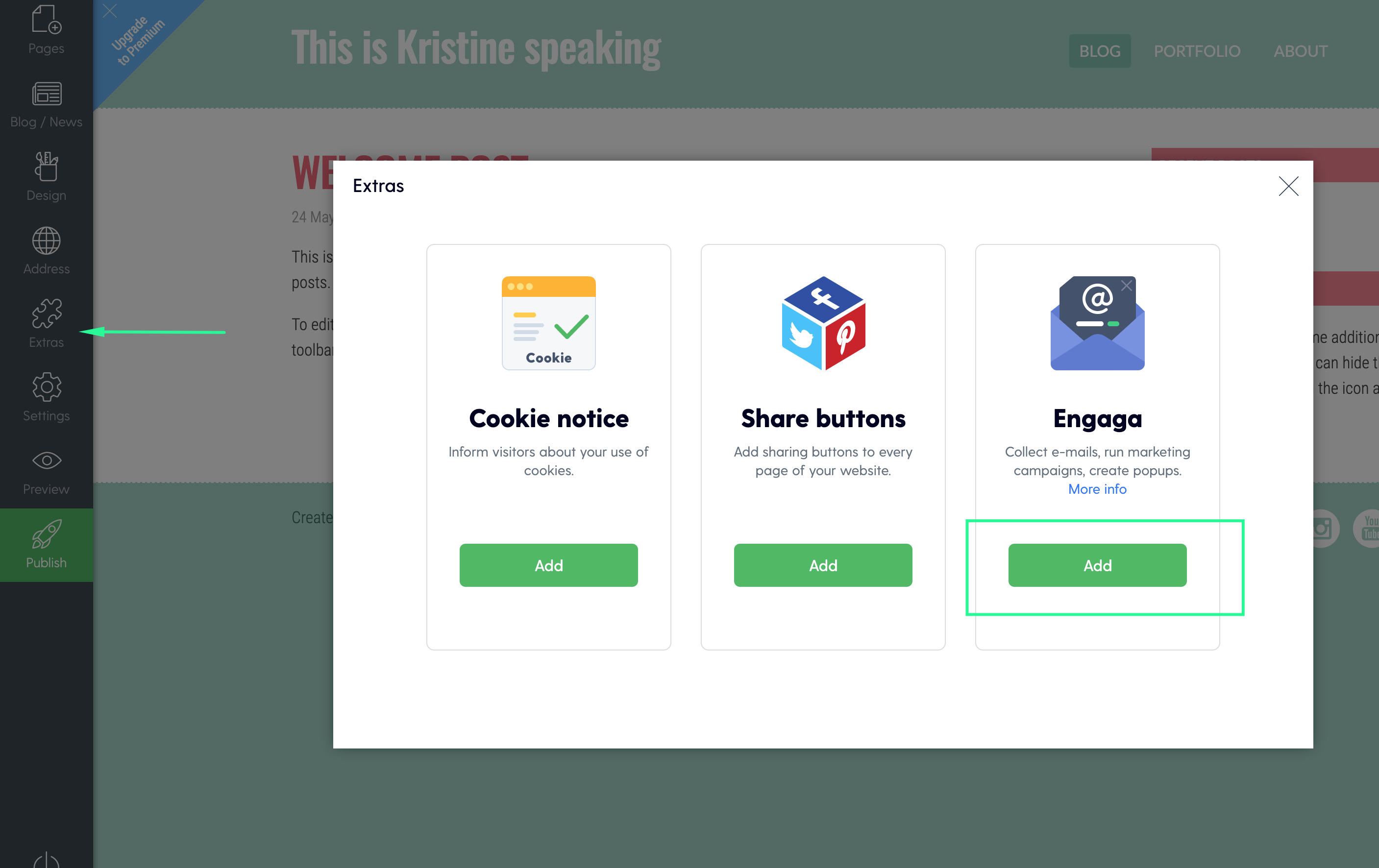 This will take you directly to Engaga where you can:
Create a new campaign and email sign-up form
Edit existing campaigns and forms
Change/add websites you want to add the forms to
Export email lists
See the basic analytics of how well your sign-up forms are doing

When setting up your sign-up form with Engaga, you can easily personalize any smallest detail to your website needs and adjust:
The text and appearance. Create the most compelling description and call-to-actions to persuade your visitors to entrust you with their email. Change images, text, and colors so that the form suits your brand and fits right in on your website.
The behavior. When will the sign-up form show up on the visitor's browser? Make it pop up right before leaving your website, when scrolling down your site, etc.
The success action. For each sign-up form, you can create two messages. The first one would be asking for the visitors' email. The second would be saying 'thanks' and asking them to keep browsing or redirecting them to another page.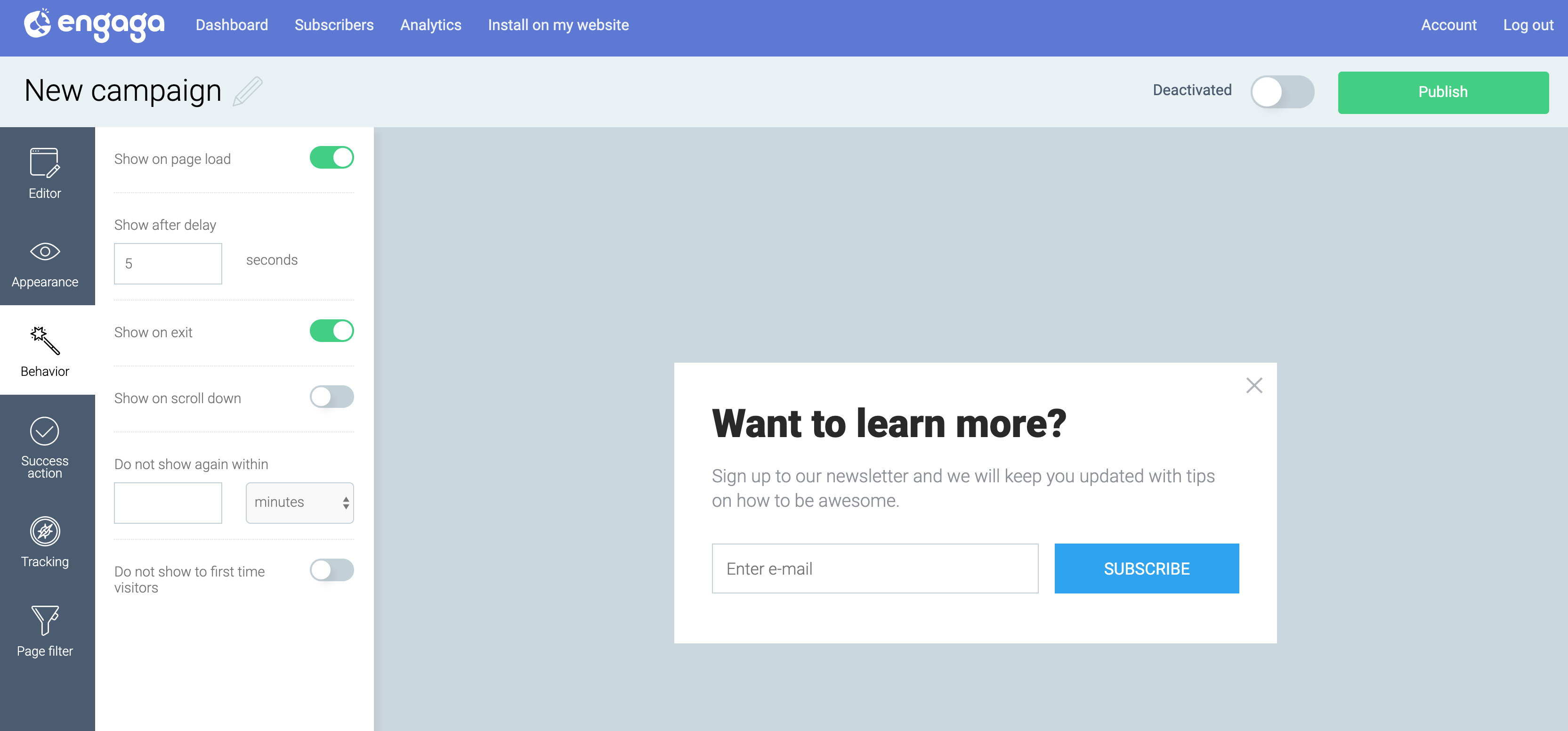 Now, how do you create a form that will actually get people to leave their email? Let's talk about that in the next step.
2. How to actually get people to leave their email
The Engaga sign-up form creator offers a variety of form types and templates to choose from. You can browse through them all when clicking Create new campaign, then selecting the Collect email or data option.
With Engaga, you can place all the major types of sign-up forms in your website, including:
Banners – appear on the top of your website:
Side widgets – appear on the right hand side of your website:

Pop-ups – pop up while visitors browse your website:

Full-screen forms – appear in full screen:

Embedded forms – can be placed in code any place in your website:

As far as content goes, the most effective sign-up forms can be classified in 4 categories. One characteristic stands out though – they all offer something in return for the visitor's email:
Special offers. Let your customers know they'll receive special offers and exclusive discounts that are only available via email.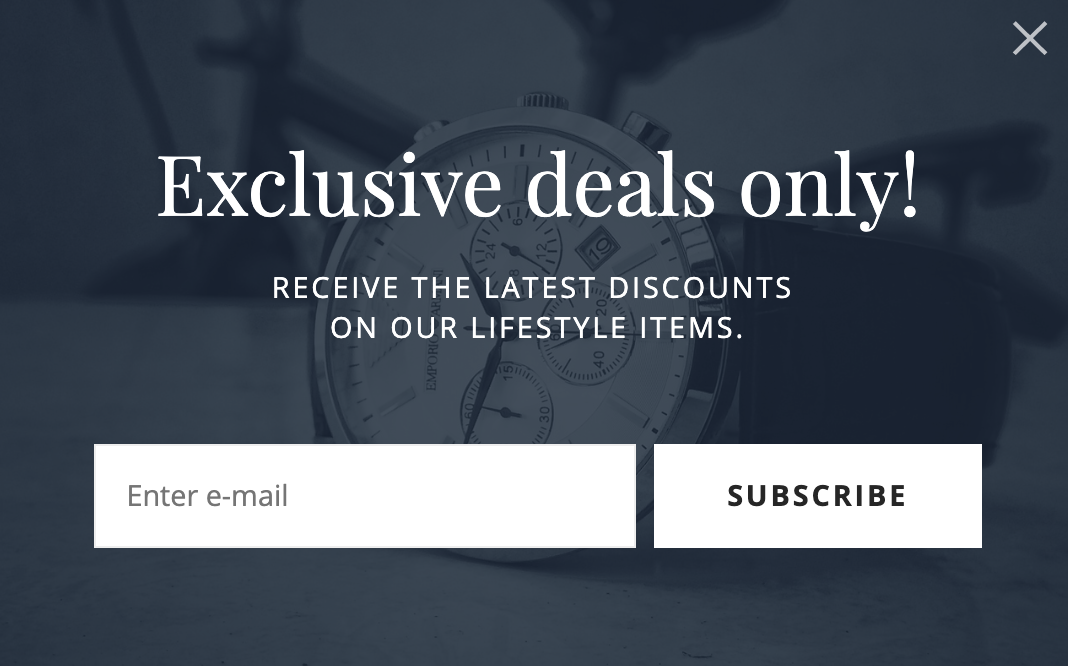 News and updates. Similarly to special offers, you'd be offering the page visitors exclusive content. Meaning – they'd be the first to find out about new products, important updates, and new blog posts.

Contests with gifts. This strategy is similar to creating giveaways or contests on social media where you'd ask your followers to like and share your posts in return for a prize. In this case, however, your business would actually get something in return as well – the customers' emails.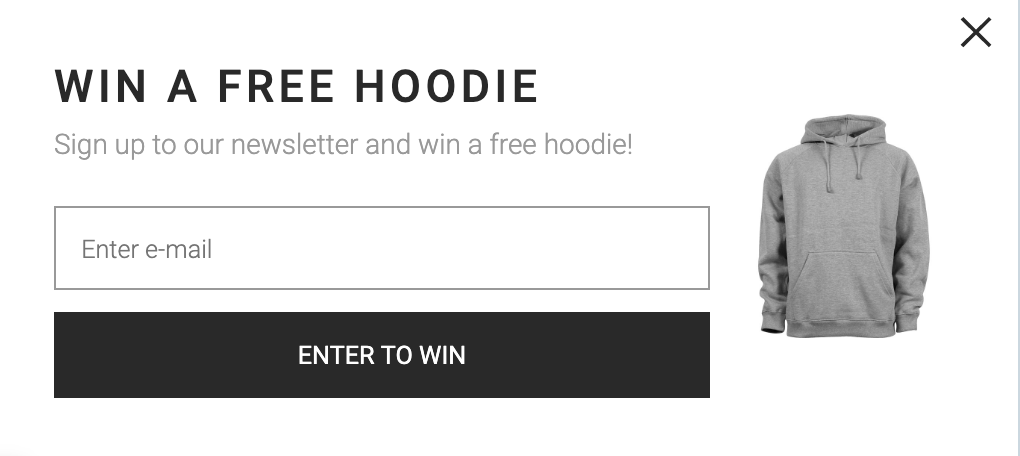 Exit deals. These sign-up forms appear when the page visitor is about to leave your website. This is the moment when visitors will definitely notice a sign-up form that pops up, making this your chance to speak to them directly. Use an exit deal to offer visitors special discounts, free shipping, or unique content in return for their email.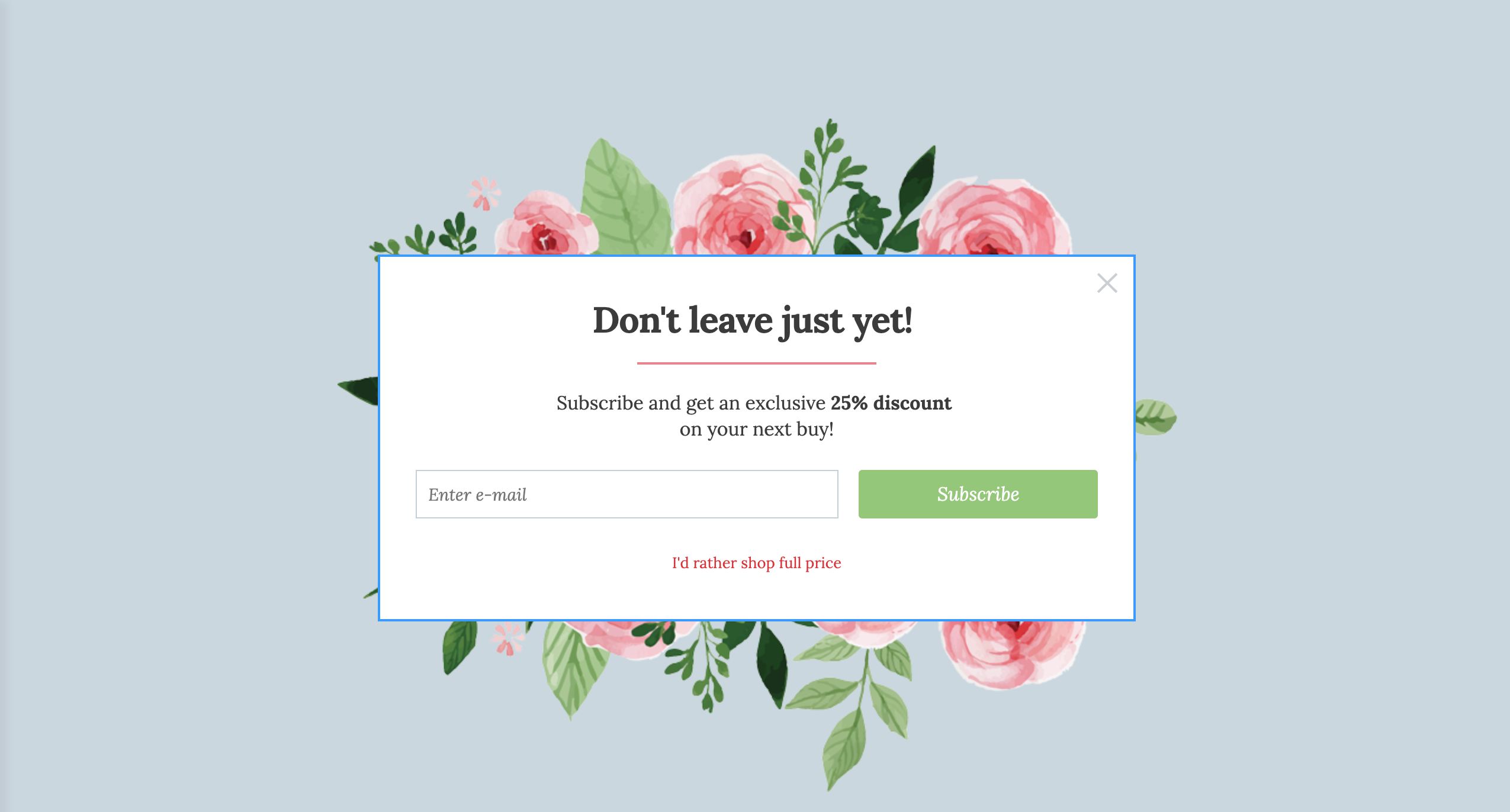 What's great about these sign-up templates is that they're basically ready to be published, as well as 100% mobile-friendly. All you need to do is adjust the text so that it fits your products or services, and you're ready to see the emails rolling in!
3. You've got the emails. What next?
When you've collected a decent list of emails, you'll actually need to send out the content people subscribed to.
One way to send the emails would be to use your regular email software (Gmail, Outlook, etc.) and put your recipients in the Bcc field. Fair enough, right?
But what happens when your email list exceeds 50 subscribers, the pace picks up, and you're already hitting thousands of newsletter subscribers?
First of all – good job on attracting the leads! Second, this is the perfect timing to start using professional email marketing tools.
Not only will using such tools help send emails to large numbers of subscribers at once, it will also:
Provide stunning email templates that look like professionals made them
Handle unsubscriptions and legal requirements
Allow you to see and analyze statistics of how many of your emails are actually opened and read
Automatically rid your email list of bouncing email addresses.
Some tools that you can use for this purpose are Mailigen, MailChimp, and Campaign Monitor. What's great about Engaga is that you can easily export the full list of your emails as an Excel-friendly CSV file and import those contacts directly to whichever of these email marketing tools you decide to pick.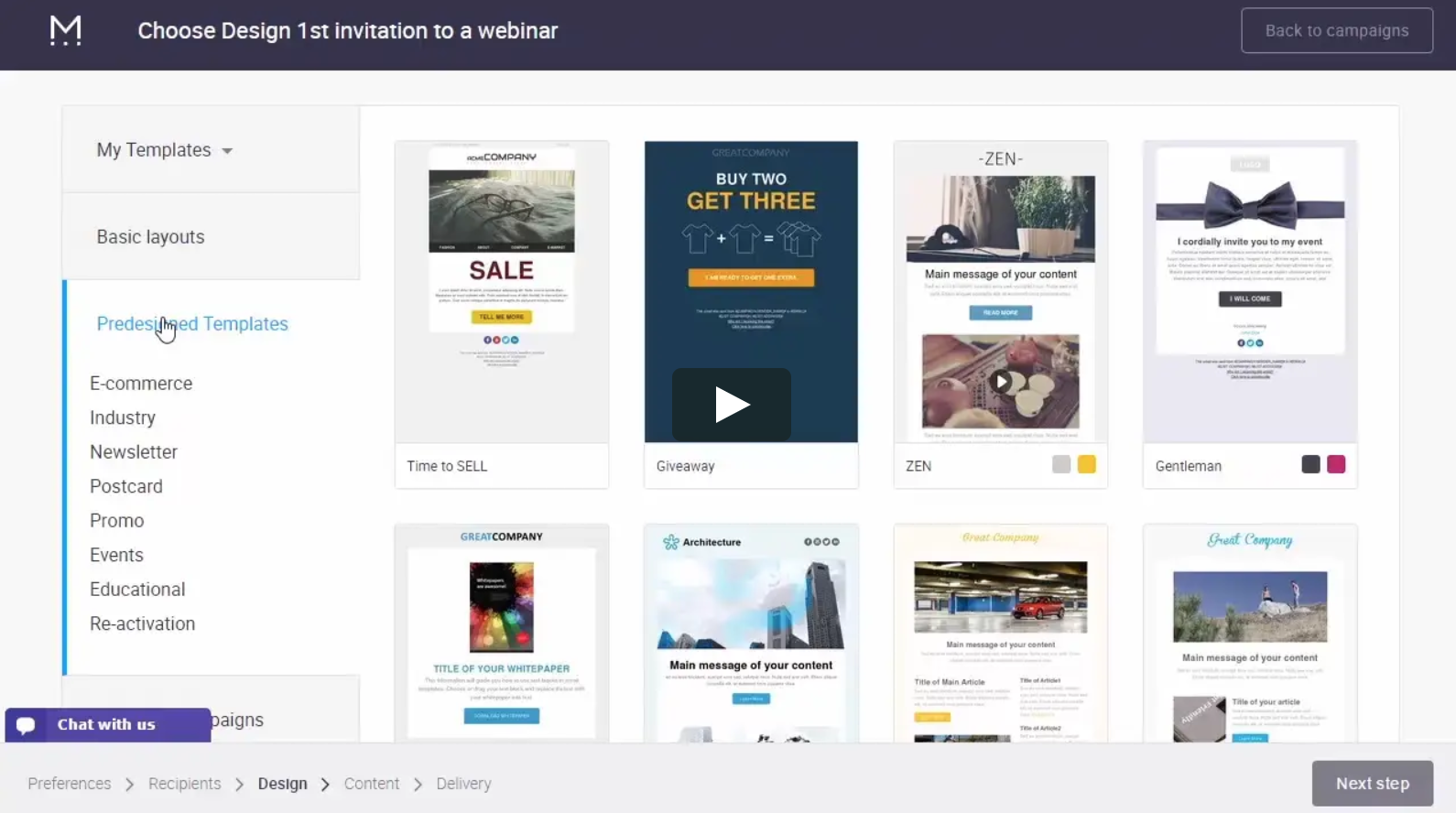 What's more – when your email list and business start to grow across multiple regions, it might be time to segment the content and your email list to fit different audiences.
This means that you'd divide your subscribers based on their interests, geography, or other criteria so that you could send only relevant content to that particular group of recipients.
For example, if your website starts getting visitors and shoppers from France, it would be a good idea to maintain two separate email lists – one for English-speaking clients and the other for French-speaking customers.
Or if you have an apparel shop that sells clothing both to men and women, and you notice the male subscriber list increasing, you might want to send out male-specific content (for example, a best-seller list or "our shoppers loved these 10 items") to this audience.
4. Useful email know-how and etiquette
Now that you've got down the basics of email marketing, here are some final rules and no-nos that you should keep in mind at all times.
Don't spam. There's a fine line between sending enough email and spamming your subscribers. In fact, 69% people unsubscribe due to too many emails. Don't cross that line and only send content that your subscribers want to receive. This study discovered that customers will react positively to up to 19 emails per month.
Don't be too promotional. The fact that people have already agreed to receive promo material from you says – they'll notice your brand once they'll receive your email. Don't overburden their trust by using pushy messages such as "you HAVE to buy this product".
Use holidays and seasonal trends. The holidays are especially important for sending out emails and offering incentives to encourage shopping. Send out special offers and discounts for your subscribers on Black Friday, Christmas, Mother's Day, etc. For example, here's what clothing brand Storq sent out for Black Friday: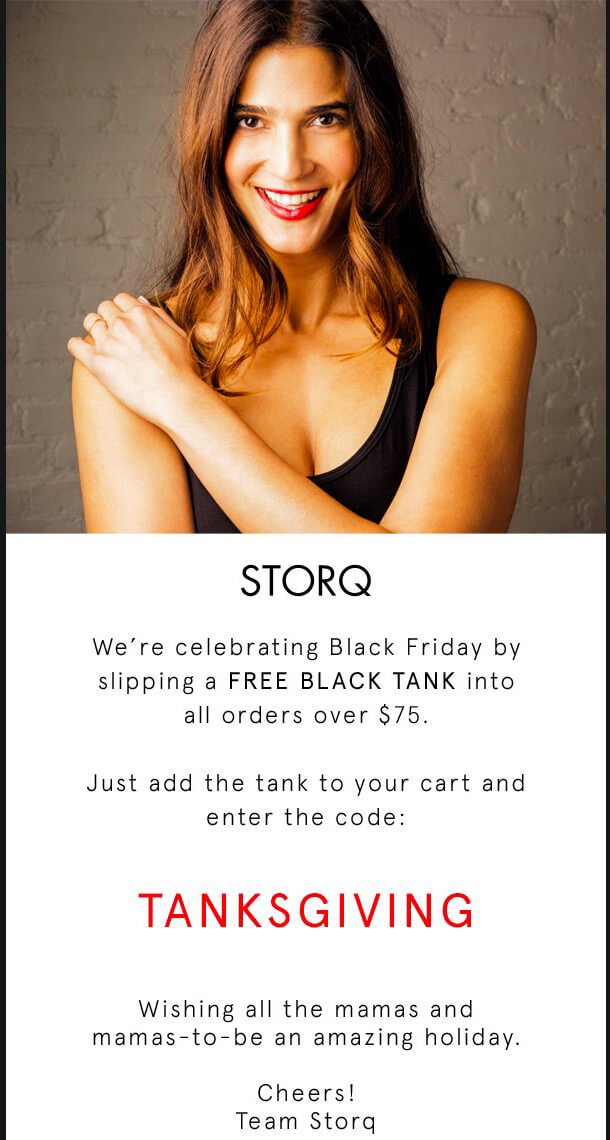 Never send to people who don't want to hear from you. Don't buy or harvest lists of emails. First of all, it will be ineffective (these people don't want to hear from you). Second, sending promotional content to people who've not explicitly said they want to receive it is against the law (check out GDPR in Europe).
Make sure your emails are mobile-friendly. According to the latest data, 68% of email campaigns are opened on a mobile device. This means – mobile-friendly email design is a must-have. Always send out a test email and check it on different browsers and devices.
Use social media to promote your website. Create social media ads that drive customers to your website. The more people visit your website, the more people will see your sign-up forms – the more emails you'll collect.
Collect emails offline. Attending a conference or a real-life event? Create sign-up sheets on a tablet. Just remember to add the GDPR box for customers to tick, allowing you to use their emails for promotional purposes.
All clear? Now, off to building your online empire you go!
If you have other questions regarding email marketing, don't hesitate to let us know in the comment section below!