Why customer experience is the core of your business [+ webinar with DHL Express]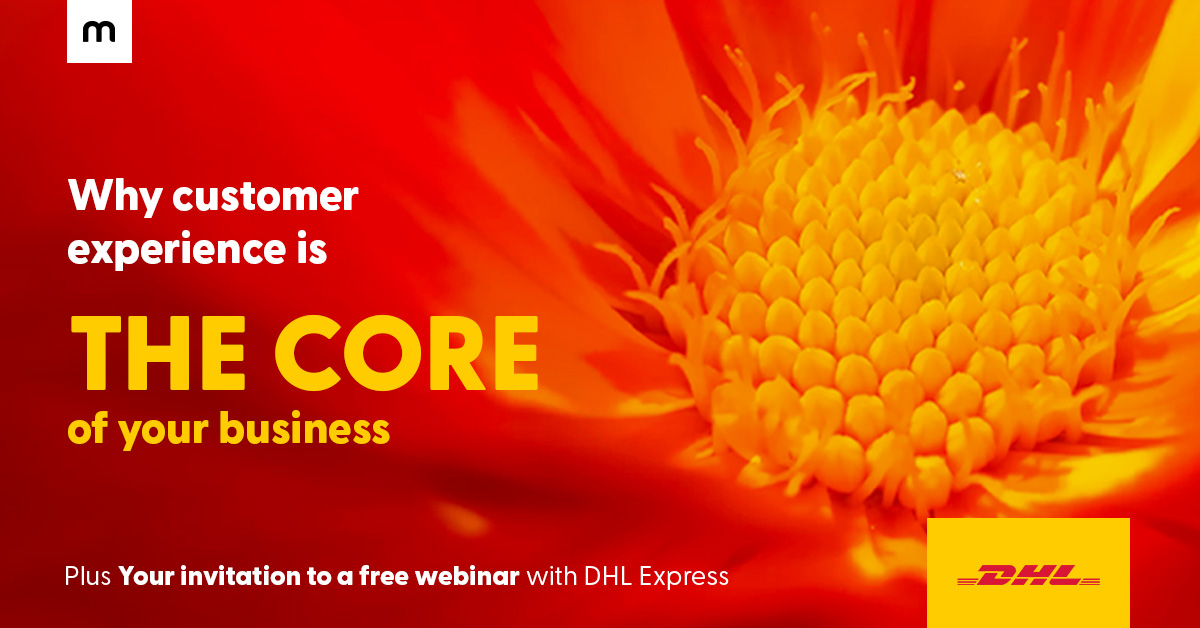 If there's one rule that holds true across every kind of business, it's this: bad customer experience is bad for business. It doesn't matter whether you're running a restaurant, plumbing service, or e-commerce store – if your customers are unhappy, they won't come back and they may tell their friends to avoid you, too.
But what is customer experience exactly? In short, it's the totality of all the ways how a customer interacts with your business. The buying journey, product selection, delivery options, shipping time, payments, customer service, ads, and even website design – it's all part of the customer experience.
That's right – even things like website uptime and delivery time, which you as an entrepreneur don't have direct control over. That's why it pays to work with reliable partners.
Therein lies one of the biggest challenges for entrepreneurs, namely, you're responsible for all of these different factors and you have to do them well enough to keep your customers satisfied and foster brand loyalty. Because even if one element goes wrong, you can lose a valuable client, potentially forever.
For example, a gorgeous e-commerce store with affordable high-quality products, premium customer service, and a seamless customer journey may lose clients if they don't offer the shipping options people want.
All in all, a positive customer experience is the backbone for your business growth and it's in your interest to ensure it's seamless, enjoyable, and hiccup-free.
That's why Mozello teamed up with DHL Express to share customer experience best practices and insights in our upcoming webinar "Why customer experience is the core of your business".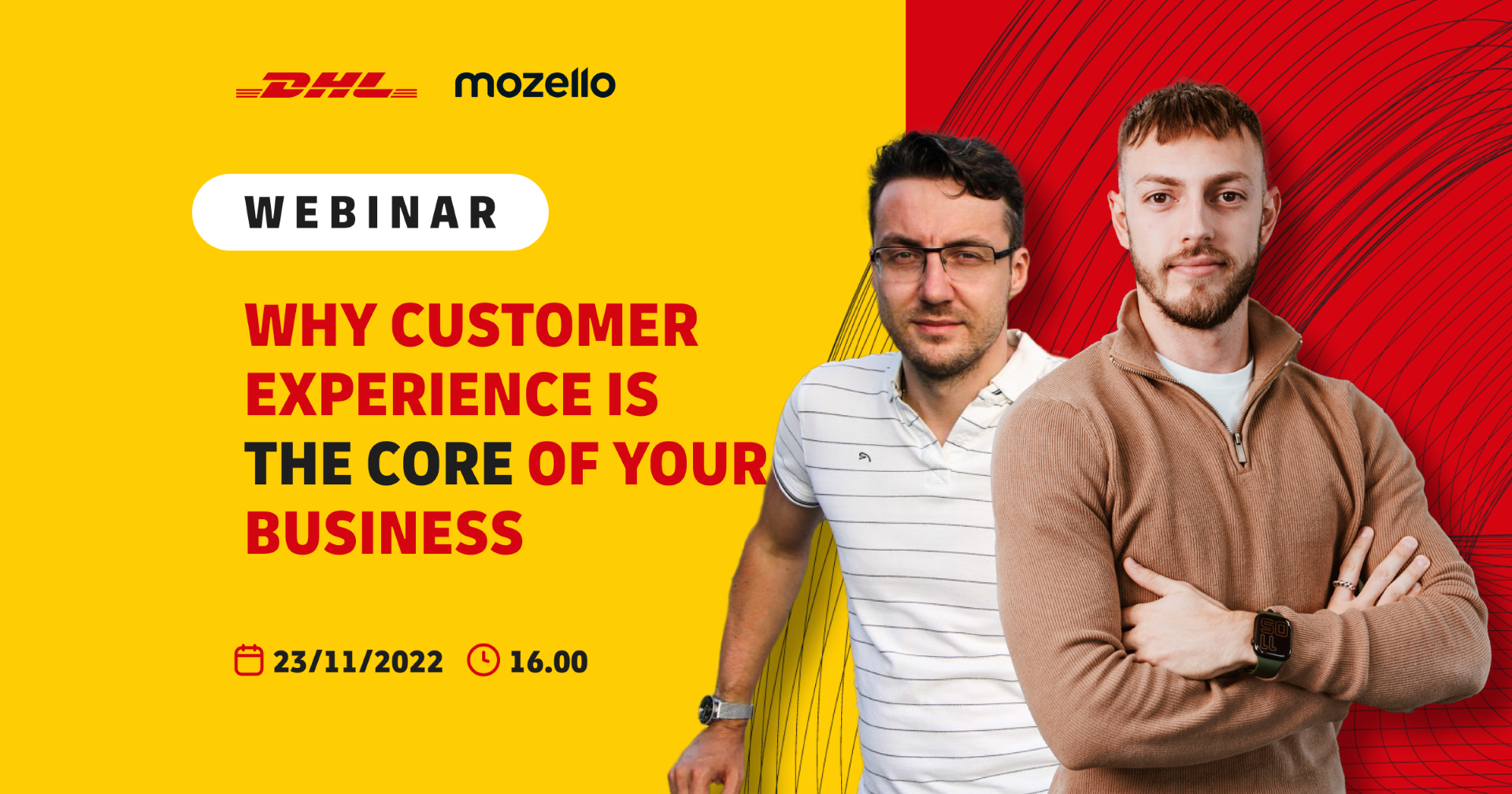 Entrepreneurs looking to take their business to the next level are invited to join us on November 23, 2022 at 16:00 (GMT +2:00 Helsinki) for a value-packed session on all things customer experience. You can register here!
In preparation for the webinar, let's take a look at some of the basics, namely, what are the core customer experience elements that you should pay attention to. These are your e-commerce store's usability, your payment options, and your delivery experience. Below, you'll also find some tips on how to excel at them.
Let's dive in.
E-commerce store usability
To put it simply, the purpose of your e-commerce store is to answer a customer's needs. The more efficiently and effectively you do so, the better the customer experience.
That's why you have to:
make it as easy and simple as possible to find the products people are looking for (intuitive navigation, search function),
help them understand if those are the right choices (high-quality photos, informative descriptions), and
answer upfront any practical questions they may have (FAQ, delivery & payment information).
Now, all of this matters not just for your desktop website, but for your mobile one, too. Smartphones are increasingly used for shopping and an unoptimized mobile website will turn away potential customers and lose you profit.
"Indeed, at Mozello, we're seeing a surge in mobile traffic across nearly all of our client websites. But since all websites built with Mozello are by default mobile-compatible, it's not something our clients have to worry about," says Kārlis Blūmentāls, CEO at Mozello and co-host of the upcoming webinar.
Another core part of the customer journey that deserves careful consideration is the checkout process. Making it as simple and seamless as possible is crucial because nearly 70% of shopping carts are abandoned – not all due to bad checkouts, but certainly a good part of them. Minimizing the steps it takes to checkout, removing unnecessary information fields, and ensuring you offer the most popular payment options are all key elements to consider.
Dive deeper into how to ensure fantastic store usability and customer experience withthese 6 hands-on tips.
Payment options
A critical part of the customer experience is the payment stage. In this day and age, there are more payment options than ever before – debit and credit cards, digital wallets (e.g. Revolut, Venmo, PayPal, Apple Pay), cryptocurrencies, bank transfers, buy now pay later options, cash, and others.
Customer preferences are just as varied and will change depending on what regions you serve, what your customer demographics are, and the type of products you sell. Any consumer product store should offer convenient card payments. But, if, for instance, you're selling computer equipment to corporations, then offering bank transfers is a must.
At the end of the day, it's all about convenience and practicality. There should be no obstacles for your customer to complete the purchase. And not having their favorite payment option is one such potential blocker – nearly half of consumers may stop a purchase if their favorite payment option isn't available, or if the process is too complicated.
A good way to determine what payment methods to offer is to explore what other companies use. Particularly those operating in your region, industry, and with overlapping customer segments. Of course, the basics – debit/credit cards and the most popular digital wallets such as PayPal – will likely continue to be relevant for the foreseeable future and are table stakes for any e-commerce store.
Delivery experience
98% of shoppers say that shipping impacts brand and customer loyalty. No surprises there – after all, regardless of how excellent the buying experience is, it simply doesn't matter if the product never arrives, or does so late or damaged.
"Shipping and delivery is a multi-faceted element that is often underrated by entrepreneurs. The reality is that customers are twice as likely to repurchase from a retailer after a positive delivery experience," explains webinar co-host Atrūrs Švalbe, E-commerce Manager at DHL Express.
Everything from delivery time, shipping cost, and pick-up convenience, to packaging, package tracking, and even delivery driver friendliness play a role in the delivery experience.
Of course, deliveries being on time stand above the others as the most important factor. That's why it pays to work with reliable delivery service providers with a proven track record of excellence, such as DHL Express, as you're essentially putting your brand's customer experience in their hands.
That said, it still falls on your shoulders to manage shipment visibility. Provide your customers with a way to track their package and keep them updated with regular notifications about the delivery progress, thus giving them peace of mind – which you can now do in Mozello. Communication is your most valuable tool in solving or amortizing any delivery hiccups and ensuring a premium customer experience, despite the occasional delay.
Just like with payments, pay close attention to people's preferred delivery services and it's good practice to offer a variety of options – some faster, some cheaper – to appeal to both time- and price-sensitive customers.
Deep-dive into customer experience at our Mozello + DHL Express webinar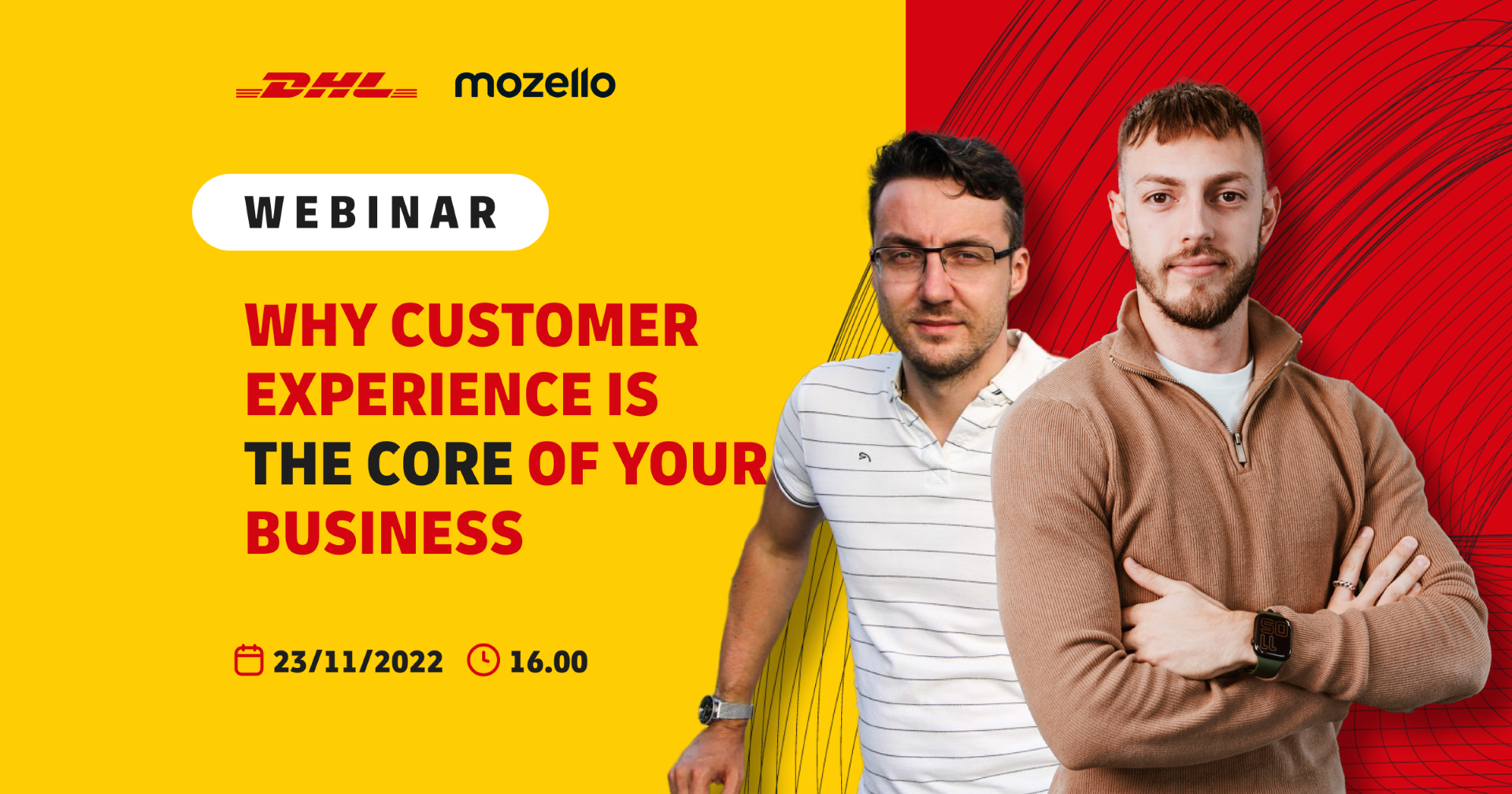 Entrepreneurs looking to dive deeper into why customer experience matters and how to excel at it are invited to join Mozello and DHL Express for a webinar on November 23, 2022, starting at 16:00 (GMT +2:00 Helsinki).

The webinar is titled "Why customer experience is the core of your business" and in it, representatives from Mozello and DHL Express will talk in detail about the topics explored in this article, as well as other important factors. Mozello will cover the online store side of things, whereas DHL Express will, of course, talk all things delivery and shipping, drawing on their vast experience to offer valuable insights for participants.
The webinar is free of charge and you can register here.