Why your small business needs a blog and how to crush it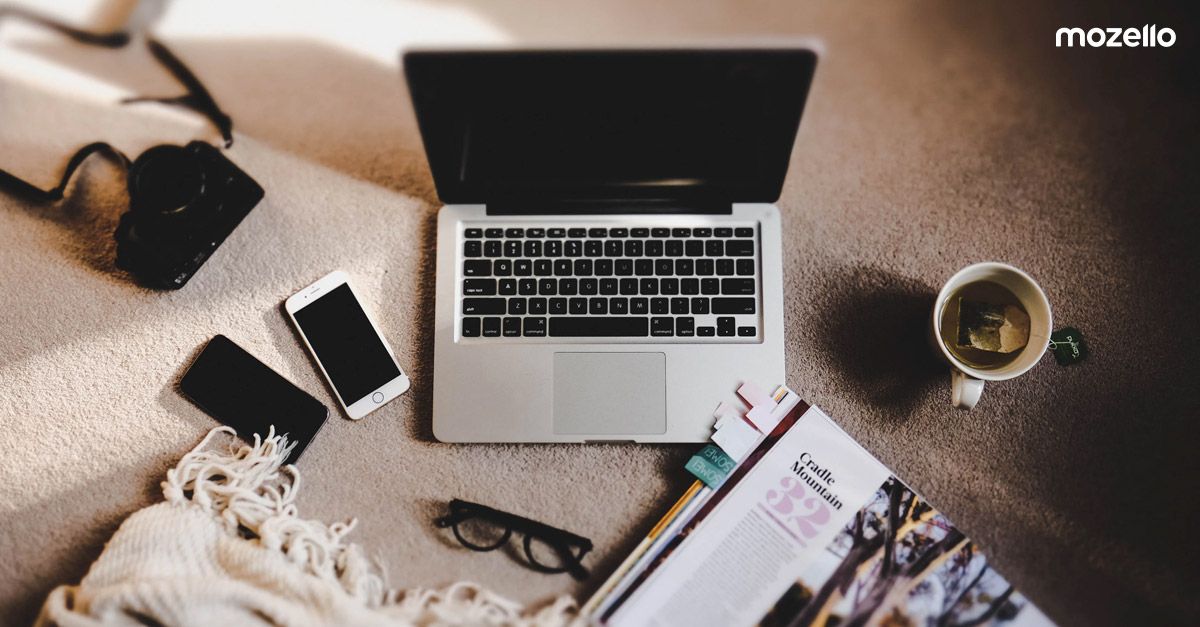 You're a small business. You have a lot to do. You're hustling just to get your product off the ground.
The last thing you're thinking about is about starting a blog.
Big mistake.
If you think that you don't need a blog, or that you don't have anything to write about, you're wrong.
With this sort of mindset, you're robbing yourself of the many opportunities that come with blogging, including free traffic from search engines.
In this article, we'll go over:
Why blogging should be a cornerstone of your marketing strategy
How to get prepared and think of amazing topics to write about
How to put those ideas to work into effective blog posts
Starting a blog is the best business decision you've ever made
Online buyers have gotten smart.
They don't just buy what they see - a responsible online shopper makes sure to do their research before taking the plunge and making the purchase. Especially from a brand they're not familiar with.
Consider this:
47% of buyers consume 3-5 pieces of content before taking the first step towards making a purchase. (Hubspot)
Now, those pieces of content can be various things - reviews, videos, unboxings, articles, and more.
The important part is that you're putting out content for the consumer to get to know. Without it, you're missing out on 47% of potential purchases!
Blogging also helps more people find out about your business.
"Companies who blog receive 97% more links to their website, and companies that blog have 55% more visitors to their websites" - SEO Tribunal
More links equals more visitors. By putting out more content, you're giving more reasons why the world should notice you. From search engines to people, the more content, the more ways people can find you. Not to mention the brand authority that you generate by taking the lead and putting out content.
Just look at this experiment that I conducted for my (now closed) niche t-shirt brand:
I had not blogged at all, and then posted one blog, which featured a list of cool brands (including my own). Here's a screenshot of the traffic I got:

"8 ideas of outfits to wear on summer solstice"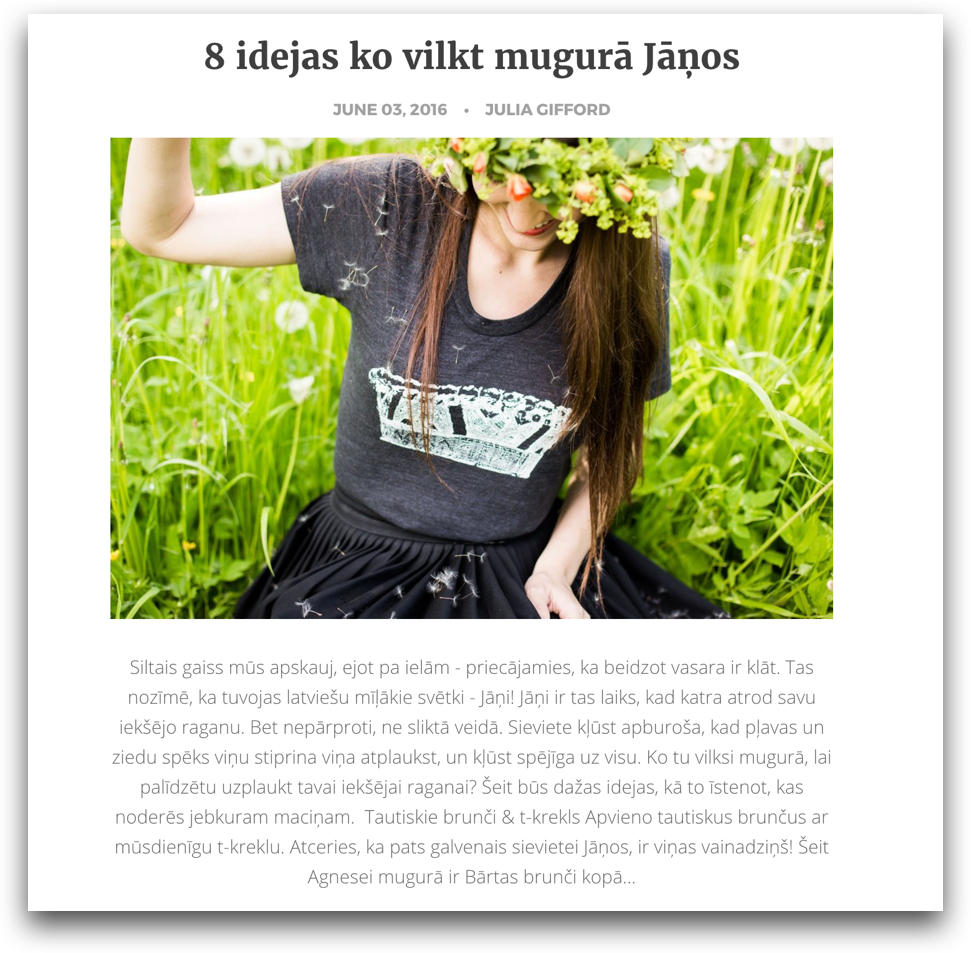 That's a MAJOR spike in traffic. Just from one blog post. And that month saw a record amount of t-shirt sales. Imagine if the blogging was sustained and regular?
The reasons it worked were:
Because the topic was relevant at the moment
Because it was an easily skimmable listicle type (people love to skim articles)
Because I contacted every other of the 7 brands mentioned in the article, who then reposted the blog post to their own social media. That way, I got their followers' exposure, too.
Lessons to take away are:
You're never too small to start blogging
It's never too late to start blogging
The benefits you can reap are worth it
So start blogging
How to prepare so that you hit the ground running
One of the most common reasons we hear about not starting a blog is that "we don't have anything to say" or "we don't know what to write about".
Bulls**t.
We'll show you how to come up with topics that are proven to generate results and that you can make your own.
1. Behind the scenes
Gary Vaynerchuk, the king of putting out consistent content is an adamant supporter that when you don't know what to post - then document.
Document your journey of entrepreneurship, of how your product is coming to life, your tips to balance a busy schedule, the breakfast that keeps you energized throughout the day, and more. You can gain inspiration from the world around you, starting from your clients, your home, the interactions with people you have on the street. Anything.
Example: Penelope Trunk, Quistic
Penelope Trunk is a serial entrepreneur who is on business number 4, Quistic, which is a personal development service and platform. She uses her blog to demonstrate those skills, sell the product, and also, document the journey.
Like this article on balancing parenting and work. She delves into the reality of juggling family and work obligations, as well as touches on some of the changes she had to make to be able to adapt to this lifestyle.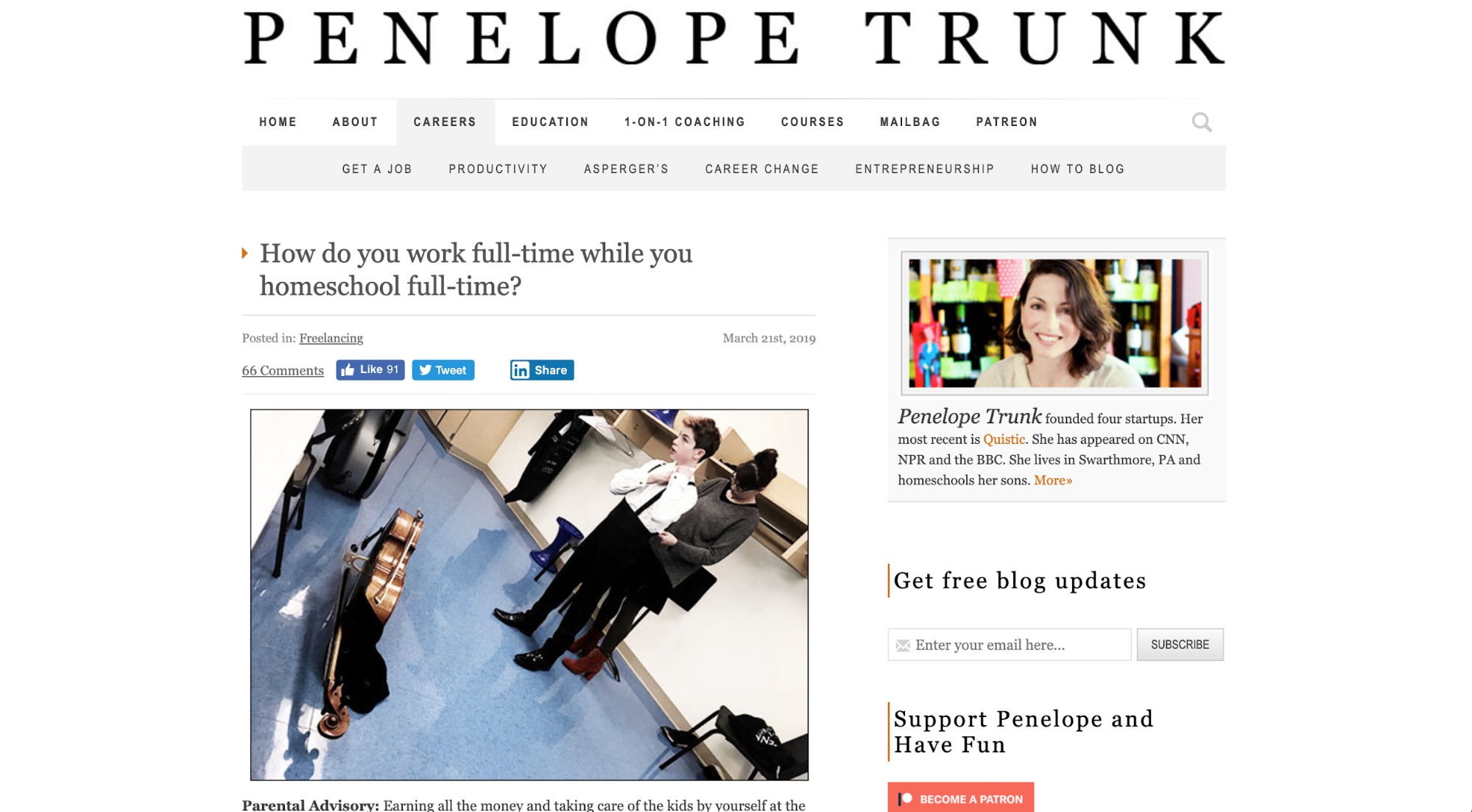 2. Listicles
Listicles are a great way to provide fast value in an easy-to-read format. As 43% of readers admit to skimming articles (I'm certain that the true amount is much higher), it's important to present the content of the article in an easy to read, skimmable way.
Listicles can come in a wide variety of formats, here are a few to jog your creativity:
10 suggestions for….
25 reasons you should be…..
*101 ideas to…..
Example: Be-with clothing
Be-with is an independent clothing retailer that manufactures clothing with holes in the sides for a partner to be able to give them a hug with skin-on-skin contact.
In line with their brand, their blog post on 35 winter date ideas is a way to provide value and attract to their website individuals who are looking for more intimacy with their partner - exactly their target audience. A solid strategy, considering 36% of people prefer list-based articles.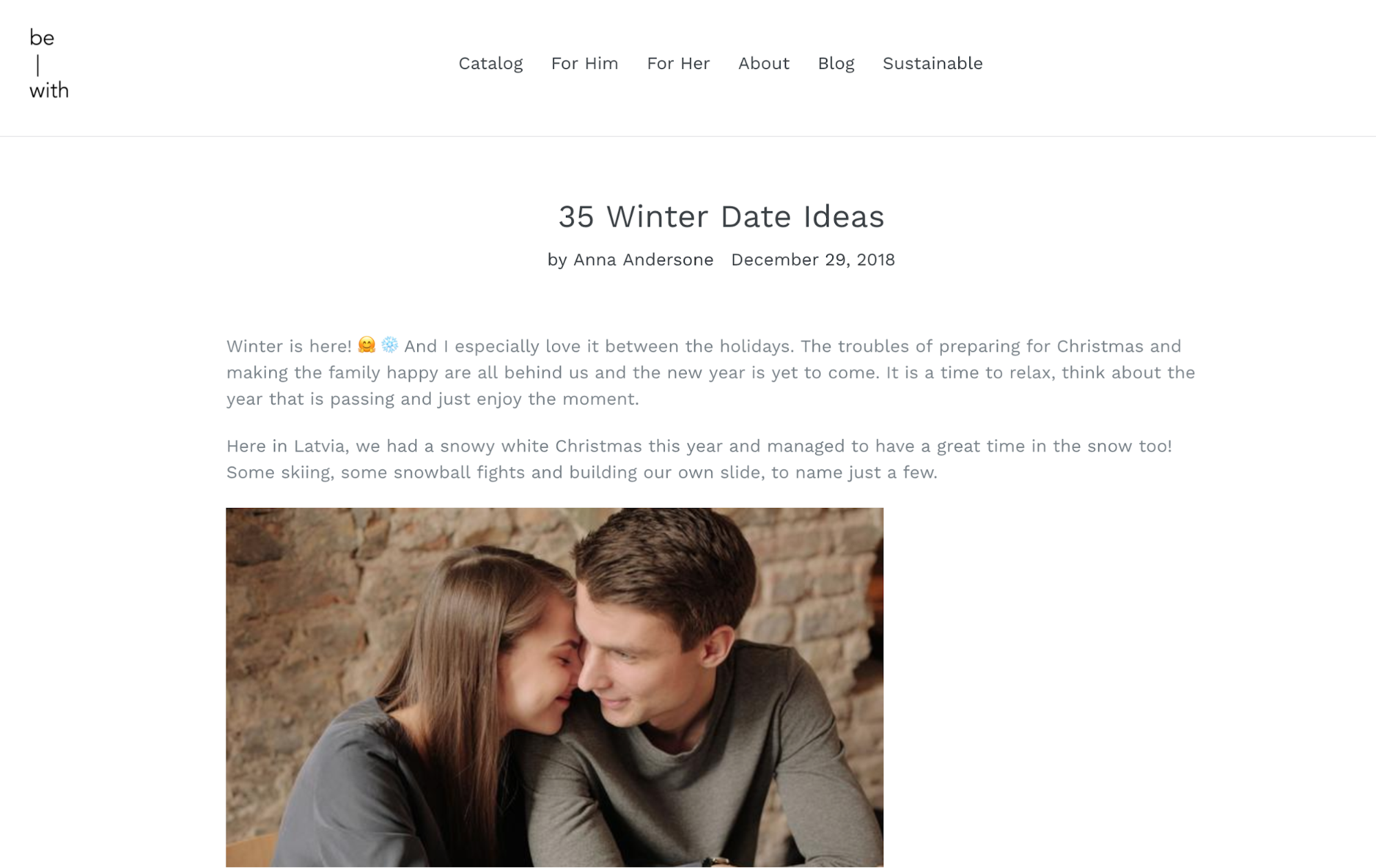 3. How to's
One thing people are looking for on the Internet is help and self-improvement. There very likely is a topic that you know more about than the average person. It might seem insignificant to you, but if explained in a straightforward and simple way, it could be immensely valuable to others.
So why not lay down your knowledge and share a how-to article?
Example: Au Lit Fine Linens
Au Lit Fine Linens sells...you guessed it….linens. Bedding, pillows, towels, etc. It turns out there's a lot to know about linens, like how to choose your thread count, what you need to know about down products, and how to extend the life of your linens.
These blog posts work like magic because they educate the readers about topics in which they're experts, and it helps visitors feel more confident in their purchase.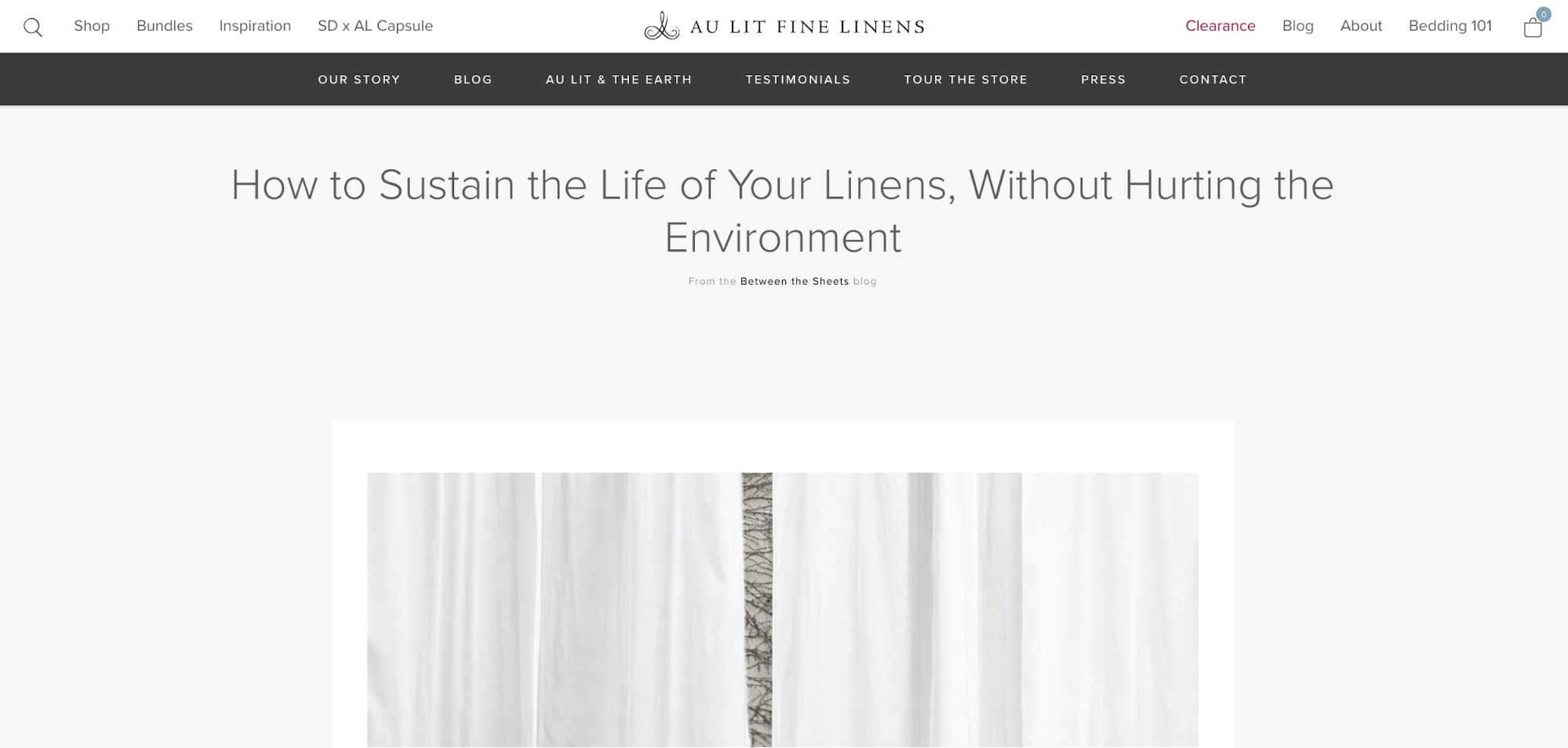 Tips for executing like a boss
When you have your ideas down, all it takes is putting together the article. This may be easier said than done for some, but I promise it gets easier the more you do it.
Here are some rules of thumb to write blog posts that people love to read:
Use lots of headings and subheadings
Use descriptive headings that essentially tell your reader the main point. In that section, elaborate on that point. That way, people who are skimming the article can get the gist of the blog post, and if a section catches their eye, then they can read the content below it.
Use images to illustrate your point
Where possible, use images. If you can make a diagram, then do it (Infogr.am is great for that). If you're talking about a step-by-step process on your computer, take screenshots. And use a great photo as your header photo for the blog post. If you don't have any images of your own, try to find fun images (not stock images) in royalty-free sites such as Unsplash, Pixabay or StockBuilderReport.
Use bullet or number lists
If you're writing out a list in a sentence, re-order it into numbered or bullet points. That makes it easier for people to read, and provides some white space in the article that breaks the content up and eases the eye.
Get the word out about your blog
An often undervalued part of the blogging process is what you do after the article is published. This is often the most important part, because it gets the ball rolling in terms of traffic and visibility. There is no point in a blog post that no one knows exists.
So here are some ideas as to what you should do with your blog post once you've published it:
*Send it out via email* - let your email list know you've published a new blog post by emailing them about it. Since you're publishing something helpful within your niche, chances are your existing email list will also be interested in the topic at hand. Win-win!
Post to social media** - new blog posts are perfect material to share. Post it to let your followers know what's going on, and enjoy the added bonus of social sharing.
*Share in special interest groups - depending on your niche, there are likely many Facebook groups and Reddit channels that are interested in perpetually learning more. Share your new post there as well to speak to your industry, and hopefully gain new visitors!
A generally good rule of thumb to follow is that however long it took to write the post, you should spend an equal amount of time publicizing it. That way you give it the respect it deserves and a real chance at bringing your value.
The sooner you blog, the better
When it comes down to it, there are no downsides to blogging, but a myriad of upsides. You can harness the power of brand leadership, benefit from improved SEO rankings, enjoy the increase in referral traffic, and increase your brand visibility.
And remember - you don't have to do it alone. If you're concerned about your writing, get a friend to proofread it. If even that's too much to ask, there are many skilled copywriters on sites like Fiverr and Upwork who can bring your vision to life.
Because why waste an opportunity that's sitting literally on your doorstep?