7 tried, tested and true tactics to make your first online sale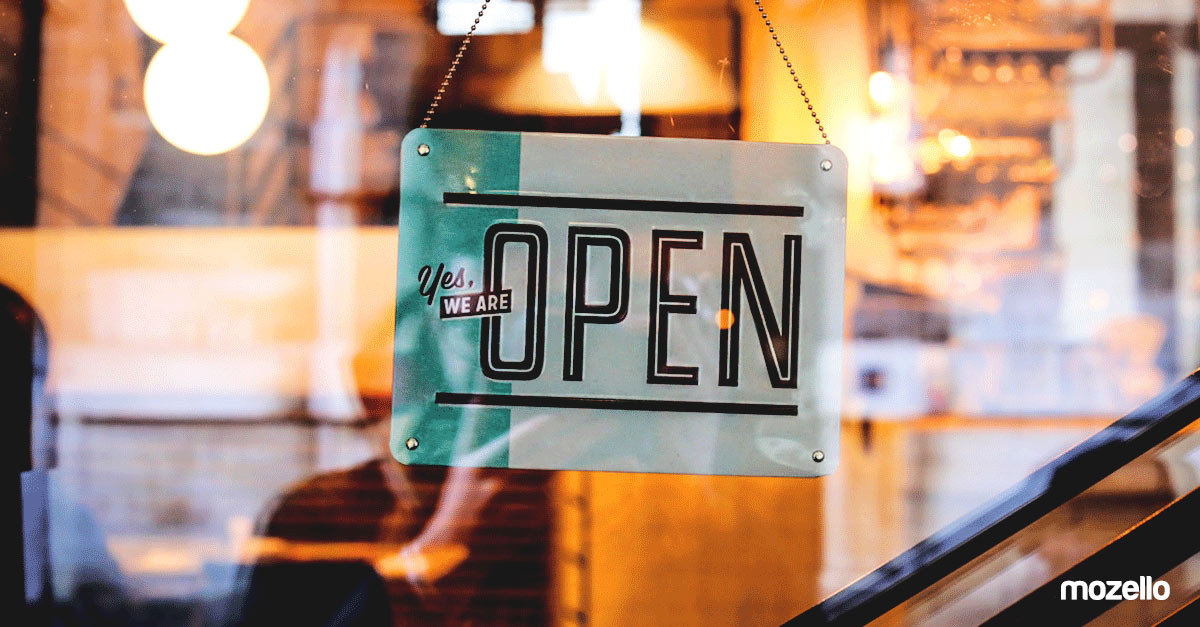 Getting your business off the ground and ensuring that orders come in steadily is probably the most challenging part of running an online shop.
In the two previous articles, we talked about branding and website design and how to make top-notch product photos on a $0 budget - these things are crucial to make people trust your business and fall in love with your product.
Now, when your online shop looks picture perfect and runs smoothly, the next step is to start generating traffic to it and watch orders come in. The question, however, is - how?
How to make people discover your website and close your first online sale? Today, we'll show you 7 tactics that will guarantee you sales in no time - with minimal or no investment!
Here are the 7 tactics to make your first sale:
Use your personal connections
Be active in niche forums and online communities
Pitch journalists for gift guides
Work with influencers in your niche
Be visible on social media
Try affiliate marketing
Invest in retargeting
1. Use your personal connections
Never underestimate the power of friends, family members, and other personal connections - these people might be a great help when it comes to getting your business off the ground. Some will be happy to support you by buying your product, others can help you spread the word by sharing the news when the shop goes live.
Pro tip:
Say personal and public thank-you's to people who helped and supported you all the way until launching the shop. That will give these friends of yours extra motivation to reciprocate and do something nice for you (read: buy or share your product).
Good example: Vainags.com
Vainags.com sell t-shirts and hoodies with the imprint of an ethnic folk costume crown. It's a niche product targeted to the Latvian folk community, and the creator is an active member in this community. As a result, many of Vainags' customers are the shop owner's friends or friends of friends.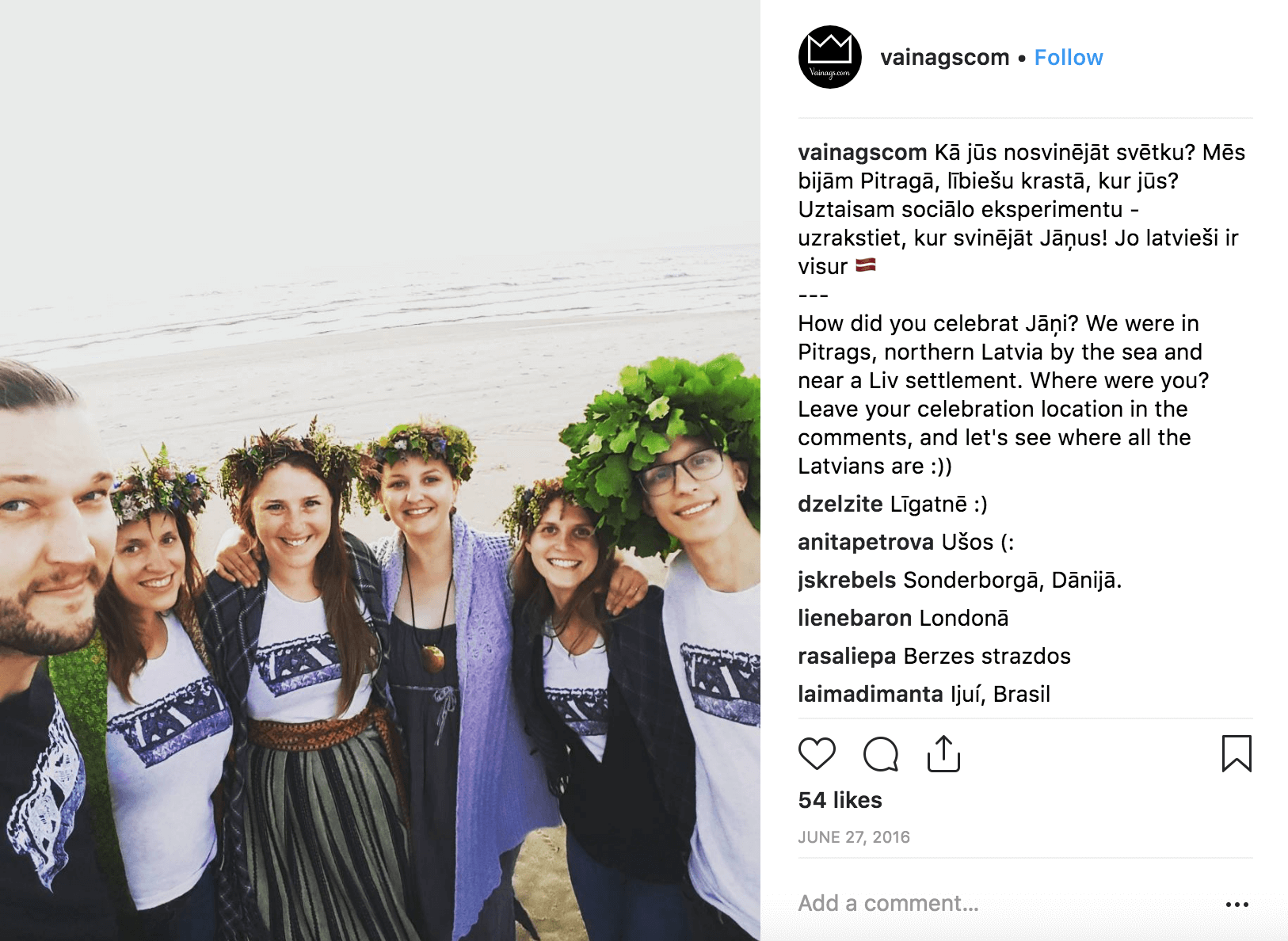 2. Be active in niche forums
Niche forums, Facebook groups, and subreddits are probably the best places to find the perfect customers for your product. Just find the right group, and let those people know about your awesome product.
But -
Even though such groups and forums gather niche advocates and these people might be interested in what you're selling, most groups have strict editorial policies and they don't allow open promotions. So, instead of advertising your product, try to build a niche-relevant discussion around it.
Good example: Genecie.com
Genecie is a niche product for people interested in the zero waste lifestyle. A good portion of the website's traffic comes from discussions on Reddit that the brand has initiated.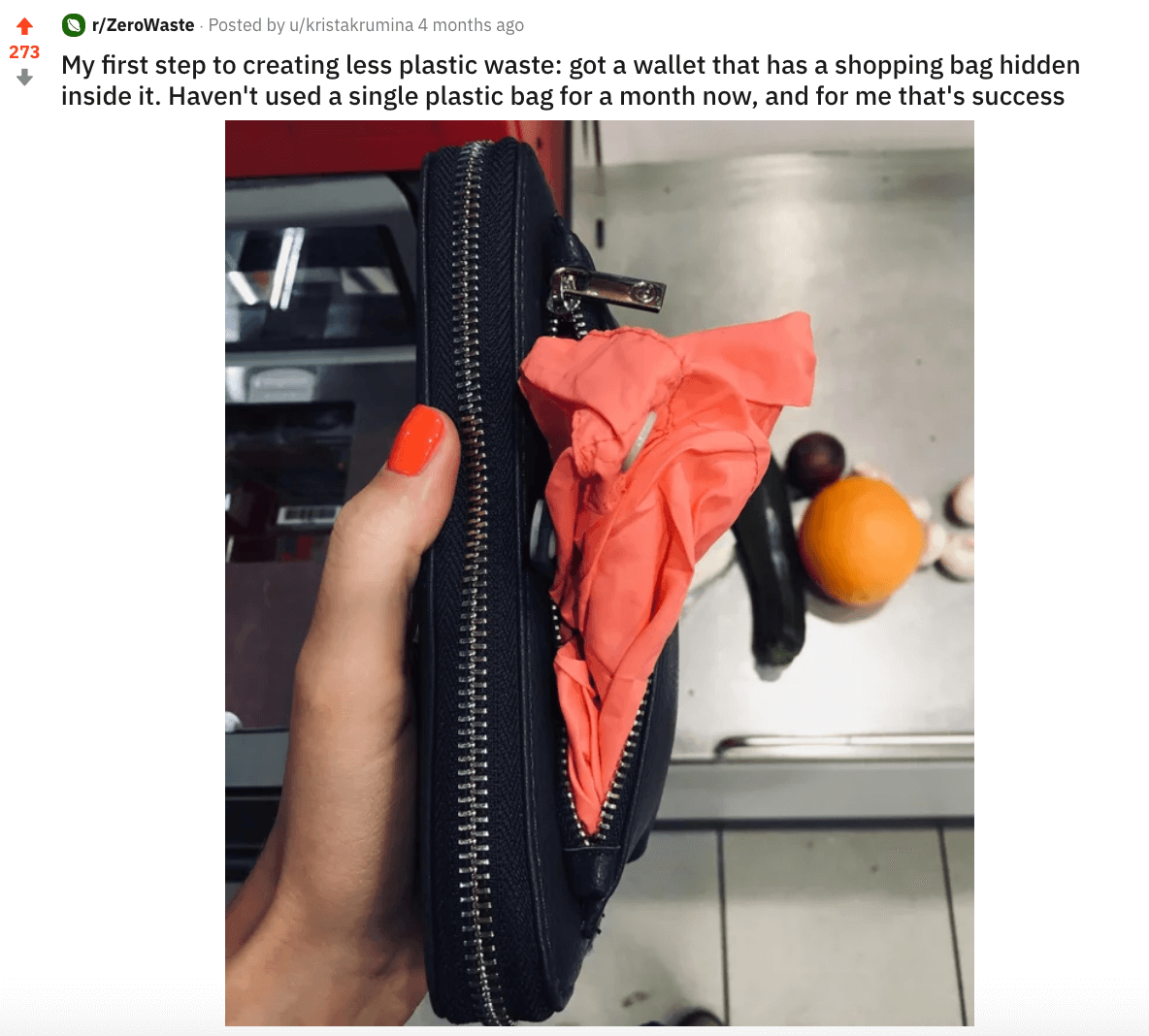 3. Pitch journalists
Getting featured on a major publication, such as Forbes, Mashable or Business Insider, is every brand's dream. Now, the question is - how to make it happen?
The truth is: generally, such major publications won't be interested in your product, as they're covering stories related to top-tier companies and executives (think - Apple, Google, Facebook, etc.)
However, there is a chance for your product to get featured on major media, and the answer is - gift guides and product reviews. That's when journalists are specifically looking for unique products to write about, and that's your chance.
Pro tip:
Research journalists that regularly write gift guides or product reviews and follow them on Twitter. Many journalists tweet out when they search for new products to review, so you just have to make sure you pitch yours when they ask for it.
Good example: Coffee Pixels
Coffee Pixels make edible coffee bars, and their ingredient combination is based on science and biohacking. Writers looking for new products to try and review are often interested to try them out - like this Forbes journalist: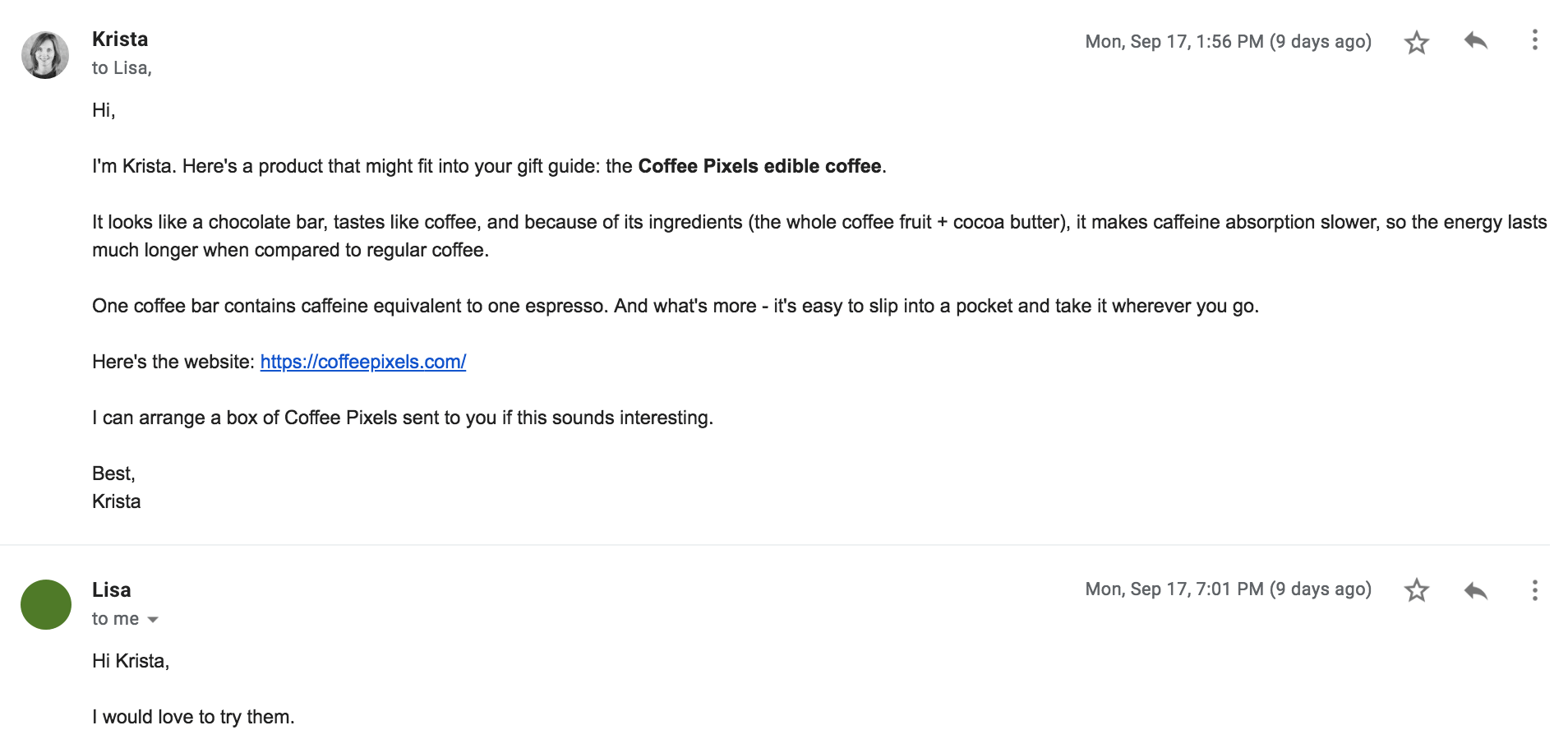 4. Use influencer marketing
Influencer marketing is without a doubt one of the biggest marketing trends of the year - 75% of brands in the USA use influencer marketing to find new customers and boost sales.
Here's how it works:
You reach out to social media account owners that have a decent follower base and find out if they'd be interested to share your products with their followers in return for a free product or symbolic payment.
Account owners with 2k-10k followers (so-called micro influencers) are usually open to such collaborations. Besides, it has been proven that influencers with fewer followers achieve higher engagement rates, and an engaged audience is exactly what you need in order to sell your product.
Good example: VELOSOCK
VELOSOCK is a brand that makes indoor bike covers to help cyclists keep their rides and apartments clean. The brand collaborates with pro and amateur cyclists - people who usually own several expensive bikes and therefore feel the problem very deeply - to get the message out.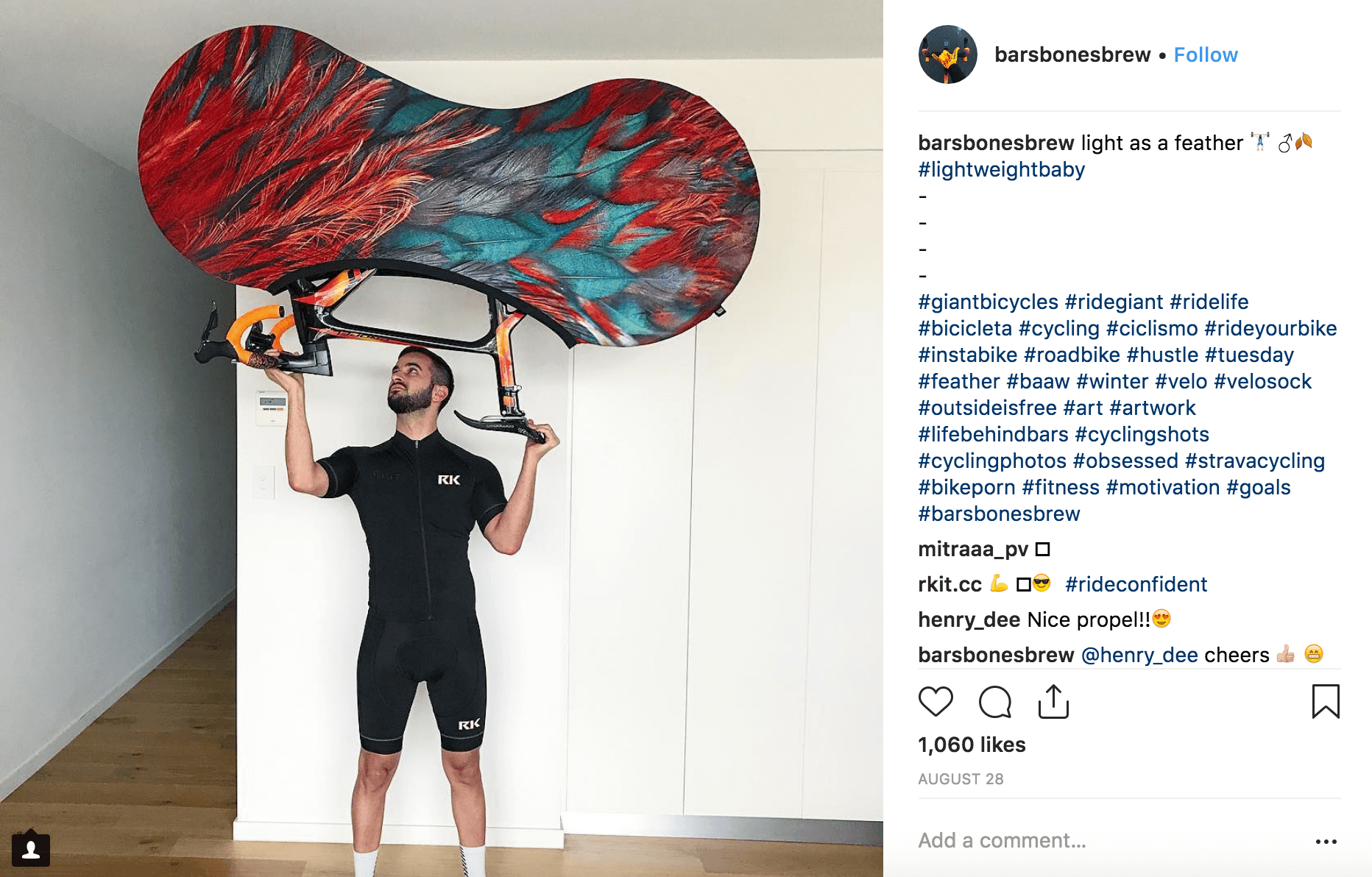 5. Be visible on social media
Everyone and your grandma knows that if you're not on social media, you don't exist. The same applies to your brand, as people are used to discover and get to know new brands through social media.
There are several tactics that can make your brand easy-to-discover on social media. One of the most used and efficient tactics is hashtags, as stats show that posts with hashtags receive 12.6% more engagement than those without.
How to use hashtags efficiently?
First, instead of generalistic hashtags like #love or #happy, find hashtags that have an engaging community behind them, for example, #travelcouple.
Second, include at least 5-10 hashtags with every post to give yourself more opportunities to get discovered. Just make sure all hashtags are relevant to not look spammy!
Good example: Be-with
Be-with is a brand that makes clothing for couples with secret passages on the sides. The brand is active on social media and uses thought-over hashtags to improve visibility and attract new followers.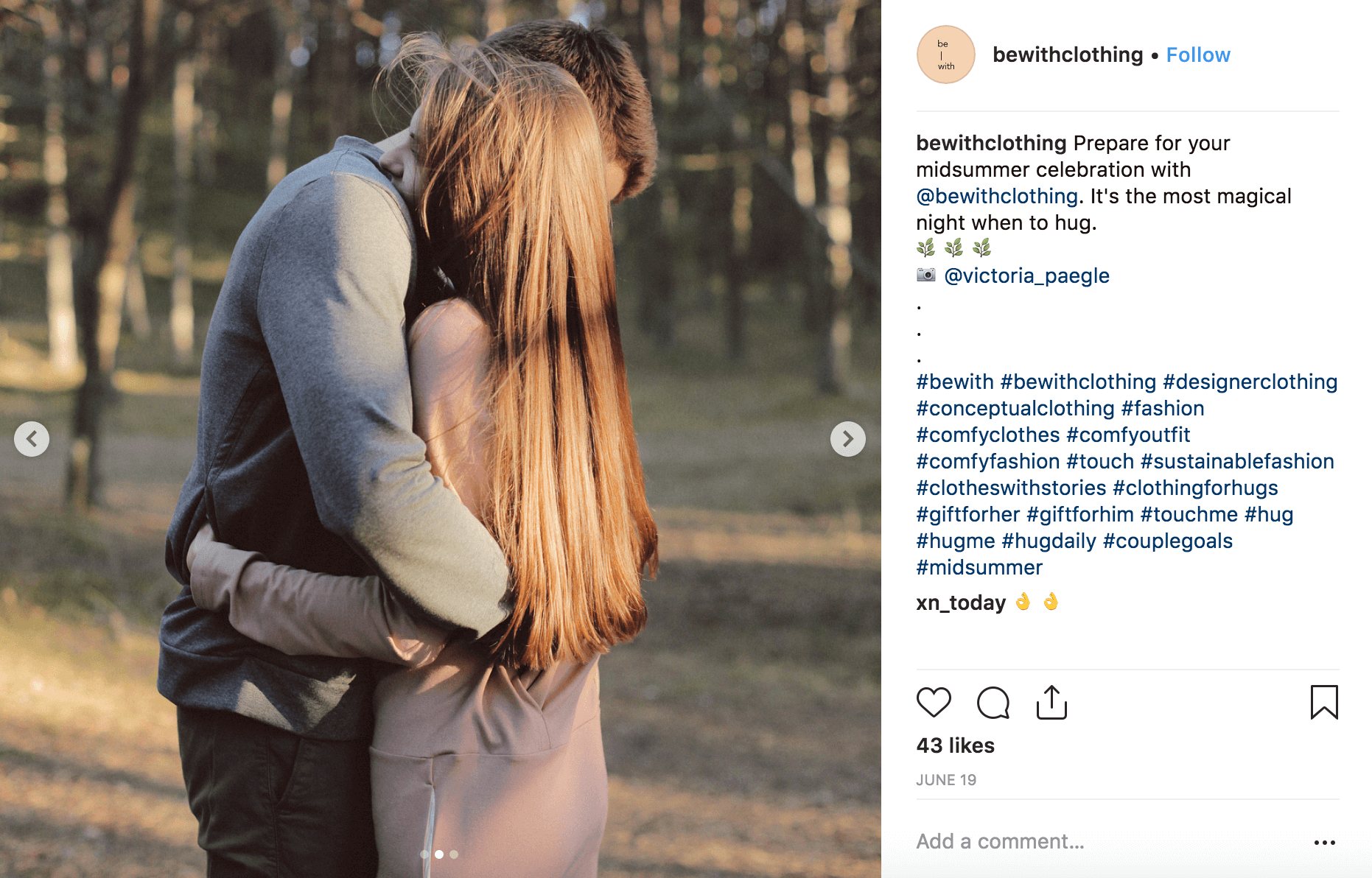 6. Try affiliate marketing
Affiliate marketing allows anyone to promote your product to their friends and followers and earn a commission (depending on your product, but generally around 10%) every time someone makes a purchase from their recommendation. Many bloggers and influencers on social media use affiliate marketing to make their living, and many brands use this tactic as a passive way to boost their sales. (''Passive'' because the affiliate does the promotion, you only pay out commissions.)
To use affiliate marketing, you'll have to register on one of the many platforms that allow brands to manage their affiliates, track results, and pay out commissions. One of the most popular of such platforms is called ShareASale - it's free to use, but charges a one-time $500 registration fee.
Good example: Startup Vitamins
Startup Vitamins sells motivational posters, mugs and other gear for business owners and simply cool offices. Anyone can apply to become their affiliate and earn 10% from each purchase.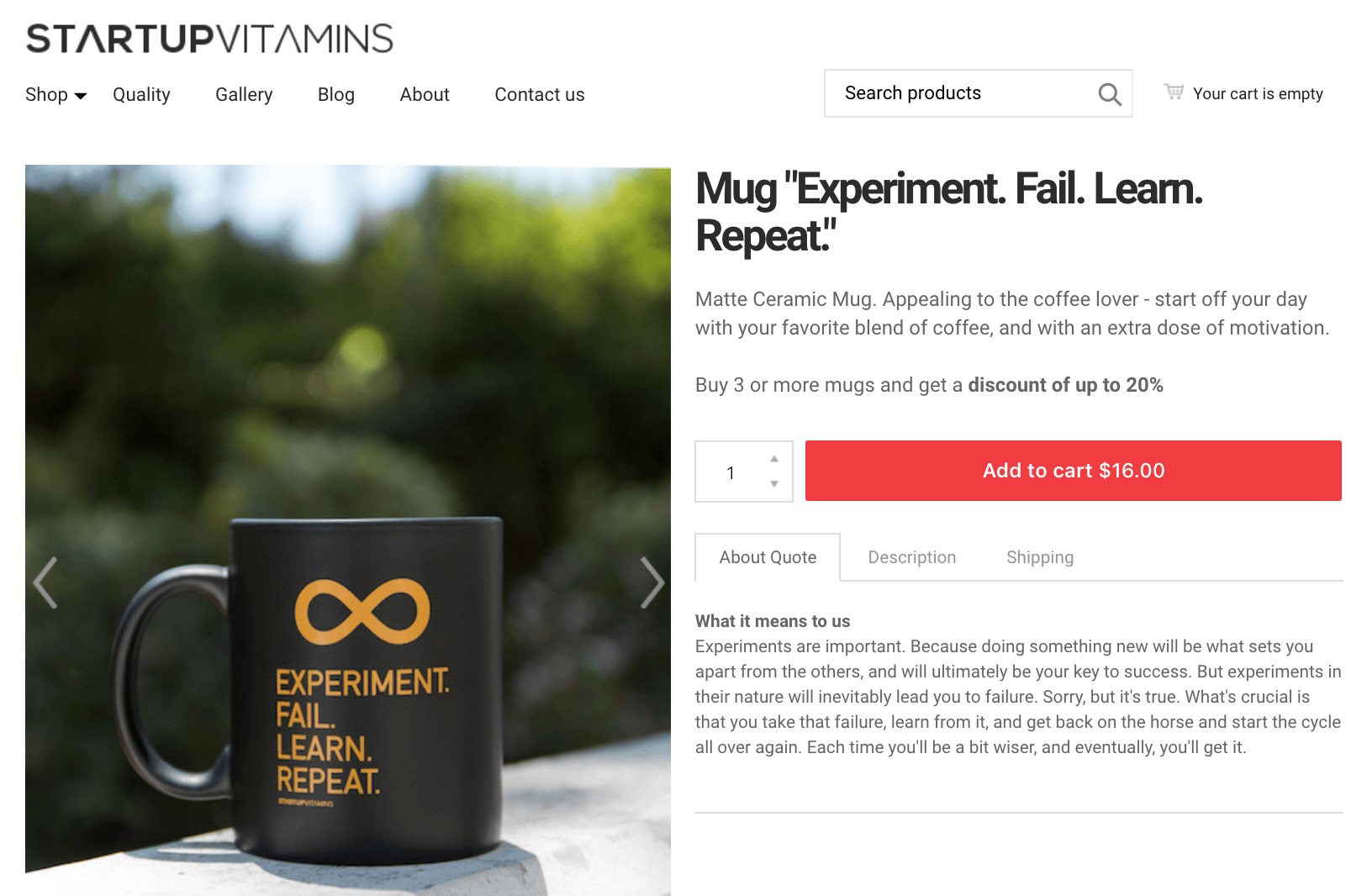 7. Invest in retargeting
If you're planning to invest money in paid ads, retargeting is a must-do. Just around 4% of website visitors make a purchase, while the rest abandon their cart and never look back. Retargeting is a way to stay in touch with your website visitors, remind them about your product, and, hopefully, convince them to finish their purchase.
Facebook is one of the most-used platforms for retargeting, as it provides marketers with targeting options like no other platform. For example, you can show your ads to people who have visited your website multiple times over a certain period of time - they're obviously interested in your product, and these campaigns usually yield a high ROI (return-on-investment.)
Good example: Friendly Bracelets
Friendly Bracelets is an online shop that sells customized, handmade friendship bracelets. Retargeting is the only type of advertising the brand uses, as it brings visible results and is cheap (the brand spends just $3-$5 per day on the ads.)
Final words
Each of these tactics is proven to work great but there are some things you should do to make sure you use them to the full potential:
First of all, have a clear goal in mind. In other words, know what you want to achieve when you launch your campaign. Do you want 10k people to visit your shop every month? Boost your brand's recognition? Sell $100 worth of products per day? Define your goals!
Secondly, combine efforts and use several tactics at the same time to maximize results. For example, if you work with influencers to generate traffic to your website, don't forget to set up a retargeting campaign to stay in touch with these people after they leave your website without a purchase.
And finally, measure the results! If you don't measure, you'll never really know if your campaign is performing well or you're losing money. So, set up a Google Analytics account, use Google URL builder to generate unique links with campaign parameters for easy result tracking through Google Analytics, and don't forget to follow Facebook Ads results when using retargeting.
Are you ready for your first purchase? Try these seven tactics now!