How to create irresistible product descriptions (in 6+1 easy steps)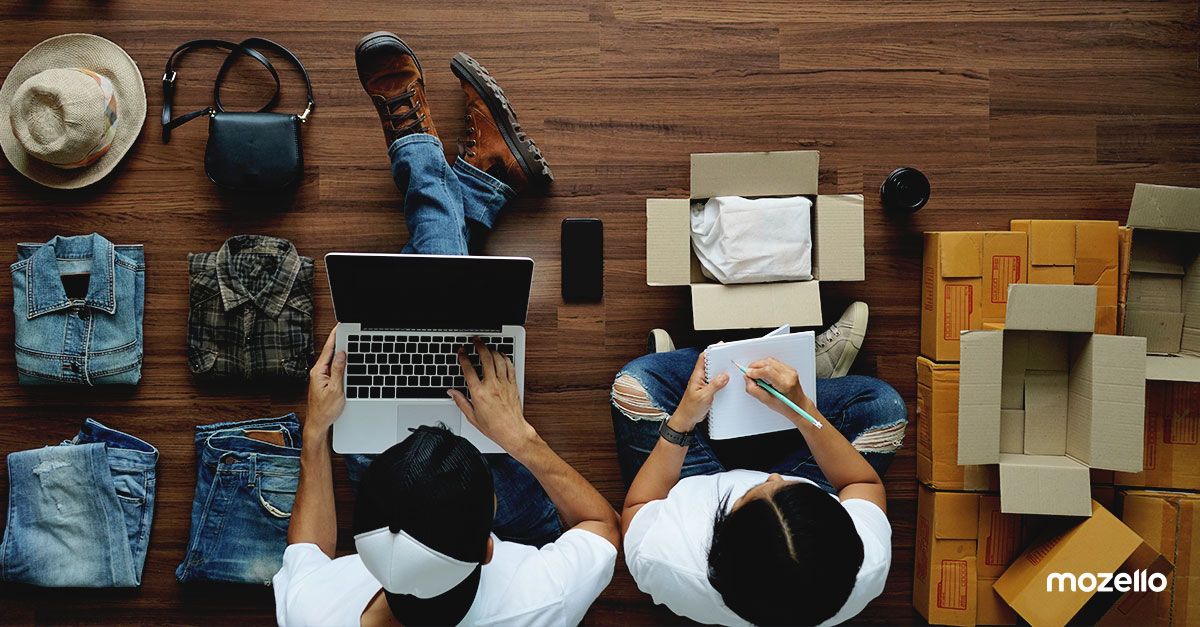 Imagine you're meeting a customer in real life. When talking face to face, it's easy to showcase your product and describe each one of its benefits, answering your customer's concerns and questions right there on the spot.
But what do you do in the online world where the customers aren't guided by your storytelling - and don't actually get to see the product in real life? It's that much easier for them to misunderstand your product, and in the end, choose not to buy it.
So, how do you convey the message that your product is worth their time and money?
It all comes down to creating a compelling and informative product description - the marketing copy that explains what a product is and why it should be purchased.
Research has shown that product descriptions are highly related to the perceived value of the product and are very important in achieving customer satisfaction and brand loyalty.
What's more, 20% of all purchases fail as a result of missing or unclear product information.
To help you stay on top of your game, here are 7 simple rules that will guide you to create enticing product descriptions. Let's start with the first one:
1. Know your ideal buyer
To be able to write an appealing product description, you have to figure out who you're writing for. In other words - you have to define your target audience or your buyer persona.
A buyer persona is a detailed representation of your ideal customer based on market research and real data about your existing customers.
Defining buyer personas can help you tailor your content (including product descriptions), messaging, and even product development to the specific needs of different customer groups.
As a result, you'll be able to adjust your tone and use the words that sell better to attract the most valuable visitors, leads, and customers to your business.
Here's how to define your buyer persona:
Gather information. Understand who your existing customers are by carrying out market research. Use your social media platforms to create polls or tools like SurveyMonkey to conduct surveys on your website. Focus on identifying demographics, behavior patterns, motivations, interests of your customers - the more detailed, the better.

Check website analytics. By checking the analytics of your website, you'll be able to see how the site visitors arrived at your page and what keywords they used to find you (thus, you'll know what they are looking for). There are plenty of tools out there that provide an insight into website analytics - here are some of the most popular ones.

Create a buyer persona template. Gather the data and insights you collected on your buyer persona and personalize this profile - you can even add a name and a picture. Then think about how you might describe or communicate your product or services to this particular type of person.
Depending on the size of your business, you could have only one or two, or even up to 20 detailed buyer personas to target.
And remember that defining a buyer persona will not cut off any potential customers that fall outside the defined target group. Instead, buyer personas will allow you to target your marketing more effectively to sell to the right customers.
For example, one of the potential buyer personas for Startup Vitamins is an up-and-coming startup owner who'd like to spruce things up a bit in his new office.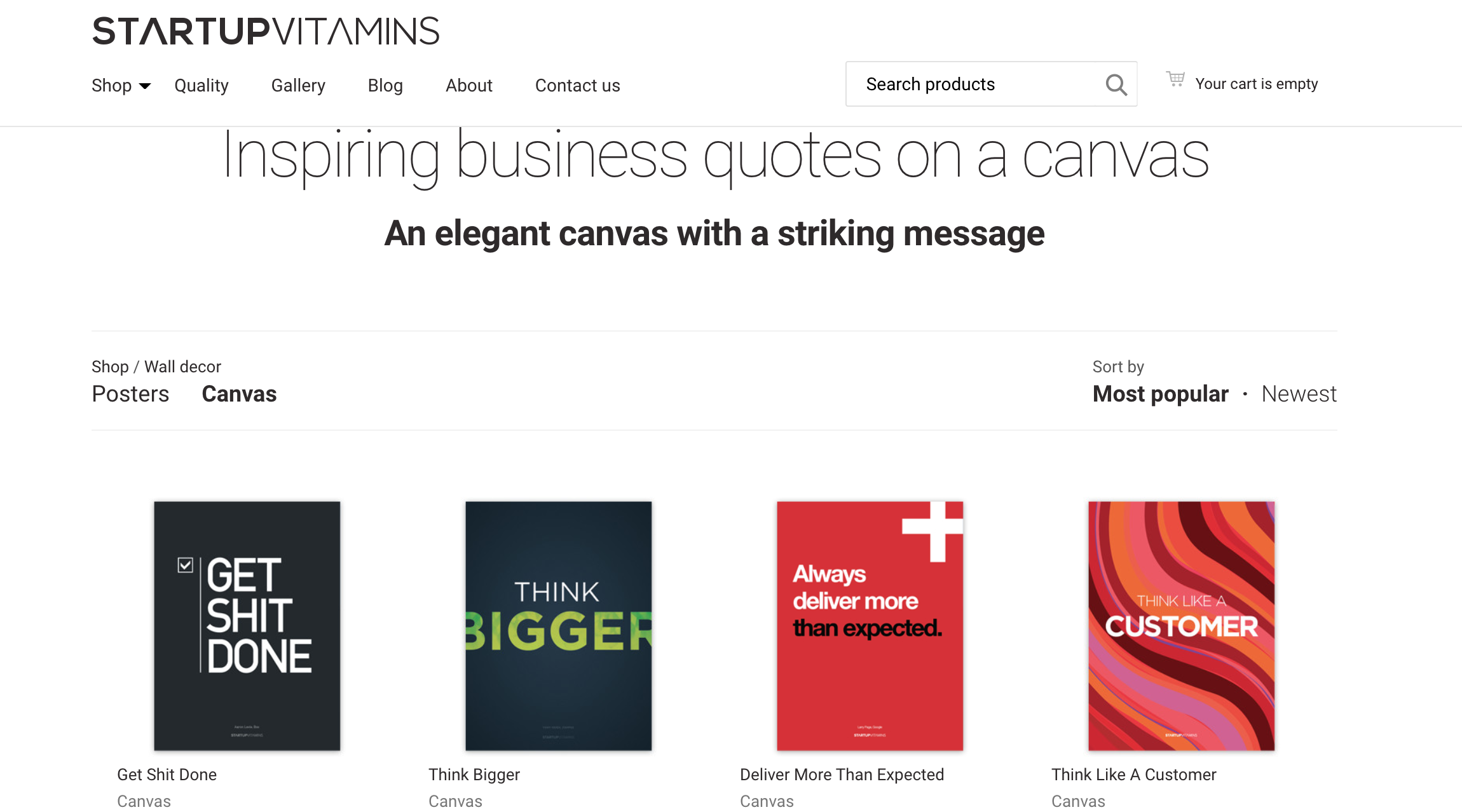 2. Keep it simple & scannable
When you're ready to put pen to paper, here's one major thing you need to remember about writing product descriptions. Longer and more complicated sentences are NOT the key to better conversions and more effective copy.
In fact, the exact opposite is true. 79% of people always scan whatever content they come across, while only 16% read what's on the page word by word.
That's why it's crucial to capture your main message in a simple and skimmable manner.
You can make your product descriptions easy to read and more appealing to potential customers by using:
Bulleted lists to highlight the most important information in a clear and concise way.
Descriptive subheadlines to grab the reader's attention and help them find the necessary information.
Bold or italic to highlight key points.
White space to improve readability.
Cosmetics brand Lakme keeps it laconic, uses bulleted lists, and divides their shampoo description up into smaller sections. They've even added icons to the subheadlines for better visualizations.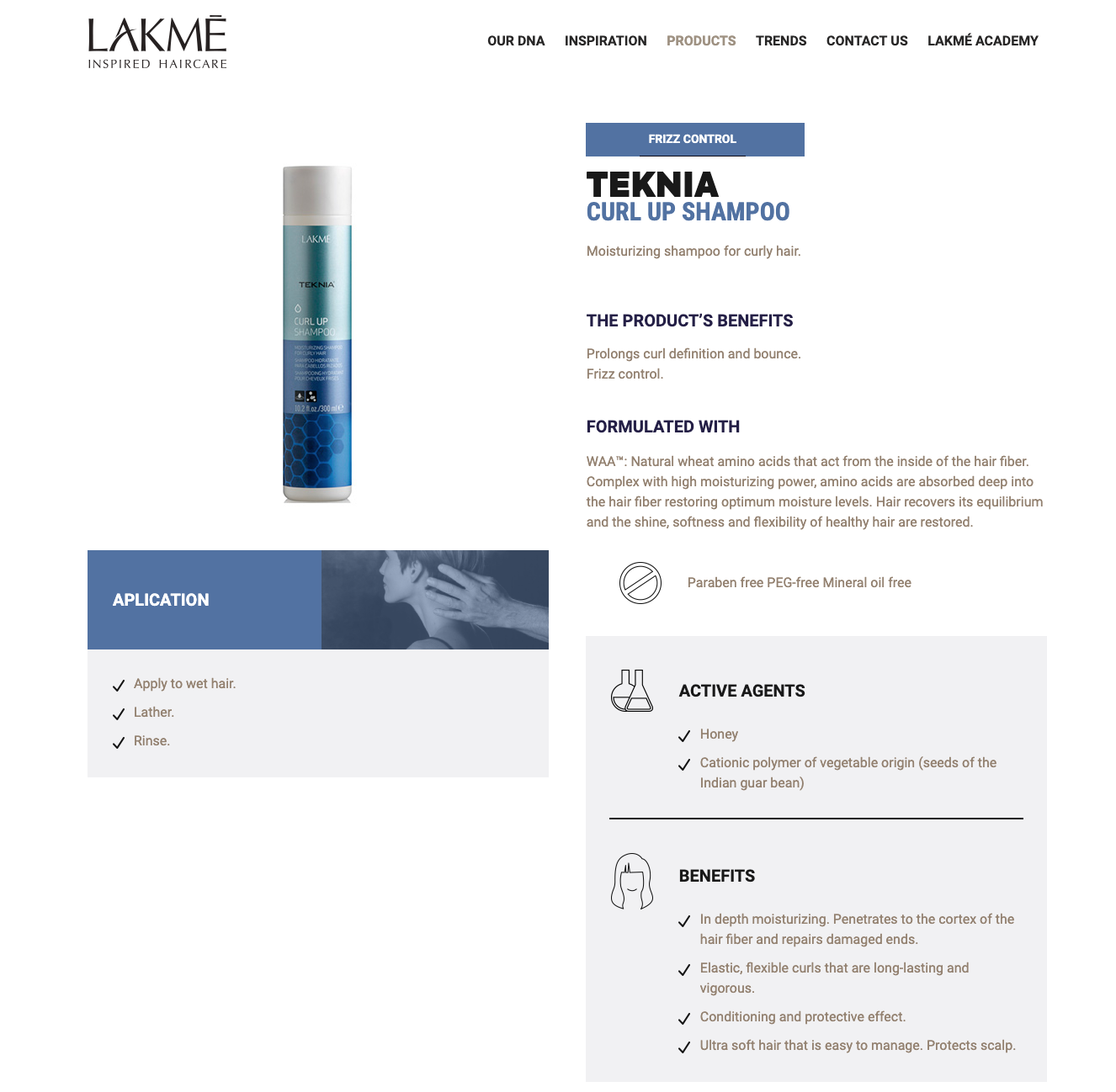 3. Focus on the benefits
Describing the product features, or the technical information about the product is definitely important.
Let's say you're purchasing a car. There's no chance you'll buy it without digging into the specific characteristics like whether there's a backup assistant or heated seats.
But you'll also want to know in what ways you'll benefit from driving that exact car model.
In other words, as an online seller, you have to think about:
How your product or service will improve your customers' lives;
Why it's an essential product;
What pain points it will address - and put those benefits in your product description.
Take a look at this dress description by clothing company be-with. Aside from practical information, like sizes, materials, and shipping, they also emphasize what you might experience when wearing their products. Hugs, touches, and lots of cuddling by the looks of it!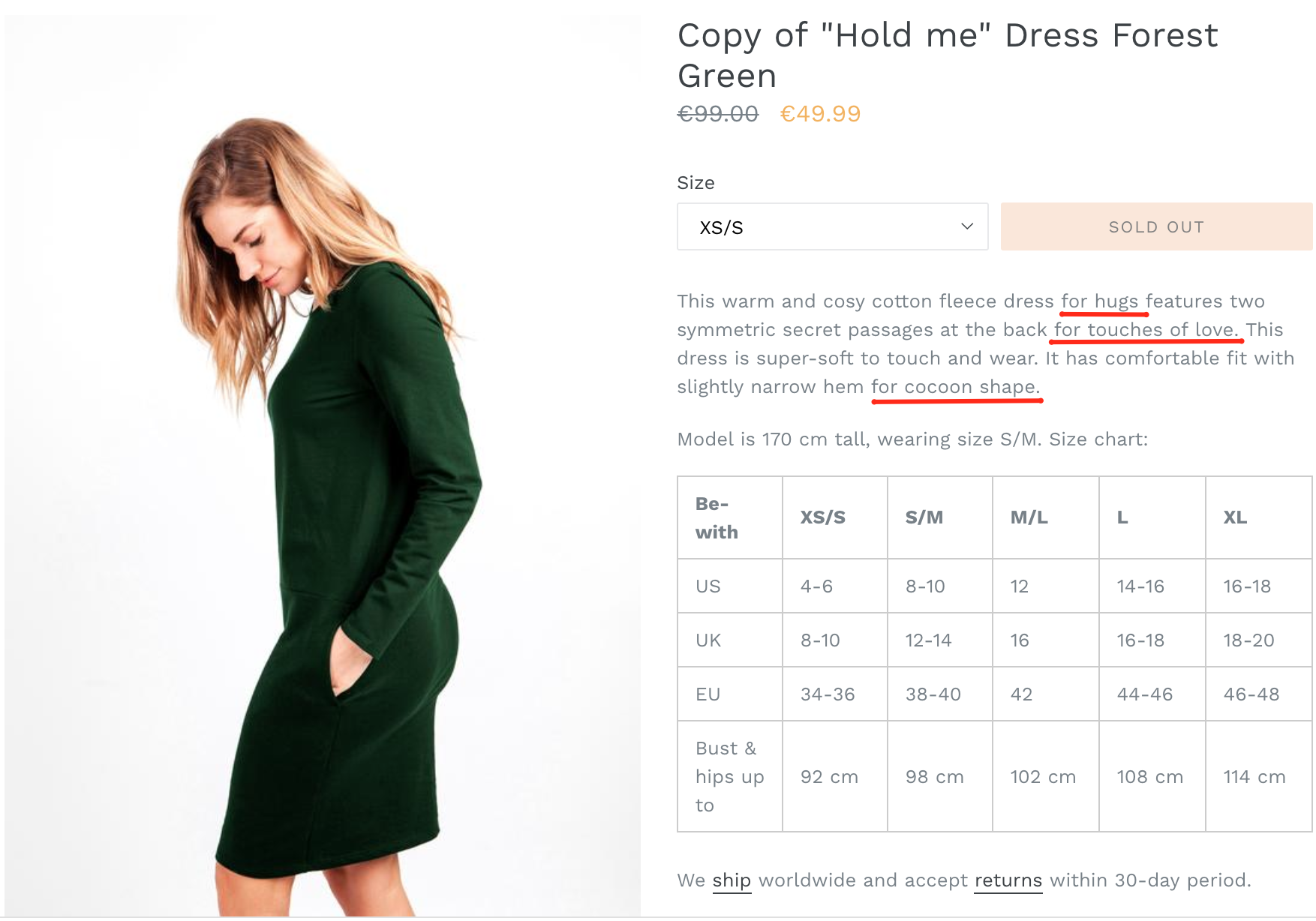 4. Tell a story
Here's one major challenge when selling your products online - research has shown that if people can actually hold a product in their hands, they're more likely to buy it. But since you own an online store, your customers will not be able to touch it prior to the purchase.
That's why your product descriptions must be appealing enough so that they'd persuade the customers to buy your product just by the power of your words.
To do this, turn your product description into a mini story to stir your potential customers' imagination.
Statistics show that nearly 50% of B2B buyers are more likely to purchase when they see personal value in the product. By telling a story, you'll engage with the customer on an emotional level and build trust and inspire action (to buy your product).
Here are some questions to keep in mind when telling a story about your product:
How was the product made?
What inspired you to make the product?
Who's the maker of the product? The main hero of your product story?
What would the customer's life look after incorporating the product in their life?
After reading the product description, they should be able to imagine what the product feels like, what it would be like to touch it, hold it, and own it.
Clothing and accessories label Nasty Gal takes storytelling to a whole other level. Here's a typical product description that manages to set the party mood just by reading it:

5. Incorporate sensory words
Can a single word make a difference in your copy and trigger the customer to purchase your product?
If it's a sensory word, then it's definitely a possibility. Here's the thing - sensory words, also called influential words or power words, make the reader experience your text while reading it.
They naturally elicit an emotional response in the reader and are also known to increase sales. By adding these descriptive words and phrases into your product descriptions, you're nudging at your customer's subconsciousness that this product is worth the purchase.
According to the advertising tycoon David Ogilvy, these are some of the most influential words to use:
Suddenly
Now
Quick
Easy
Challenge
Hurry
Bargain
But there are other power words that you can add that will instantly give your product copy a punch. Here's a real-life example of sensory words put to good use by Apple in their iPhone XS description: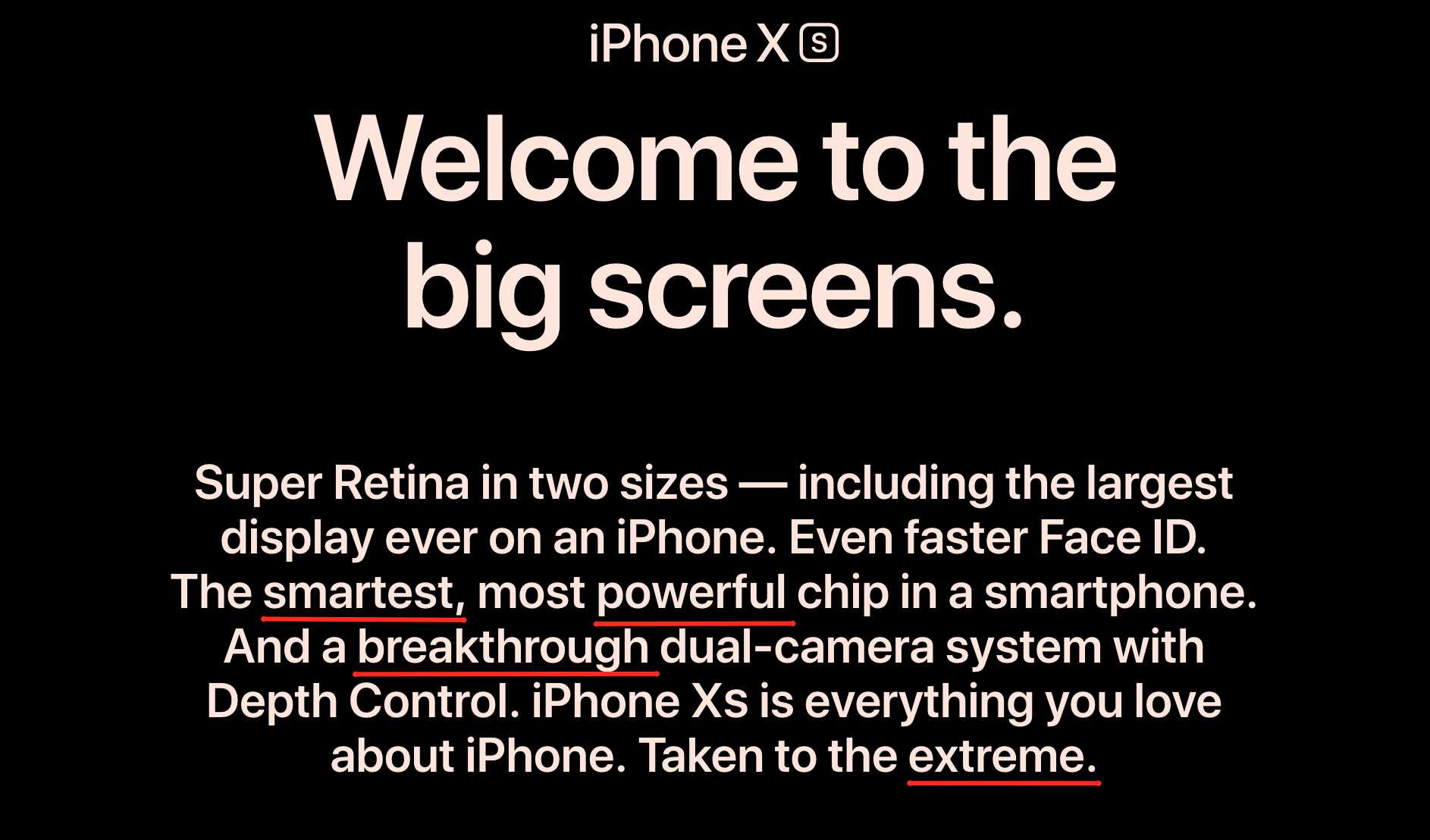 The bottom line is - tempt your readers with vivid product descriptions and swap the exhausted words like "nice" or "good", even "high-quality" for more sensory options like "stunning", "gorgeous", or "striking".
6. Optimize for search engines
SEO, or Search Engine Optimization, is something that no online store owner should ignore - especially when writing product descriptions. According to experts, there's evidence that placing keywords in product descriptions (especially in bulleted lists) increases search rankings.
In other words, by optimizing your product copy for search engines, it will improve the searchability and visibility of your online store.
SEO is a thorough process, but you can start step by step:
Target the right SEO product keywords. This will help search engines understand your product page, which will help internet searchers find the product you're selling. Here's an extensive guide on how to find the right SEO keywords.
Place keywords strategically. Use your keywords in the page's URL, in the product description title, once or twice in the body copy, once in the alt image tag and in the meta descriptions.
Don't overstuff. Remember that keywords should also appear naturally placed, not forced, so don't overdo it.
For example, can you try and guess the targeted keyword that's being used by DeskTime, a time tracking and productivity software?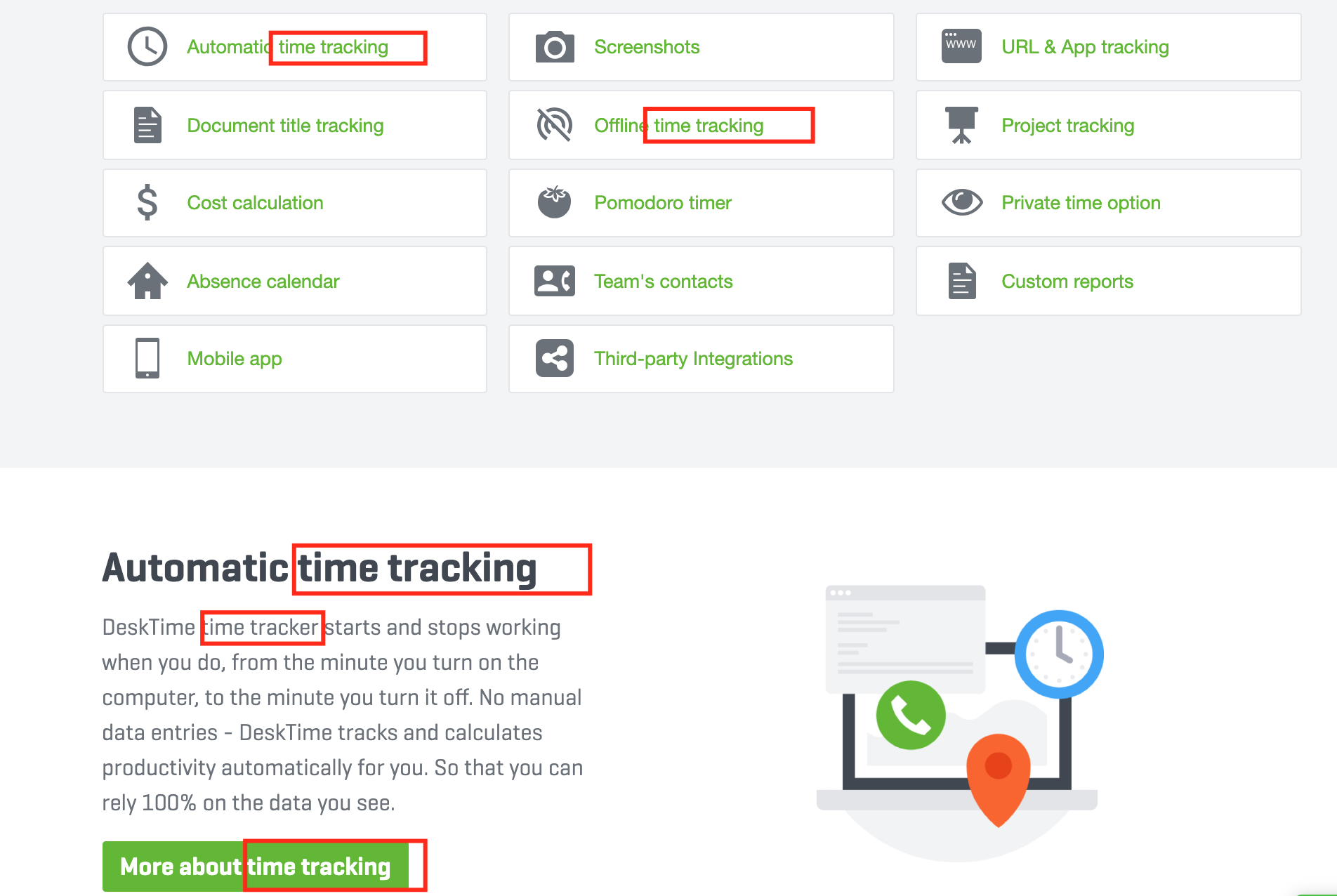 BONUS: Use visual content
It's true that good copy plays a major role when creating an effective product description. However, you cannot neglect the supporting actors, aka the visuals of your product.
Because the reality is this - as good as your product descriptions get, 63% of customers will still think that product images are more important than the descriptions or even rave reviews.
What's more, 93% of online shoppers think that high-quality visuals are the critical factor in making the purchasing decision.
Let the real magic happen by allowing the photos and text to compliment each other. The images will grab and hold the customer's attention, while the text will provide a more in-depth description of all the features and benefits.
Here's what you should focus on in the photos of your products:
Only use high-quality visuals. Images represent your product's value and quality, so if you use poor quality photos, the customers will associate that with your brand. Taking the time to shoot amazing photos will make your shop (and your product) appear more professional.
Showcase your product. Make sure the images show the product from all the right angles - top, eye-level, a 45-degree angle, and macro (close-up). Also, add photos that show the product being used.
Optimize photo size. Nearly half of all page visitors will expect your site to load within 2 seconds, so your images should be small enough to ensure a speedy site. Use tools like TinyPNG or Optimizilla to optimize your photos, but maintain the quality.
Throw in a video. Sometimes, photos are just not enough to display all the features and benefits of your product. In that case, add a video to show it in action.
Take a look at Fitbit, the popular activity tracker brand. Among photos of each product, they've added a video introducing the whole collection of their watches.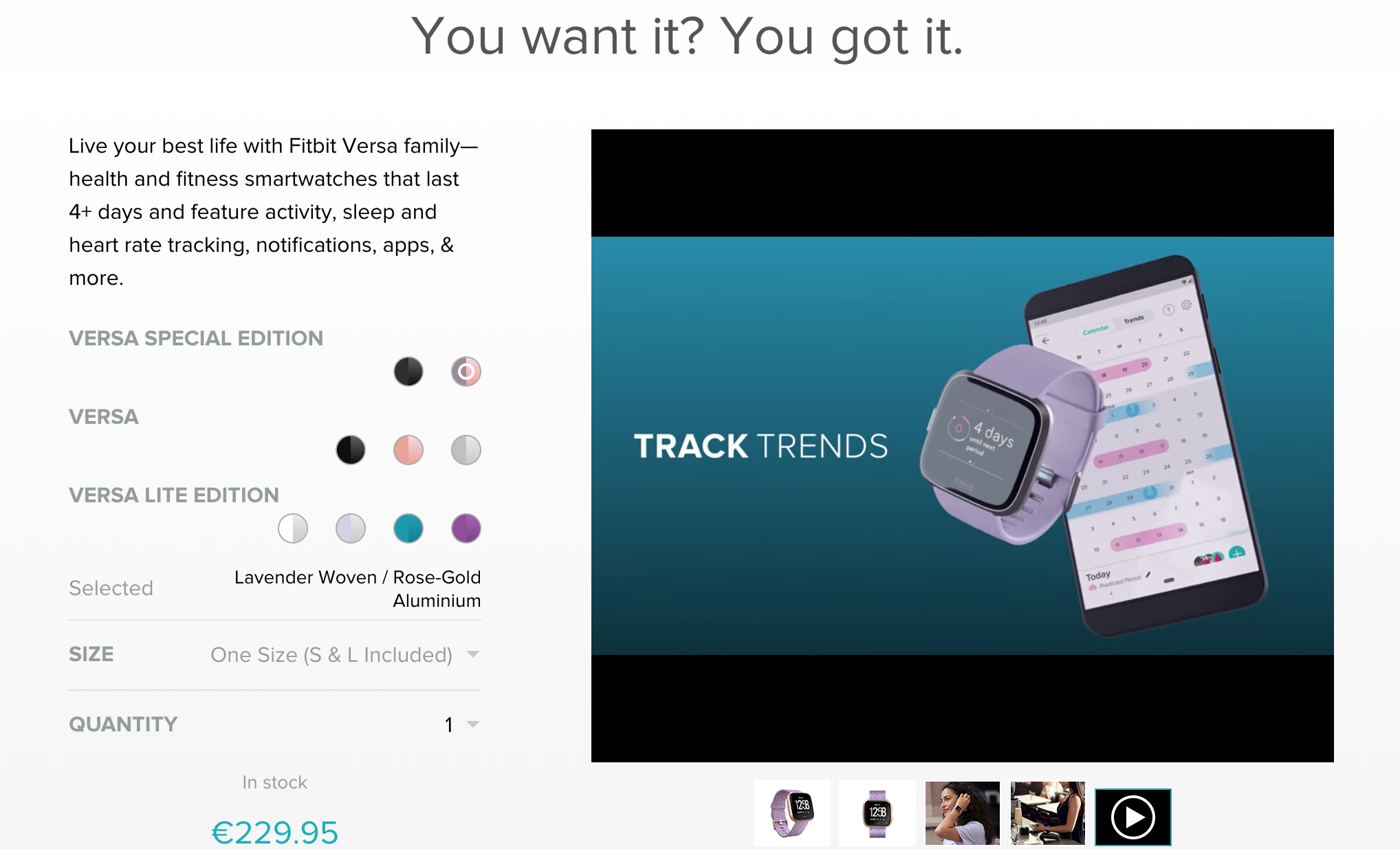 When it comes to product photos, more is better. State Bicycle shows their city bikes from several angles and in different urban settings - even including a photo with a beer case on the carrier.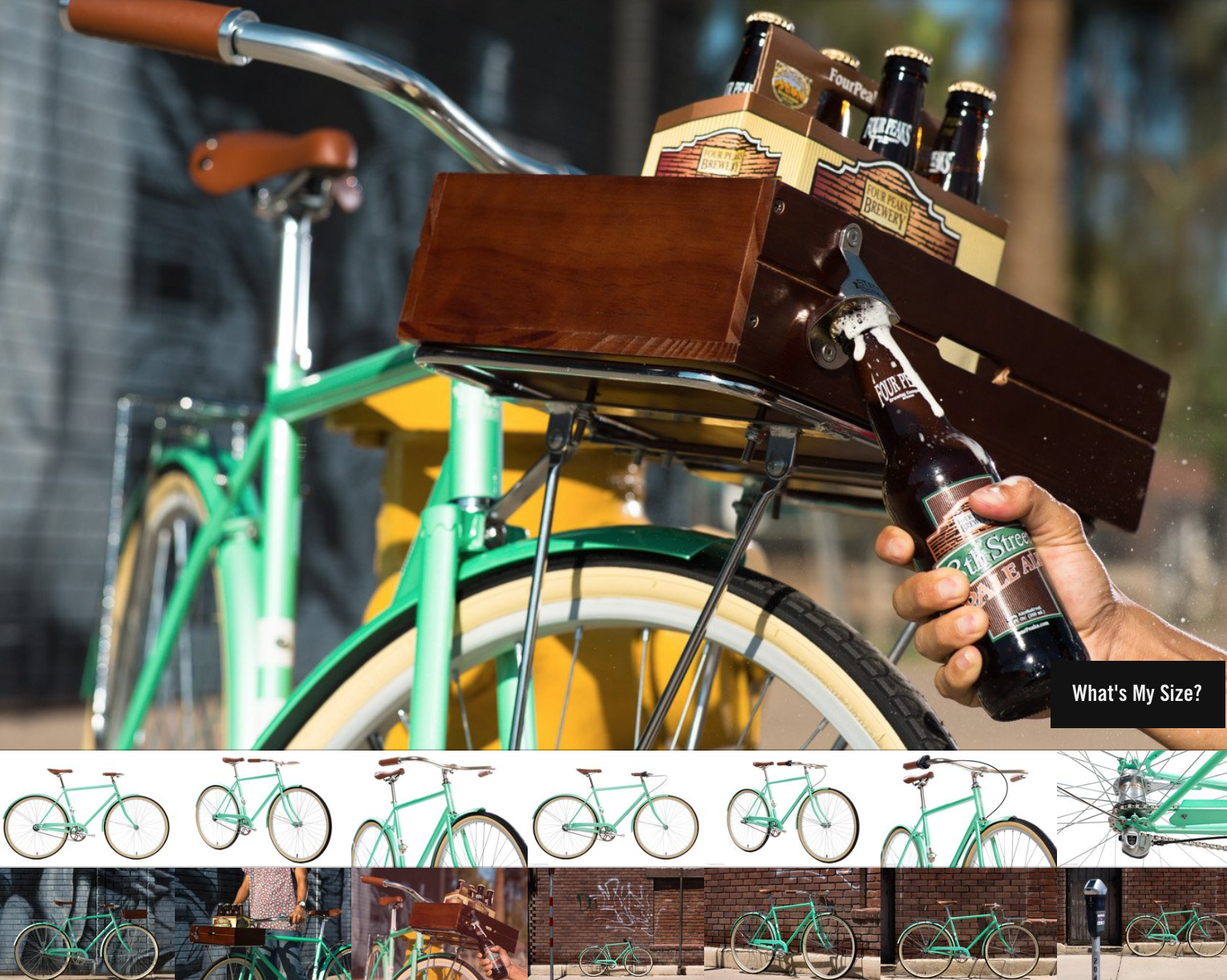 Don't worry if you don't have a large budget for a photoshoot. It's possible to take professional product photos with no photography skills and a $0 budget.
Takeaway
The product description is a powerful tool that will help you convince the customers that your product is worth the purchase.
Begin with figuring out who you're writing for. Make sure you're telling a good story, and don't forget to compliment it with some amazing photos.
Do you have other tips for creating the perfect product description? We'd love to hear about it!