8 Types of Emails You Should Be Sending to Your Customers
Knock, knock.
Who's there?
Lonely e.
Lonely e who?
Lonely e-mail because you're not sending anything its way.
Well… that was a bad knock-knock joke.
And it gets even worse because it's kind of true. Many businesses think social media is king while email marketing's spam paradise that nobody cares about. Do you think so, too? Hear us out:
Is your FOMO kicking in yet? Don't worry, we got your back! To start sending email campaigns, you'll need:
a solution to engage customers into subscribing to your emails;
an email marketing platform to gather your customer emails and send campaigns.
To collect your customers' email addresses, we recommend Engaga. It's a tool that provides beautiful pop-up and banner solutions to ask for your customer's email addresses. The best part? It's free to get started!

As for the email platforms to use for sending campaigns—go for Mailchimp or Mailigen (also both free to start with).
To learn more about the basics of collecting emails and sending campaigns, check our beginner's guide to email marketing.
Now that you know the tools to get started with email marketing, we can get down to the content for your email campaigns. Read on as we share eight types of emails you can send your customers on a weekly, monthly, or even yearly basis.
1. Welcome emails
In most cases, a welcome email is the first one your customers get when signing up for a service, shop, or a newsletter. First impressions matter, right? So think of welcome emails as an opportunity to leave a great first impression about your brand.
Welcome email open rate is 4x higher than a regular email marketing campaign. Use this advantage to speak up about your brand. Here are some content ideas you can cover for welcome emails:
Short and sweet 'thank you for joining';
The story of your brand and its unique selling points;
Guided onboarding to maximize your customer's experience;
Purchase, exploration driven content with a CTA (call-to-action) button to Shop, Order, or Explore.
Here's a welcome email campaign from Harry's: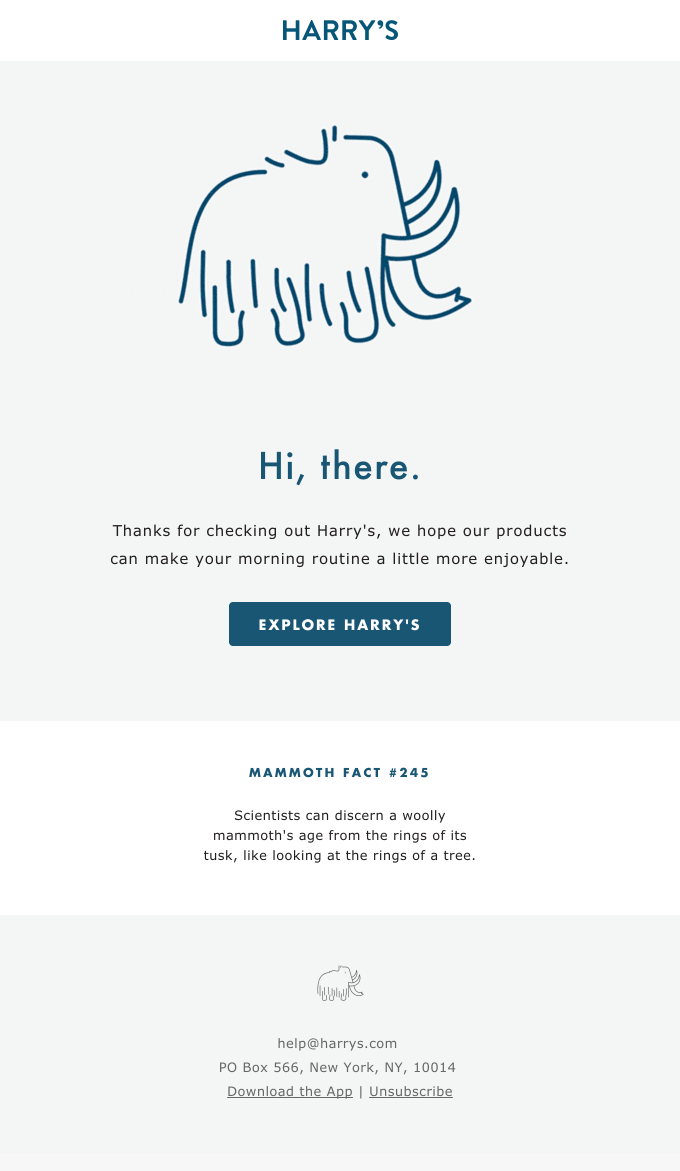 It's short and sweet, and, honestly — that's all you need. Just show your customers that you appreciate them signing up to get emails from you.
We like the clever mammoth fact, it's entertaining and gives the email a relaxed vibe. Think about your brand's voice and craft your welcome emails accordingly. If you're running a bubbly and fun shop that sells shoelaces — why not go for a pun and a colorful GIF in your welcome email?
Just keep your brand in mind and we're confident you'll come up with a welcome email that's sure to leave a great first impression.
2. Order confirmation emails
Confirmation emails are important because they let your customers know that you received their order and it's being processed. These emails are vital for any online business that charges customers for products or services.
Most e-commerce platforms such as Mozello offer customizable built-in order confirmation email forms. To access your order confirmation email on Mozello, go to the left side menu and click Catalog > Catalog settings > E-mails. You'll see a brief "Thank you! Your order is received." message which is totally enough to assure your customers about their order.
If you want to take your order confirmation emails up a notch, you can add details such as:
Your contact information, in case customers have any questions;
The shipping method you're using;
The estimated arrival time.
All of the ideas mentioned above are easy to implement because they're not likely to change. If you know your goods usually take 2 weeks to arrive and you only use local post services, you can add those details in!
Here's an order confirmation email from Parabo Press: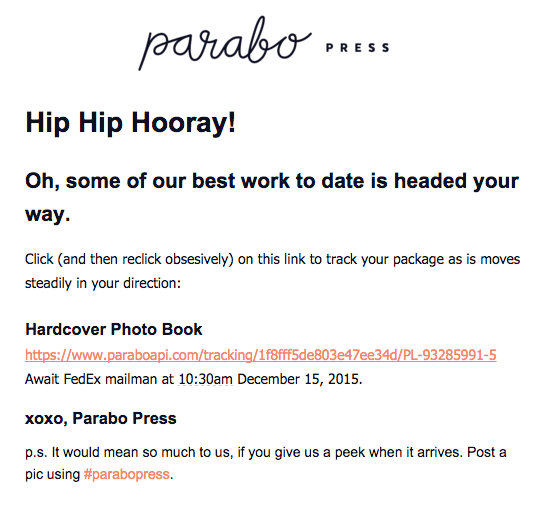 The best part about this email is the sign-off where they ask the customer to share a photo of their book when it arrives. It's a clever way to rake in customer testimonials and spread the word about their brand. You can do that, too! Just think of the hashtag you'll want for your products and share it with your customers.
3. Product, service promotions
Sending out promotional emails is a must to make the most out of your email list. It's a powerful way to increase traffic to your store, maximize sales, and keep your customers engaged with your brand and the products you offer.
Promotional emails is where you can go all-in on the creativity part. And we'll leave that part up to you. Here are some ideas to craft your promotional emails around:
A sale for specific items, like all your t-shirts;
Free shipping on all your products;
New product or service launch by giving it a special price.
Let's take a look at the promo email 8fit sent out to their customers: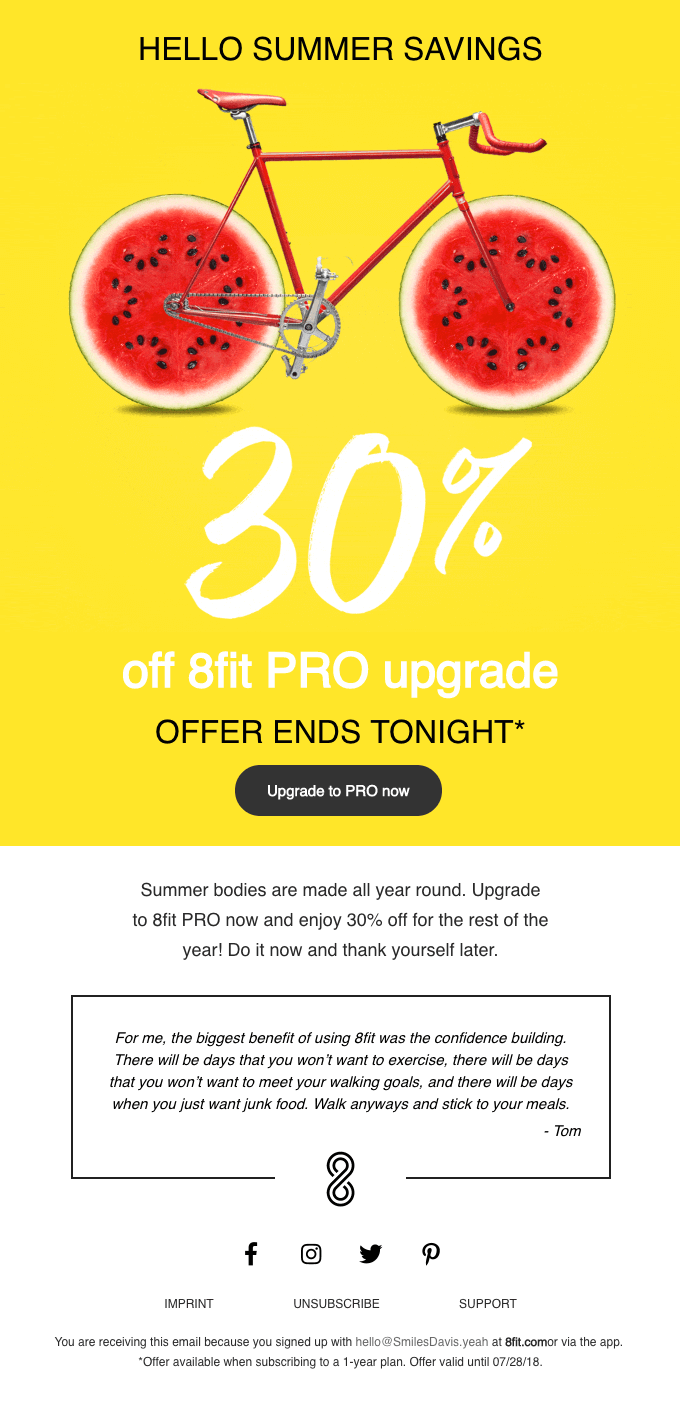 What we like most about this email is the boldness, color, and the fun it radiates. Excited to try something similar for your online business? You can create engaging email visuals by using free online tools like Befunky. As for the images, find yours in free image databases like Unsplash and others we listed in our blog about free stock photo sources.
4. Social media showcases
Promoting your social media platforms is something you can do once or twice a year. It's a good strategy to increase your follower count. Just make sure you constantly work on your social media platforms so they don't look dead and irrelevant.
Here's a fun way how Handy shared their social media channels with their audience:

Think of the platforms you want to share and let your customers know about them via email. You can create clickable images as Handy did for their email. Just design images with social media icons and when uploading them in your email campaign, add backlinks of your social media to them. Then, once your customers click on the images, they'll be redirected to your socials where they can hit the Follow, Like, or Subscribe buttons!
5. Monthly newsletters
A way to constantly remind your customers about your business? Send them monthly newsletters. You can, of course, send the newsletters on a weekly basis, as long as you have the content for them. So what goes into a monthly newsletter? You can share:
Your company or industry news;
New product or service launches;
Blogs — published on your site or found on the web;
Your product or service of the month;
Helpful tips based on your business (clothing care, marketing, design, etc.);
Curated content — any type of content (news articles, blogs, images) you find matching to your brand vision. The content can be a mix of your own created pieces and work done by others you find inspirational.
We suggest creating an outline for your newsletters. It's going to make the writing a lot easier because you'll know the bits of information you'll need to prepare in advance.
Now let's take a look at Journey Group's newsletter.

The Journey Group is actually a design and not an editorial company, contrary to what their newsletter's about. As you can see in the newsletter, they interpret design as a visual story and share curated content with their readers. In this case, stories and articles they've found inspiring.
All the blogs linked in the newsletter are external and that's totally ok. You don't have to focus on internal linking for your newsletters. As long as you share valuable content with your customers, you're still building brand loyalty and shaping yourself as a trusted source of inspiration.
6. Holiday greetings and promotions
Holiday email marketing is a must if you want to take advantage of the shopping bonanza around the festivities. Wish your customers happy holidays and offer them a sweet deal on your goods. Check out this e-commerce holiday marketing calendar and use it to plan your upcoming holiday campaigns.
Let's see the Christmas holiday greetings email Fossil sent out:

We like this email for its several qualities (all of which you include in your holiday emails!).
First off, the greeting along with the illustration is great to attract attention. And second, we like that Fossil gives their customers several options — shop, shop sale items, buy gift cards, and even choose specific products based on their price range.
You don't have to go all out on these holiday emails, a simple greeting and invitation to shop in your store will work just as good. However, if you want to go a little extra, don't hold yourself back!
7. Blog highlights
If your online business doesn't have a blog, it's seriously missing out on traffic. Add writing blog posts at some point in your growth plan. Blogs help businesses get discovered on Google and other platforms where they're shared. Read more about the importance of blogs for small businesses on our blog (content ideas included!).
Now, if you already have a blog and you contribute new posts to it — why not share them with your customers?
Let's take a look at 99U's blog highlights email:

Crafting a blog highlights email is relatively easy because you've done the majority of work ahead when you wrote your posts. Now you only need to come up with a short preview text to lure in the readers to go over the full article.
The example email from 99U we shared contains several blog articles but yours doesn't have to. You can get in touch with your customers whenever you finish an article and share it right away while it's hot.
8. Customer outreaches
Getting to know your customers, their wishes, and their thoughts about your business is important for growth. So don't hesitate to reach out to your customers asking about themselves or their experience. Create a survey with tools like SurveyMonkey and Typeform (both offer their Basic plans for free). Then send the survey link to your customers.
Let's take a look at how Slack reached out to their customers: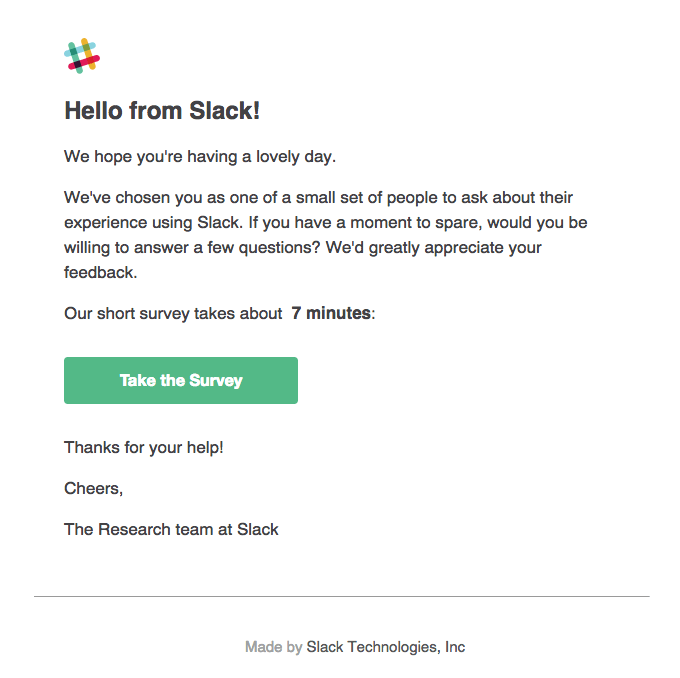 Survey invitation emails work best when they're short. You want your customers to take the survey so don't distract them with an unnecessary copy.
We like Slack's email because it:
Describes the aim of the survey;
Thanks in advance for the recipient's time;
Shares how much time it will take to complete the survey.
Keep the above-mentioned bullet points in mind when you work on your survey email. We're sure your customers will appreciate your transparency and fill out the survey to make their experience with your brand even better!
Over to you
Is your mind brimming with ideas now?
We know this article was a lot to take in but worry not.
Make notes of the emails and ideas you want to implement in your email marketing strategy and start hustling. Rome wasn't built in a day — so take your time building your email list and work on the email content as you go. Best of luck!