9 business ideas that require zero or minimal start-up capital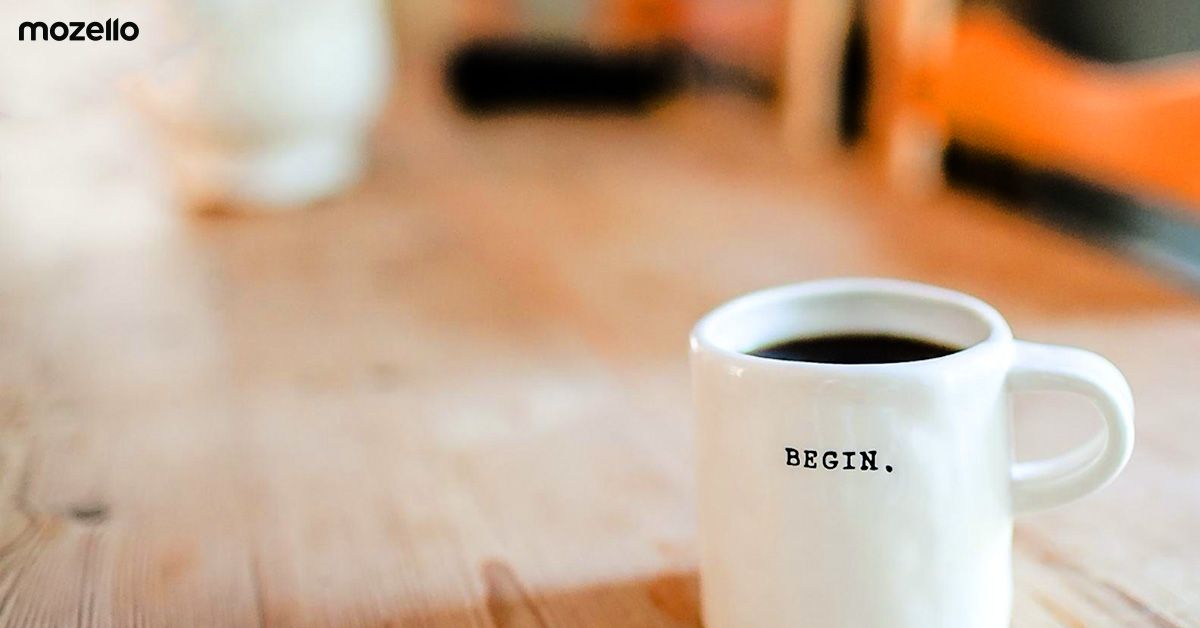 Have you thought about starting a business of your own? Something that would bring you not only income but also joy and fulfillment?
If so, we feel you. We've been there and we also know that starting an enterprise of your own might feel like a huge and expensive task.
But we're ready to prove you wrong.
Having zero or minimal start-up capital for your business is not a hindrance nowadays. Your skills and creativity are the foundation of your business, and many modern tools will help start your company without costing you much.
Keep reading and let us inspire you with 8 business ideas that you can start with zero or minimal resources.
1. Consulting or coaching business
Are you an expert in a specific field? Do you have extensive experience in a particular industry or profession?
Congrats - your skill and expertise are often enough to start a consulting business. The consulting market has been steadily growing over the last decade which indicates that people are more and more willing to use such services.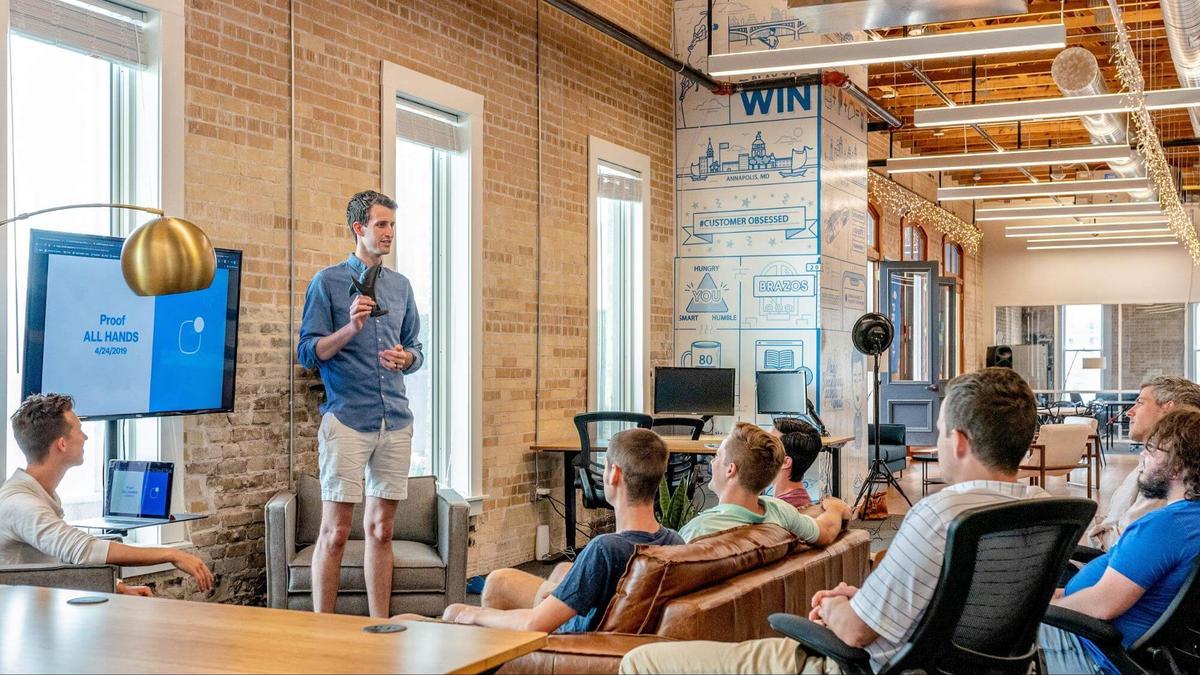 There are a number of areas you can consult, coach or advise on. Some examples:
Business & marketing consultant
Personality coach
Health & fitness coach
Public speaking coach
Cooking consultant
Writing advisor
Accounting advisor
Fashion & image coach
Relationships or parenting consultant
Home design consultant
For example, Miega pele is a consulting agency for improving baby sleep habits. The woman behind this business faced serious sleep problems in her family until she decided to study infant sleep patterns and help other families.
Once you know your skill or specialty, be sure to advertise it well. Don't forget to add a portfolio of your previous results and reviews from satisfied customers.
2. Reselling company
Being a reseller means finding low-cost items and selling them for more. This type of business will work if you are able to acquire products that are less accessible to others. Hence, they would be ready to buy these products from you, even if it means paying more.
For example, you may be a specialist in finding rare collection items, great garage sales, or antiquities. Or, you may be an intermediary between countries or cities – finding something cheap in one place and selling it to another audience.
You may have heard of the 20-something Australian entrepreneur Gretta van Reil – she has launched several businesses based on the buying-reselling principle. Her latest online store Dropbottle sells eco-friendly fruit infuser bottles that she buys from a third-party manufacturer, then resells on her shop.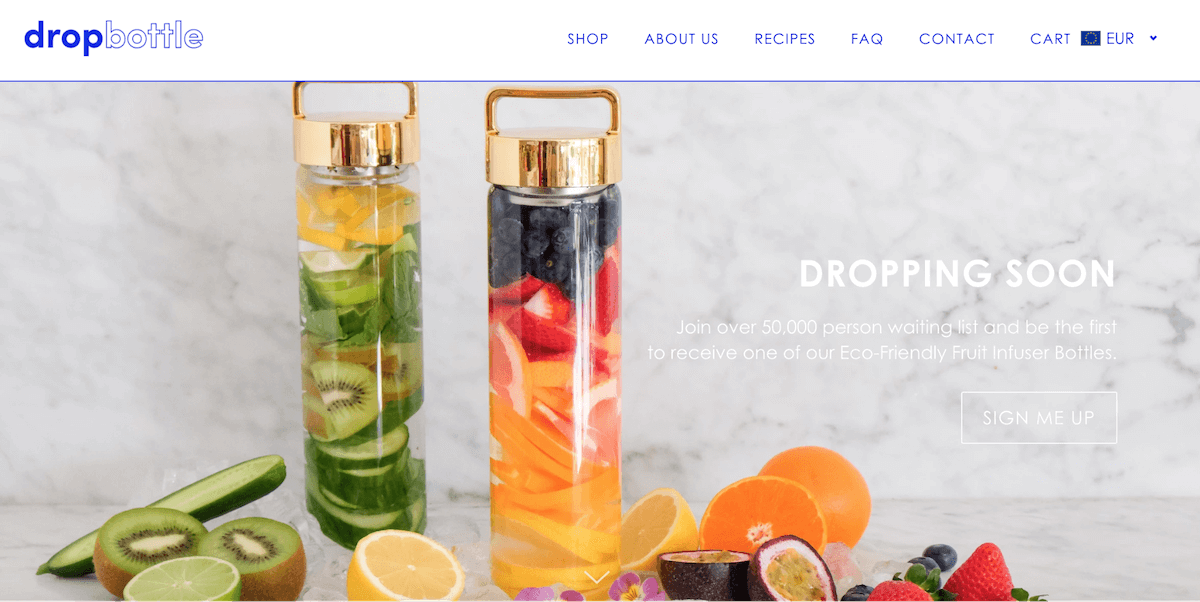 You can start with only a small inventory or even by selling the items you have at home and no longer want. Not much to lose, right?
3. Handmade goods shop
A few decades ago, it must have been rather difficult to open a handicraft shop, since you needed to own or rent physical premises, and have someone selling the goods. Nowadays opening an online shop basically costs nothing.
First, take beautiful photos of your handmade items. Then sell your crafts via your website or online store.
For example, you may be a knitting guru or a master of origami decorations. You can either sell your handmade goods on your online store or showcase the possible products on your website and work on custom orders.
4. Online tutor services
Even with language learning apps available, many people still prefer to learn with a real person. If you are proficient at one of the world's roughly 6500 languages or master another skill, you can become a tutor.
Even better if you already have some teaching experience. Then mention it on your website, and include any certificates or diplomas to prove it (if you have any). Ideally - add references from your previous students.
If you don't have previous teaching experience, consider adding a unique twist to the study program you offer. For example - Learn English through Rock music, Become the master of Selfie photography, etc.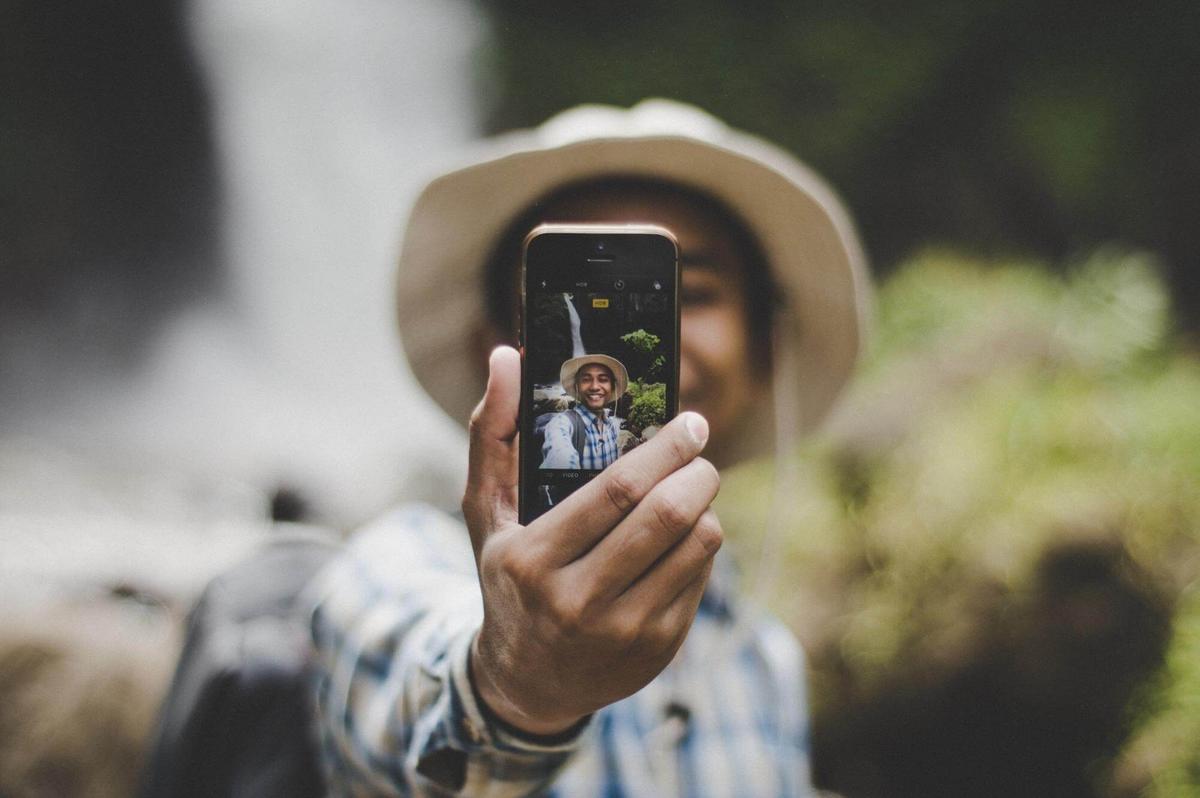 You can either organize your online classes through Whatsapp or Skype or send a pre-made video to your customer as soon as you've received a payment from them.
5. Digital art or photography agency
If you are good at photography or graphic design, you can swiftly turn this hobby into a source of income. For example, you can offer graphic design help or video editing services to people who lack the skills or time for it.
Think about a tangible or intangible end product that people would readily buy. Some examples:
Wedding invitations
Funny birthday gifts
Presentation design
Business cards & corporate gifts
Mobile app design
Packaging design
Ads, banners, logos, and other marketing materials
Leaflets, brochures, e-books
Diverse illustrations
All you need to have is a winning portfolio of the work you've done previously. Then let people contact you directly for custom orders or prepare some ready-made designs that you can sell on-demand.
6. Events' organizer
If you have a knack for organizing or decorating parties, there's a whole market out there willing to use your services. From children's parties to weddings - the type and scope of the service are up to you.
The most important thing here is to have a convincing gallery of your previous work. But don't worry if your experience is not that vast yet. Throw in beautiful photos of your own parties or friend's events you have previously organized or decorated. Or, prepare some decoration sets and photograph them to show off your cool ideas. In addition, you can make beautiful wedding decorations and offer them for rent.
Another way to gain experience in the events' business - try being a host in weddings, birthdays or other celebrations. While you're at it, you're bound to see what's going on behind the scenes and learn from experts in the field.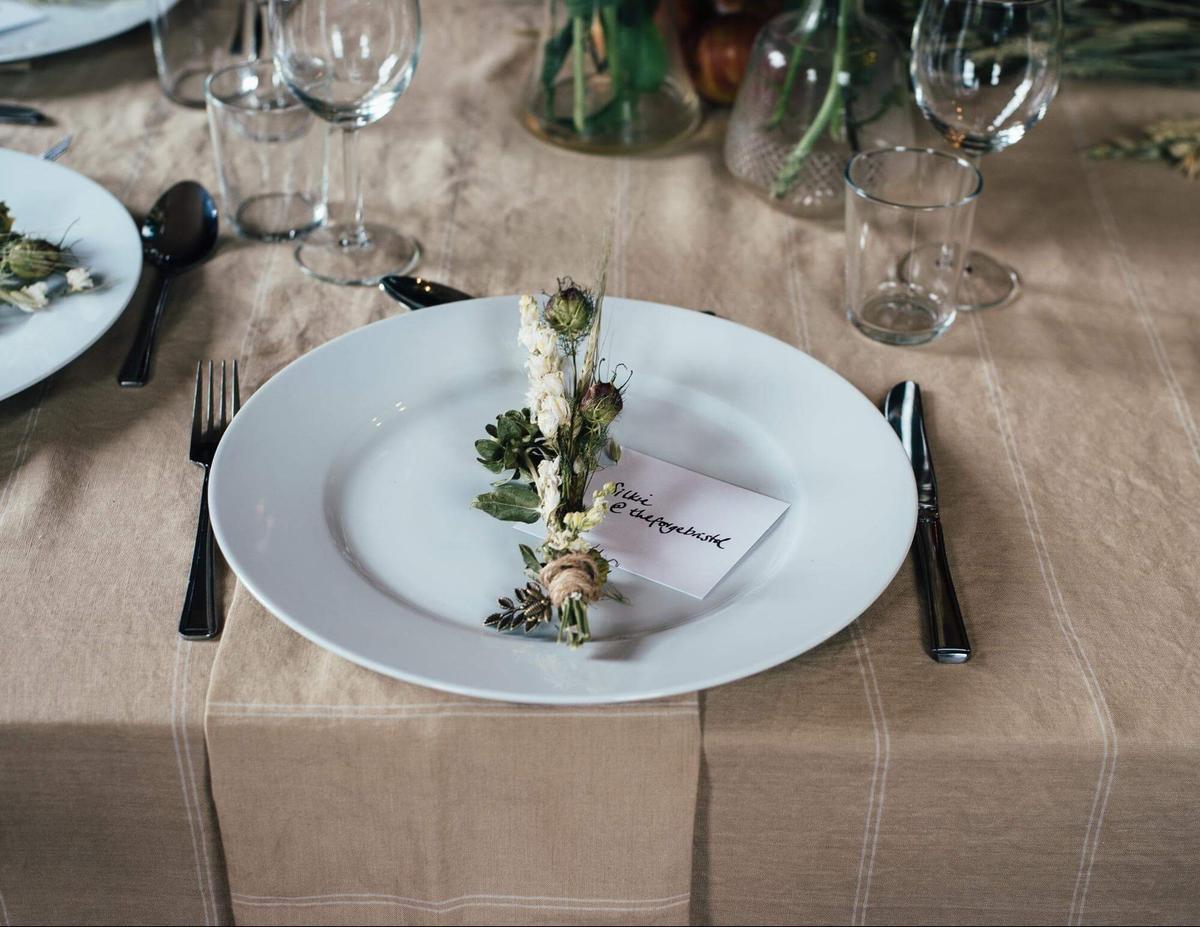 7. Local tour guide
If you know your town or area very well, you can share this in-depth knowledge with tourists. Think beyond regular excursions - e.g. organize a street art tour of the city center, sightseeing on bikes or other themed excursions. Make an irresistible website to back up your attractive offer.
Elizabete Vetra, a social media manager from the town of Cesis in Latvia, created a tourism project #Cesisinside. It's aimed at nature tourists and adventure lovers who visit Cesis and would prefer to experience it through the eyes of locals. For her website www.cesisinside.lv she used stunning visuals and convincing copy to invite people to join one of her themed excursions: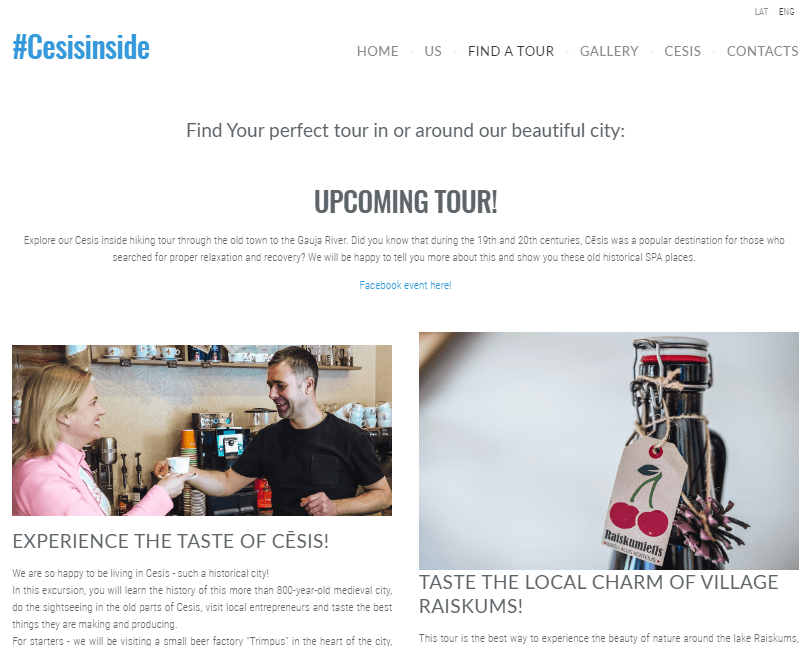 8. Outsourced professional services
This is a broad category that opens up numerous opportunities. If you think well about it, you'll probably find an area where your skills are better than most people's.
Social media manager, copywriter, translator, accountant, virtual assistant, proofreader, website tester… Obviously, we can't name all the professions you could do as an outsourced professional or a freelancer. But don't stick to the well-known lines of work - even better if the services you offer are less common or represent a niche.
For example, you can present yourself as an accountant for small businesses, or a specific industry, like food and dining. Or, become a translator for literary work, or IT, or... whatever it is that you're good at.
9. Middleman type of business
You may have heard about the new age digital middlemen like Ebay, Netflix, Airbnb, and others. But successful middlemen companies aren't necessarily huge and famous.
These are just a few examples of middleman businesses YOU could start on your own:
You can work as a broker (e.g., insurance or real-estate), or as an agent (e.g., represent your client in a certain place or community).
Become a digital marketing intermediary (e.g. social media manager, or a SEO expert) between customers and marketing platforms and services.
Find a product or a niche you are passionate about and become its local representative (acquire goods from the wholesalers and sell to the consumers).
For example, Kostimi.lv is a retailer that connects distributors and consumers who are specifically looking for carnival outfits or party decorations.
Is that it? Should I start my business today?
Yes, this is really it. If you have a few free hours today, don't delay the birth of your business.
Start by setting up your website or online shop with Mozello - we promise it will be exciting and quick (and free). You won't lose time or inspiration on technical difficulties.
However, once you're all set up with your idea and website, you'll need to be dedicated and organized to become successful. And you'll probably need some marketing for your goods or services.
Yes, it probably will get hard at some point. Whenever you feel tired or pessimistic, read this:
This is just a phase. Your business is great, and the world needs you. Don't give up - ever!
We wish you lots of luck and energy with your awesome business idea!