8 reasons why choose Mozello when creating your business website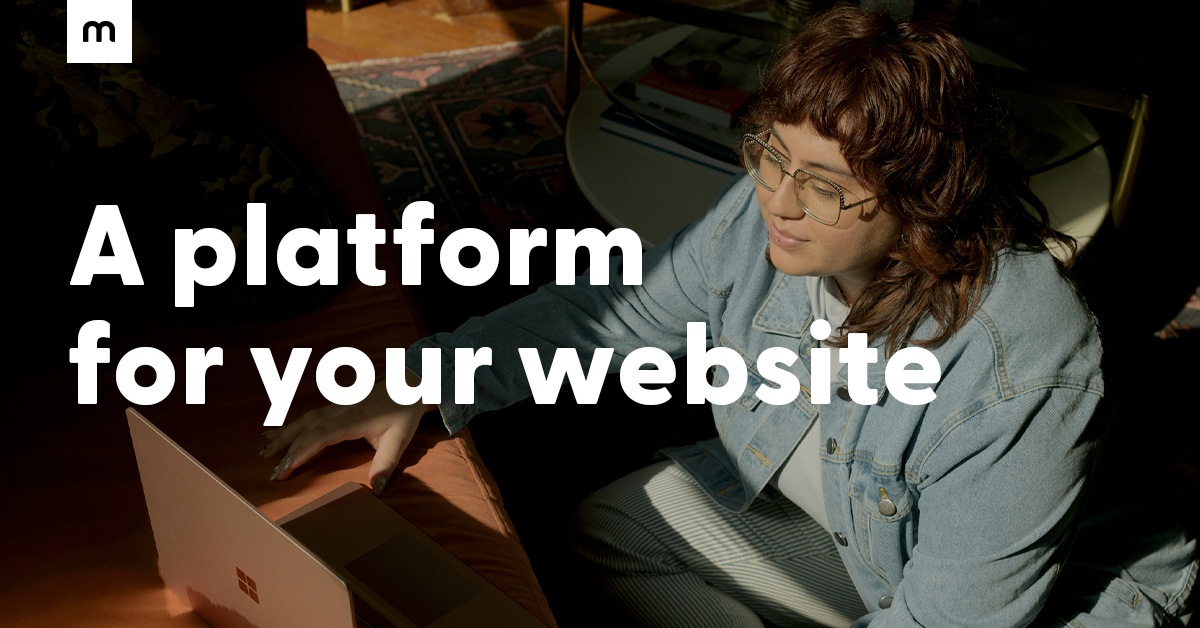 In this day and age, a business without a website is like a phone without a number. Nearly everybody uses the internet to discover local businesses and 97% of customers say websites influence their purchases.
Creating a website is one of the first things you should do when launching your business and keeping it updated will help you gain the trust of your customers and grow your revenue.
Fortunately, thanks to easy-to-use and intuitive website builders like Mozello, virtually anyone can put together a stylish website – even if you've never done it before.
Mozello is designed to be as simple as possible, so you can quickly and easily establish a strong online presence, without having to spend hundreds of hours learning web development or paying thousands of euros to somebody who already has.
Let's take a look at eight reasons why Mozello is the ideal choice for creating your business website, regardless of whether you're a first-time entrepreneur or a tenured veteran.
1. No code, no upkeep, no hassle
At Mozello, simplicity is our top priority.
To build a website with platforms such as WordPress, you need a basic understanding of coding, you need to take constant care of updates, you need to keep track of security, you need to manage various plugins, and so much more.
Not with Mozello. There's no coding involved, as everything is designed to be point-and-click. You don't have to worry about updates or security, as Mozello takes care of it all. And there's no need to pay developers for custom features, as everything you need is available through Mozello.
2. All the technical stuff? Taken care of
Again, if you've ever tried to build a website with a tool like WordPress, you know how technical things can get. You have to choose the right hosting partner, set up content delivery networks, install and configure endless plugins – and if you don't do it right, everything can break down or work so slowly that you lose visitors.
With Mozello, enterprise-grade hosting infrastructure is included by design. This means great speed, uptime, and performance all across the globe. And you don't have to give any of it a second thought – it just works, perfectly, always.
3. DIY like a pro
In its simplicity, Mozello stands out even among other DIY platforms such as Wix. Mozello's minimalist design equips you with the features and tools you need to build a professional website, without confusing you with overly niche features or too many choices.
We developed Mozello to help you achieve your website goals in the most effective way possible, rather than bloating it to cater to every imaginable need, which only ends up complicating things for entrepreneurs creating a DIY website.
At the same time, Mozello presents a comprehensive offering of key features and it's extremely rare that a website creator needs something that Mozello doesn't have – in such situations, we can work together to find a custom solution.
4. Choose your website name and… that's it
Mozello isn't just simple, it's convenient. When signing up with the Premium plan, you can immediately choose your professional, custom Domain name to ensure nobody else takes it while you build your website – it's included in the price.
Once again, Mozello takes care of all the technical aspects, e.g. DNS configurations, that you would otherwise have to do yourself. All you have to do is choose your domain name and… that's it!
5. The features you need – nothing more, nothing less
Despite its minimalist design, Mozello offers all the features you might need to showcase your business on the web and build a high-performing website that WOWs your customers.
I. Stunning & flexible design
Right from the start, you can choose from our dozens of fresh and modern templates to give your business website a strong foundation. Then, all you need to do is personalize your website by easily adding content blocks and editing them to your liking – choose the style you like, add a call-to-action button, and you're good to go.
Mozello's flexible design options will meet your every need while keeping everything simple and straightforward.
Read more: How to create a quality website on your own. A step-by-step walkthrough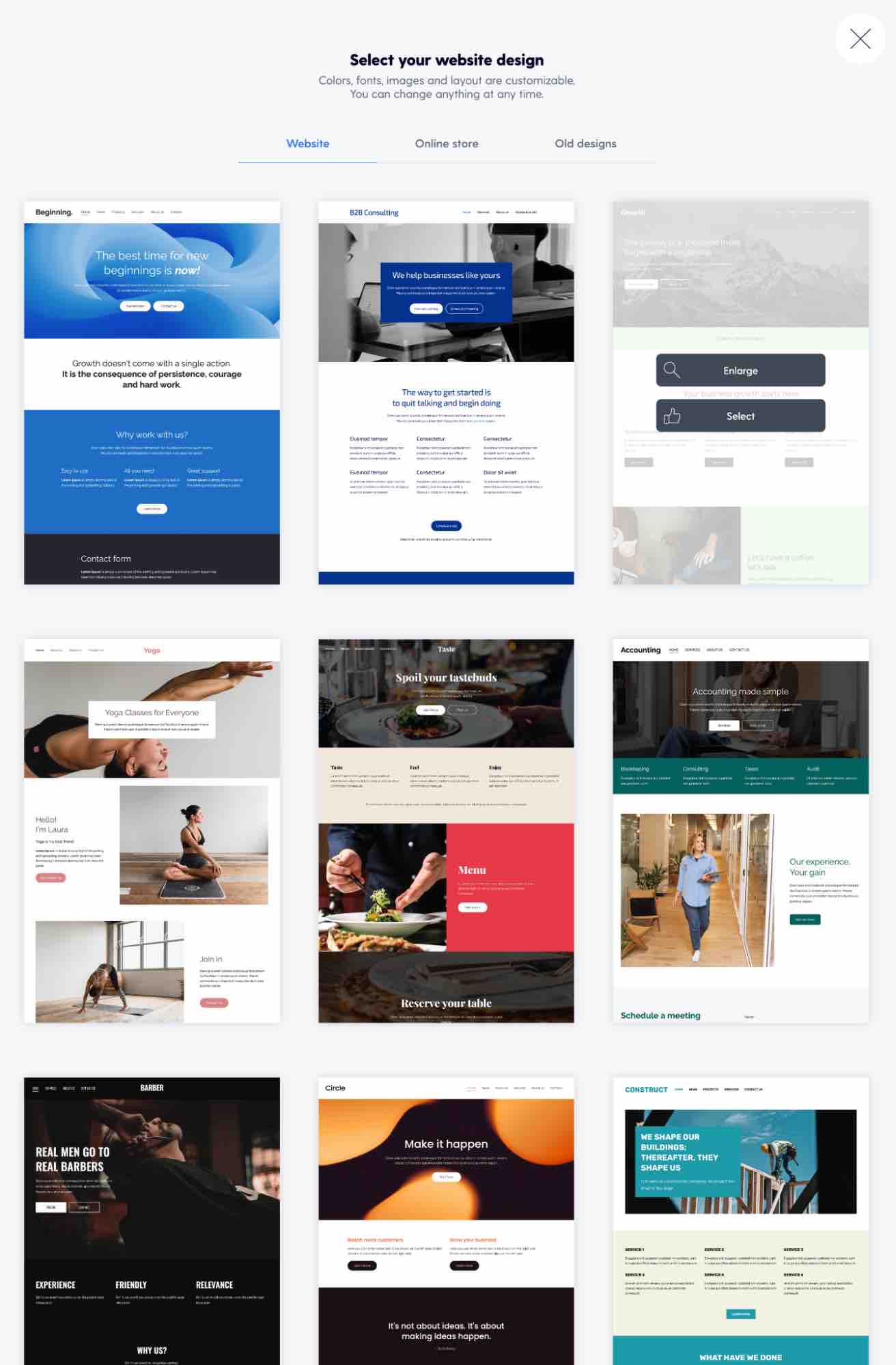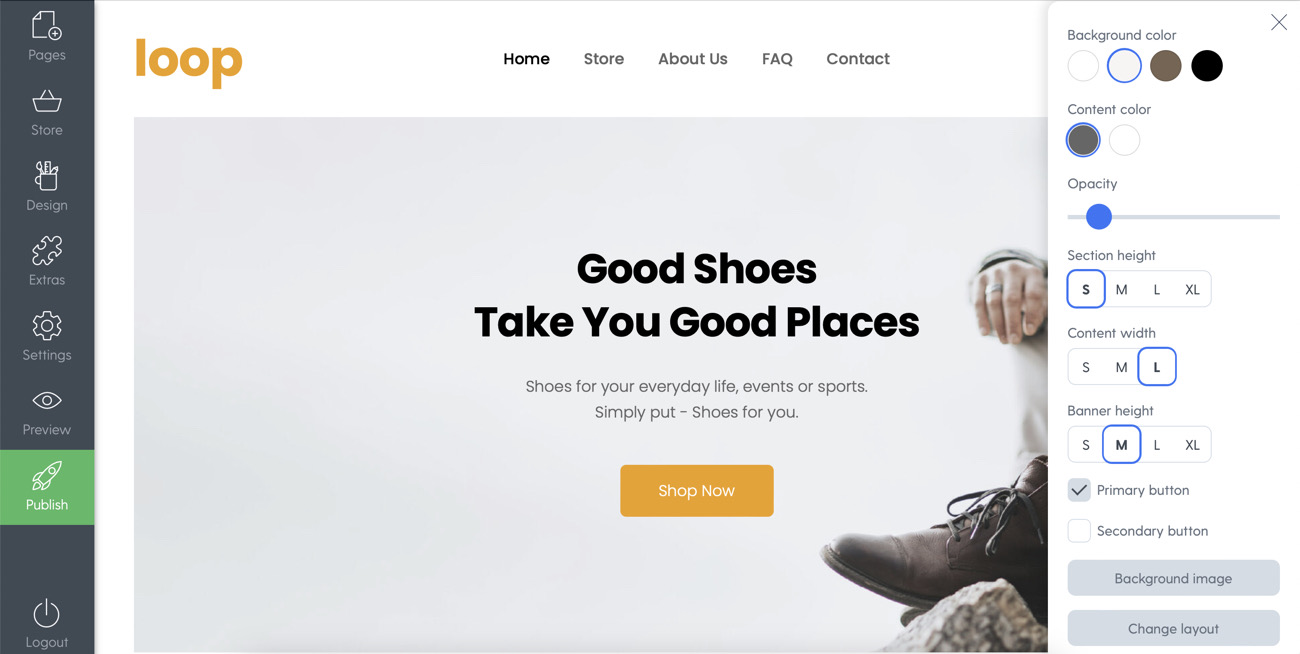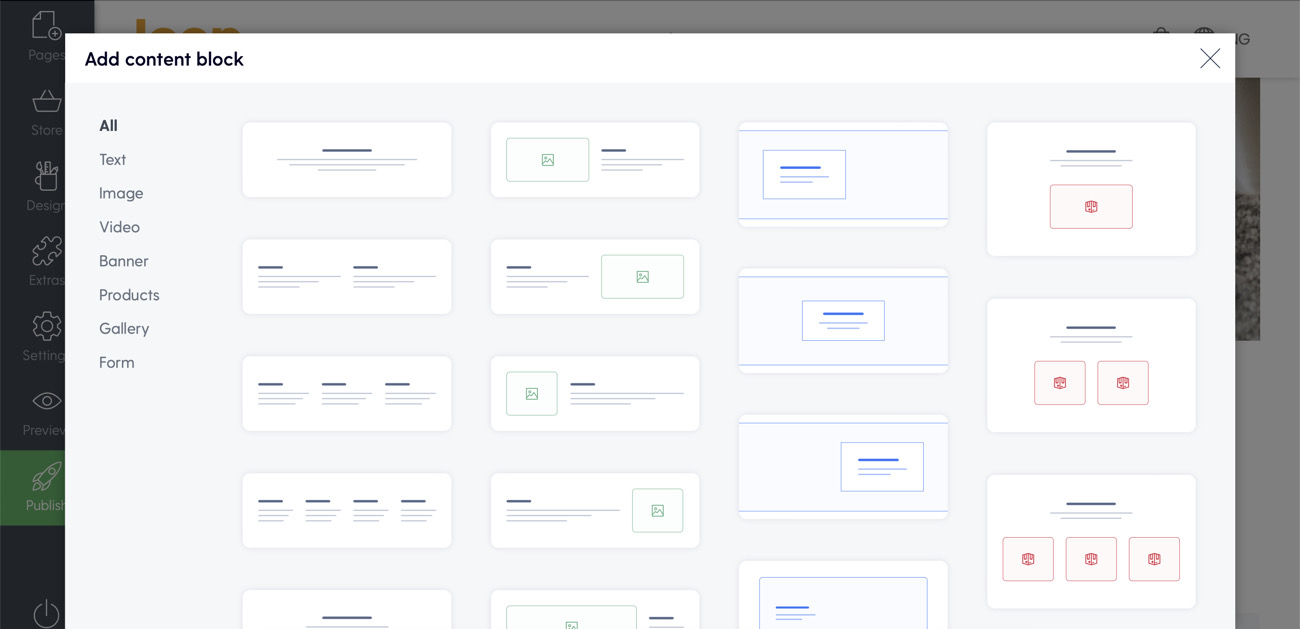 Mozello's modern website design templates
II. Simple personalization
In your website design, everything can be easily adjusted to match your own preferences and brand tone at just the click of a button. Choose the colors and fonts that best represent your business, add your logo for recognition, and otherwise customize your website as much or as little as you want to give the right feel to your visitors.
Read more: ABCs of branding: How to design a memorable website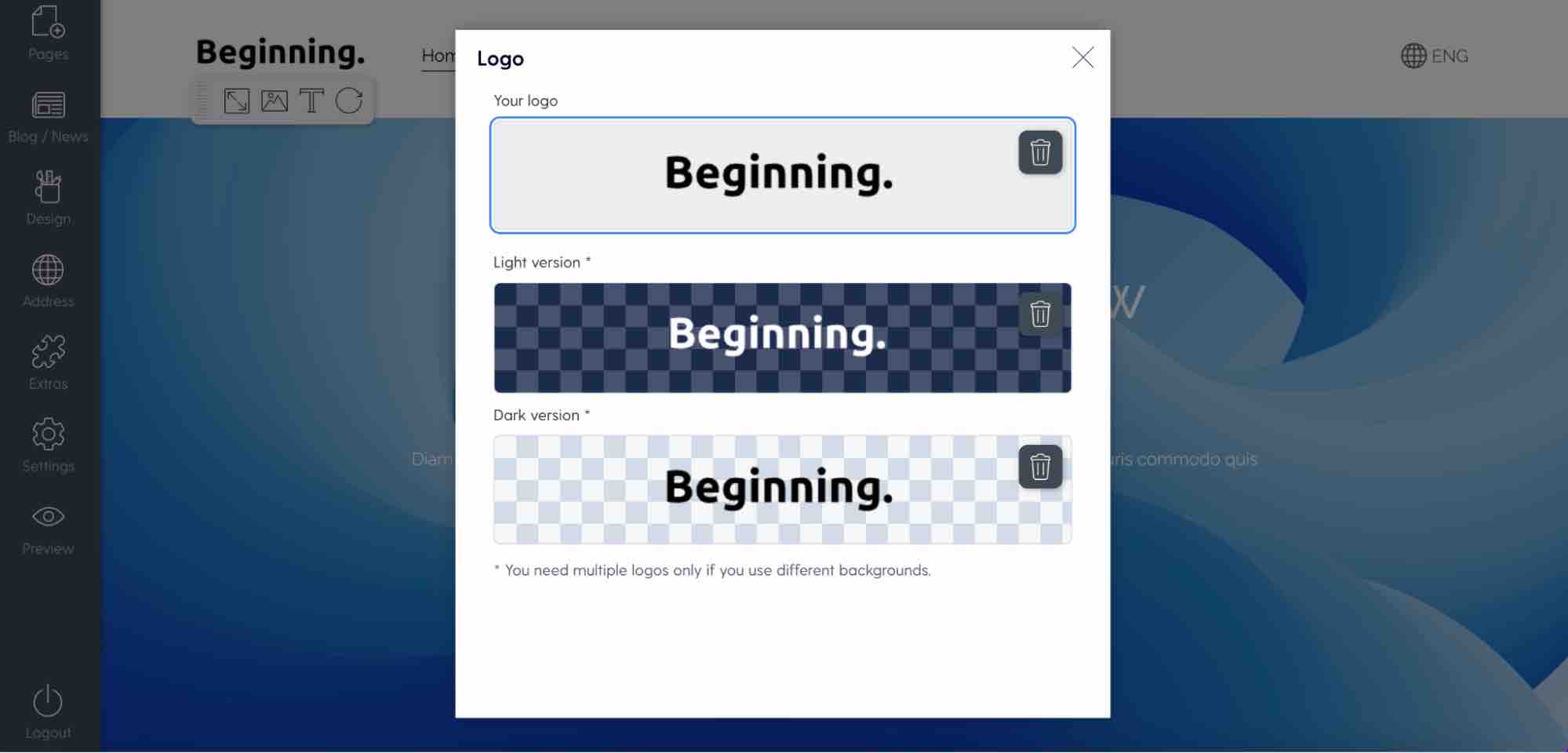 Mozello's adaptive logo customization
III. Easy SEO and pages for business discoverability
You want people to discover your website, right? That's why Mozello has built-in robust SEO (search engine optimization) features that will help you get discovered on Google and other search tools.
Mozello also offers convenient templates for pages on your website, such as the contacts page with a contact form. That way your customers will always be able to reach you.
Read more: A step-by-step guide to getting your website's SEO basics in order using Mozello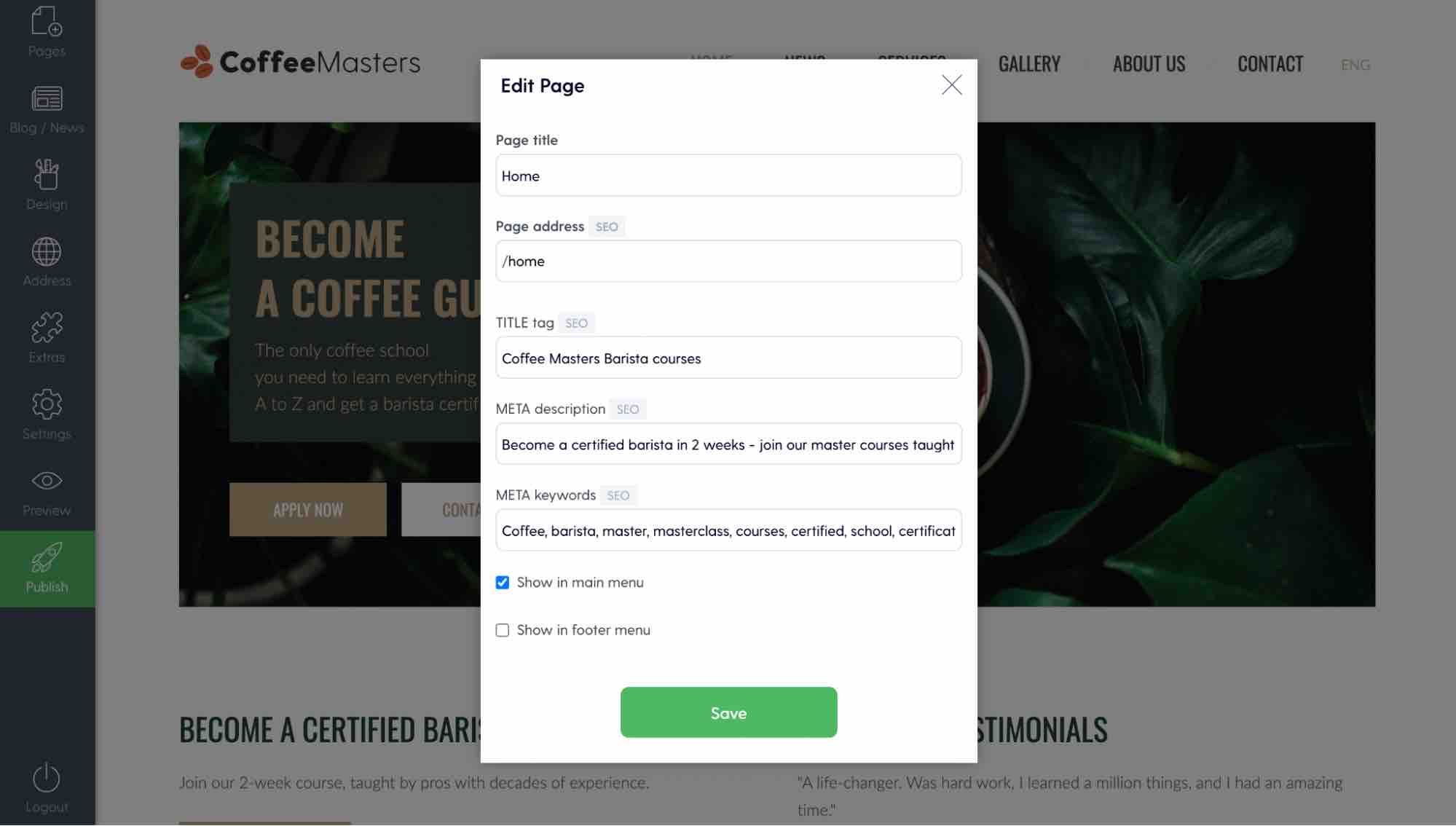 Mozello's simple page SEO features
IV. Multilingual websites for global reach
In this day and age, businesses are growing increasingly international. That's why Mozello offers a simple and convenient way to add multiple languages to your website so that you can speak to your different audiences in their own language – a very important factor for turning visitors into customers.
Read more: To localize or not to localize – when is it time to translate your website into other languages?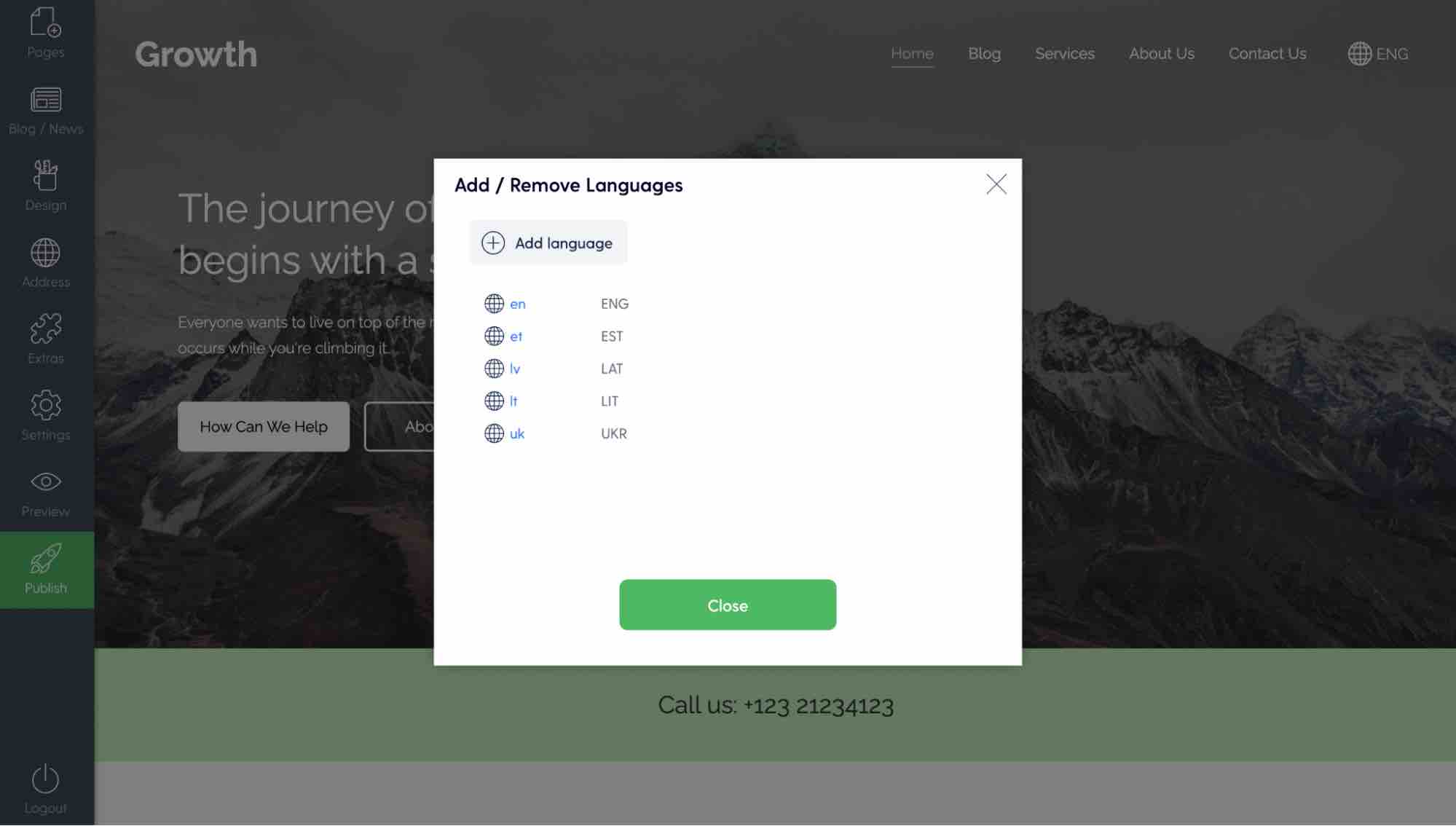 Mozello's language addition options
V. Ready-to-go integrations to level up your marketing
If you're ready to take your website to the next level, Mozello offers a plethora of key integrations for marketing purposes. You will find support for Google Analytics 4 (GA4), Facebook pixel ID, custom tracking codes, as well as built-in conversion events for GA4 and Facebook, e.g. product page view, product search, add to cart, and sale.
Mozello websites also feature a blog section for your content marketing efforts, as well as integrated tools such as Engaga that can make your website more effective with high-performance call-to-action website popups and popup forms, and more.
Read more:How to set up Google Analytics on your Mozello website [+ 6 basic ways to use it]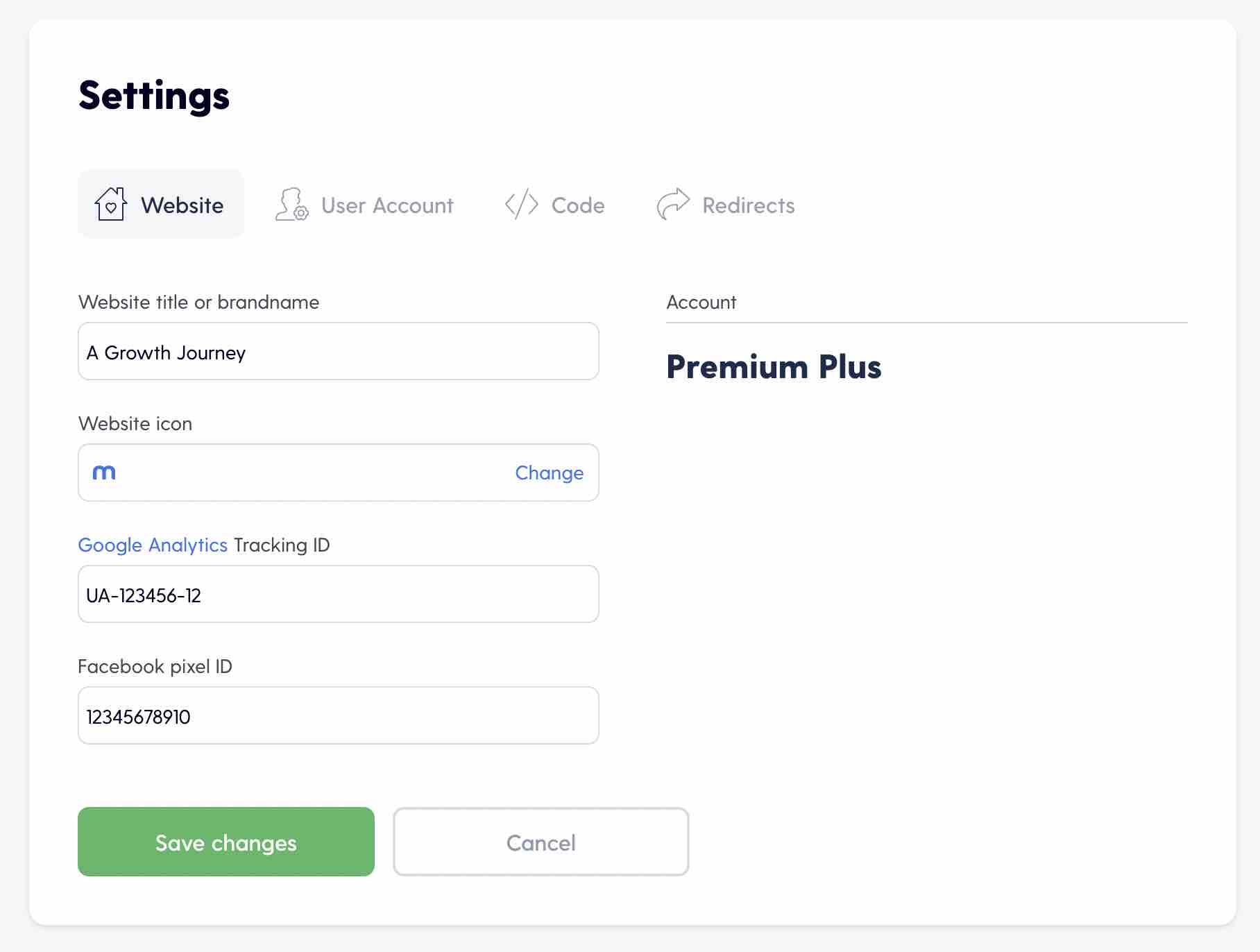 Mozello's page settings with ID fields
6. A rich knowledge base that answers all your questions
Not sure how to make the most of all the features listed above? Don't worry – Mozello offers you all the resources you need to go from registration to launching a stunning website.
Step-by-step instructions guide you through the website setup process. Tutorial videos showcase the various functionalities and how to make the most of them. The FAQ page answers some of the most common questions and equips you with valuable tips and tricks. And Mozello's blog is full of resources that will help you build not only your website but your business, too.
And if that's not enough, customer support is always there to give you a helping hand.
7. Customer support that listens and cares
At Mozello, we offer available customer support that goes into detail and finds a solution, with no hustle and crazy wait times.
Whenever you have a hiccup, question, or request, Mozello's support is right there to help you resolve it as quickly and effectively as possible to make sure you can focus on your business, without having to worry about the technical side of things. Forget waiting days for a response or paying extra just to talk to a specialist – with Mozello, help is always available.
8. Frequent updates that benefit your business
We're not ones to rest on our laurels, so Mozello is constantly working to make the platform friendlier to our users and more appealing to your customers. But don't worry – that doesn't mean the Mozello you know and love will change overnight.
We typically only add new features that our customers have requested. Sometimes business owners need some extra functionality or some cool design, and if it's something that could benefit everyone – we make it available to all of you!
That's how Mozello stays lean while meeting all the latest trends.
Create your own business website right now
Building a website isn't difficult when you have everything you need at your fingertips. That's exactly what Mozello offers – a simple, affordable, and intuitive way to create a digital presence for your business that will leave a strong impression on your customers.
See for yourself – explore our pricing plans to find the one best suited for your situation or just try Mozello for free right now and start creating your business' digital calling card.